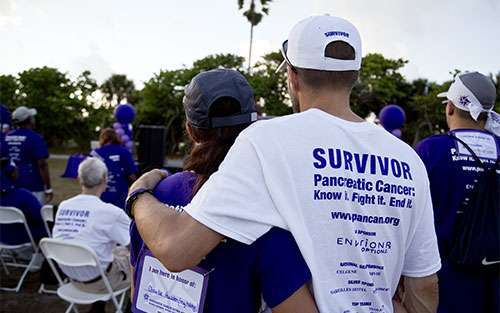 Pancreatic cancer patients and their loved ones face a wide variety of challenges. While the disease affects everyone differently, some common challenges patients face include managing side effects, traveling to and attending doctor visits, nutritional challenges, emotional challenges and financial concerns.
Some ways patients can help take care of themselves include:
Maintaining a healthy diet
Exercising – but get clearance from their doctor, first
Reaching out to loved ones and/or to other pancreatic cancer survivors
Doing things they enjoy
Expressing feelings through art, music and/or journaling
Connecting with a professional counselor for support
Relaxation techniques, such as acupuncture, meditation and massage, can help reduce pain in some patients and may also help reduce stress, depression and anxiety. These services may be available through the cancer center, or the healthcare team may be able to provide a referral.
In addition, the role of the caregiver is so important. Caregivers must also find time to take care of themselves. It is important for caregivers to ask for help when needed, get enough sleep, take time to do things they enjoy and seek support from others.
Many patients and caregivers find it invaluable to connect with others who have been in a similar situation. Hearing about another person's journey is particularly helpful. Our Survivor and Caregiver Network connects patients and caregivers with others who have had similar experiences. PanCAN Patient Services can also provide information about online, in-person and professional support resources.
Sometimes loved ones must help from afar. Long-distance caregivers can provide support by organizing cancer-related documents, gathering information, staying in touch with the healthcare team and arranging for home care and/or volunteer assistance from friends, family and community members.
For resources and information to help patients and caregivers cope with all aspects of a pancreatic cancer diagnosis and to access our Survivor and Caregiver network,
contact Patient Central
.