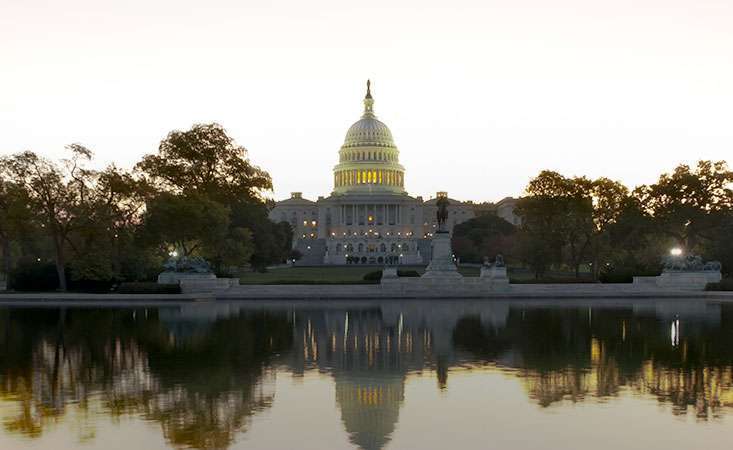 How does a government shutdown affect the pancreatic cancer community? The Pancreatic Cancer Action Network (PanCAN) investigates.
During a shutdown, federal government employees considered necessary to protect life and property are kept on the job (such as law enforcement, military and intelligence agencies), while hundreds of thousands of federal employees would be sent home.
The severity of a shutdown's impact on the pancreatic cancer community greatly depends on how long it lasts. If it is only a few days, the impact may be small, but the negative consequences will grow rapidly with time.  Here are the key things to know.
Key Programs Impacting Patients:
According to the National Institutes of Health's (NIH) current shutdown plan, patients currently enrolled in NIH-run studies would be cared for by staff, but the NIH would not admit new patients into NIH-run studies unless the NIH director deems that medically necessary.
Medicare and Social Security (and other programs that don't require annual appropriations) would continue without interruption.
Key Programs Impacting Scientific Advancement:
The federal government plays a critical role in advancing our understanding of pancreatic cancer and developing treatments and prevention strategies to improve outcomes. A government shutdown could impact efforts at the NIH, the U.S. Food and Drug Administration (FDA) and the Centers for Disease Control and Prevention (CDC).
NIH
All action on NIH grant applications or awards would be stopped. This would affect researchers across the country who are currently in the process of applying for critical federal funding to support their pancreatic cancer research. The longer the shutdown, the more dramatic the effects would be on top pancreatic cancer experts and institutions nationwide.
Government researchers would be barred from their own labs during the government shutdown, according to this article. This could potentially affect critical pancreatic cancer research by leading experts at NCI's Frederick National Laboratory for Cancer Research and its RAS initiative.

A STAT News article describes that across the NIH, "researchers working on projects from cancer therapies to new vaccines are figuring out how to try to save work in progress so it wouldn't go to waste."

In addition, government employees would not be allowed to travel to attend important scientific conferences and meetings. This could potentially set back momentum in the pancreatic cancer research field, harming innovative public-private partnerships tackling cancer and federally-supported pancreatic cancer research that PanCAN and its grassroots network of volunteers and advocates have worked so hard to foster.

Thanks to PanCAN and its dedicated grassroots advocates across the country, the Recalcitrant Cancer Research Act was signed into law in 2013, spurring real progress at the National Cancer Institute (NCI) in collaboration with leading experts across the country. This critical work involves meetings with government employees on a regular basis to take next steps to advance the important initiatives, for example, the organization's work exploring the connection between diabetes and pancreatic cancer. This work could be stalled with federal government employees unable to attend conferences and meetings.
FDA
FDA scientists would halt a majority of their research, but new treatments currently in the review process seeking FDA approval would continue, because these activities are funded by fees from the pharmaceutical industry as opposed to government appropriations. However, there could be delays in the drug approval process due to certain committee meetings not taking place.
Updating mislabeled medications may be compromised during a government shutdown. STAT news explains that, "'During the 2013 shutdown, staff responsible for updating drug labels were sent home,' said Dr. Taha Kass-Hout, who at the time was the agency's chief informatics officer. 'That meant that pharmaceutical companies were sending in updated information about their products, which might have included information about the drug's safety, but the public wasn't seeing it.'"
CDC
A majority of CDC staff may be sent home, which could be particularly worrisome during one of the most severe flu seasons hitting the U.S. in recent history. Patients with cancer, like pancreatic, are considered especially susceptible to the flu and are at high risk for complications.
The Pancreatic Cancer Action Network is keeping a close eye on the potential federal government shutdown. Contact a PanCAN Patient Services Case Manager for information and resources or to answer any questions. We are here to help.