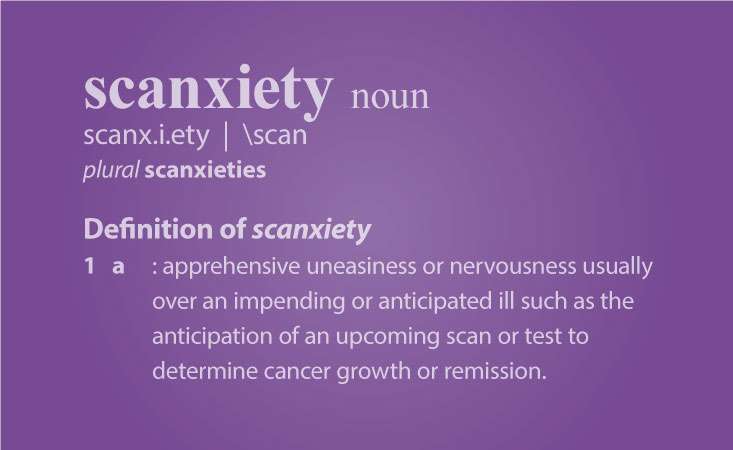 Scanxiety – no, it's not a real word yet, but the fear is real, and it is widely shared among cancer patients.
That's because while fighting cancer, progress is marked by scans and tests that determine how big and/or widespread the cancer is and if it has shown any changes. Many patients feel palpable fear and anxiety as their appointment approaches and/or after they've received the scan and are waiting for the results.
Researchers from the University of Pennsylvania published a study in the journal Lung Cancer in 2016, "Scan-Associated Distress in Lung Cancer: Quantifying the Impact of 'Scanxiety,'" in which they noted that scan-associated distress is a common problem among the patients they studied and may be one that's difficult to overcome.
Supportive care can improve how pancreatic cancer patients and their loved ones feel in all areas of their lives. It's important to note that emotional concerns may arise for patients at any point during their pancreatic cancer journey.
Knowing what patients and their loved ones need and where to go for help for emotional concerns can be difficult and confusing. While scans and tests are necessary, the anxiety that accompanies them can be managed.
The following are some tips from pancreatic cancer patients about how to deal with scanxiety the next time it arises:
Prior to an appointment it can be helpful for patients to distract themselves by listening to music or watching a video.
Some patients also find relief by taking advantage of massage, aromatherapy, hot baths, naps or other activities that soothe them as they prepare for an appointment.
Relaxation techniques – such as deep breathing and visualization or imagining a calm, peaceful situation or place – can be useful.
Some patients find it helpful to invite a friend or family member to attend the appointment with them.
To help manage scanxiety and other emotional concerns, patients also can find the support of others who have been through a similar situation to be helpful. Talk to your healthcare team to ask if counseling or support groups are available at your institution. PanCAN Patient Services can also provide support resources. Patients and caregivers can also connect to others through PanCAN's Survivor & Caregiver Network.
Scanxiety may not completely go away, but it can be managed.
Contact Patient Central
for resources and information to answer any questions you have related to pancreatic cancer.