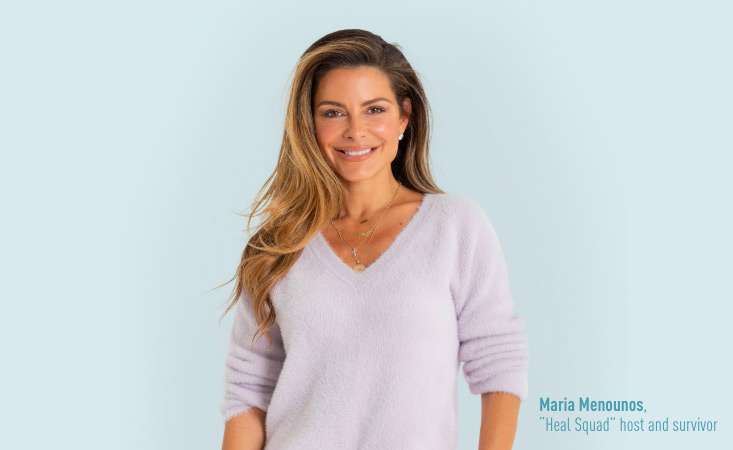 Leading Nonprofit's Pancreatic Cancer Awareness Month Campaign Highlights Importance of Knowing the Risks, Symptoms, and Early Detection Progress Needed to Improve Survival
Watch Maria Menounos' PSA HERE
LOS ANGELES, Calif. (November 1, 2023) – This November, celebrated media personality, actor, television, and "Heal Squad" podcast host, Maria Menounos, is lending her voice in support of the Pancreatic Cancer Action Network's (PanCAN) annual Pancreatic Cancer Awareness Month campaign, launching today. This year's campaign, titled "Change The Course," underscores the importance of recognizing the key risks and symptoms for early detection of pancreatic cancer. Menounos will be featured in a public service announcement (PSA) calling attention to understanding early signs and symptoms and advocating for your health. Additional digital and broadcast PSAs will run throughout the month, highlighting survivor and caregiver stories that show how early detection can change the course of pancreatic cancer and extend the chances of survival. The campaign will also spotlight the latest early detection initiatives and outreach to higher-risk communities.
Pancreatic cancer is the third leading cause of cancer-related deaths in the United States and is on track to become the second leading cause. The five-year survival rate of just 12% demands immediate action to save lives. Because symptoms are often vague and mimic other illnesses or conditions, most patients are diagnosed when they are already in the late stages of the disease. Finding a pancreatic tumor early when it can be surgically removed is critical for survival. Currently, there is no standard screening test to detect pancreatic cancer early the way there is for other major cancers like mammograms for breast cancer or colonoscopies for colon cancer.
Earlier this year, Menounos revealed that she had a neuroendocrine tumor on her pancreas, a rare form of pancreatic cancer, and successfully underwent surgery to remove it. Recognizing her symptoms including diarrhea and excruciating abdominal pain as well as her persistence in advocating for her health after initial scans failed to find anything abnormal, played a pivotal role in her early diagnosis. She had surgery on February 16, 2023 when her doctor removed the tail of her pancreas, spleen, 17 lymph nodes and a massive fibroid that was growing rapidly. Despite the physical and mental toll of her journey, she has shifted her focus to assisting others in seeking answers to their health concerns through her podcast, "Heal Squad," and now, as a PanCAN ambassador for this month's Pancreatic Cancer Awareness Month campaign.
"I wanted to partner with PanCAN because I want to help spread awareness and help people understand that early detection, paying attention to your body and the signals it's giving you is critical. You have to be the CEO of your own health," said Menounos. "I'm honored to share my story and use my voice to raise awareness and ensure that others have the opportunity for early diagnosis, and to support those on this journey. Together, we can change the course of this devastating disease and give hope to those who need it most."
"We are so grateful to Maria and our other PanCAN ambassadors who are so bravely sharing their stories to raise awareness about the importance of early detection for survival," said Julie Fleshman, JD, MBA, PanCAN's President and CEO. "In addition to educating the public about the risks and symptoms of pancreatic cancer, PanCAN will continue to make a significant investment in research to find an early detection strategy for this disease."
On November 16, World Pancreatic Cancer Day, PanCAN will host a free, virtual event with a panel of special guests for a conversation about the latest in early detection strategies for pancreatic cancer including why pancreatic cancer is notoriously difficult to detect at an early stage of disease and why progress on a standard screening tool has been slow compared to other types of cancer; how advances in artificial intelligence and imaging technology stand to impact how cancer is detected and diagnosed; what high-risk communities should know about managing their risk and being proactive about their health; and the role PanCAN plays in driving research forward, including PanCAN's groundbreaking Early Detection Initiative. Register for free at pancan.org/wpcd2023.
PanCAN Patient Services provides free, in-depth and personalized resources and information on pancreatic cancer. For anyone who may experience symptoms, they can download a conversation guide to complete and bring to their healthcare provider for a discussion. To educate people about how to reduce their risk of pancreatic cancer, PanCAN created a new resource, 7 Steps to Reduce Your Risk, which will be distributed across the country through local PanCAN volunteer affiliates.
For more information about the Pancreatic Cancer Action Network and its urgent mission to save lives, visit pancan.org or follow PanCAN on Twitter, Instagram and Facebook.
About the Pancreatic Cancer Action Network
The Pancreatic Cancer Action Network (PanCAN) leads the way in accelerating critical progress for pancreatic cancer patients. PanCAN takes bold action by funding life-saving research, providing personalized patient services and creating a community of supporters and volunteers who will stop at nothing to create a world in which all pancreatic cancer patients will thrive. For 18 years in a row, PanCAN has earned a Four-Star Rating from Charity Navigator – the highest rating an organization can receive. This rating designates PanCAN as an official "Give with Confidence" charity, indicating strong financial health, ongoing accountability and transparency.
# # #
Media Contact:
Julie Vasquez, Senior Director, Public Relations, Pancreatic Cancer Action Network
Direct: 310-697-9129, Email: jvasquez@pancan.org
Stephanie Berman, Vice President, Smithhouse Strategy
Direct: 917-617-5667, Email: stephanie@smithhousestrategy.com