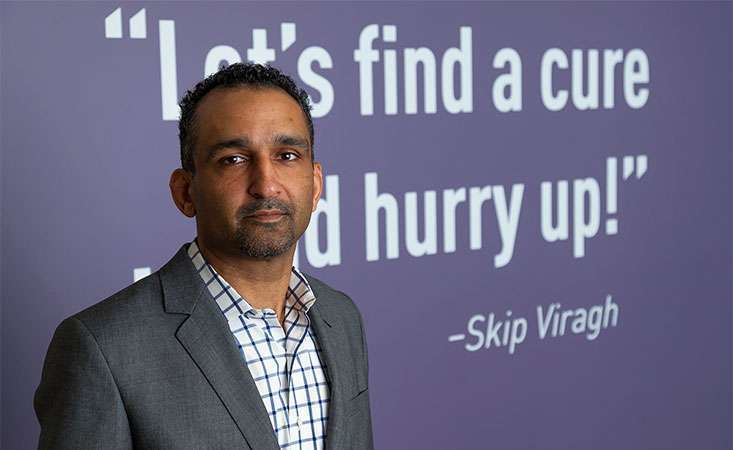 MANHATTAN BEACH, Calif. – (March. 12, 2018) The Pancreatic Cancer Action Network (PanCAN), a worldwide leader in pancreatic cancer, is pleased to announce today that it has hired its first chief data officer, Sudheer Doss, PhD. Doss will report to Julie Fleshman, JD, MBA, the president and CEO of PanCAN. The appointment is effective immediately.
Doss will be responsible for all data across the organization, including health data and corporate data. He will be tasked with creating a vision and strategy for how to create business value through data and technology, and inspire an organizational culture that uses data and information to make decisions.  Through this role, he will be integral in ensuring the organization continues to accelerate progress on all fronts, including advancing PanCAN's research and clinical initiatives, patient services and advocacy efforts.
"Sudheer and his team will be critical in our efforts to improve outcomes for pancreatic cancer patients," Fleshman said. "They will be transformational drivers in helping us reach our ambitious goals. His appointment as our first chief data officer demonstrates the importance the organization places on leveraging our health and corporate data for the benefit of pancreatic cancer patients."
Doss spent 10 years at Pricewaterhouse Coopers (PwC) and served as director of its precision medicine practice. He attended the University of California, Los Angeles, where he received a PhD in human genetics and bioinformatics and a bachelor's degree in microbiology and molecular genetics.
"For the past decade, I've worked in a fast-paced consulting environment where I led clients in strategic and operational initiatives across the precision medicine ecosystem," explained Doss. "I'm excited to bring my insight and expertise to PanCAN so that we can build a strategy that results in increased outreach so we can improve patient outcomes and save lives."
In his role as chief data officer, Doss will help align the business and technology teams in a common vision for their data strategies and platforms to drive digital transformation and meet PanCAN business objectives now and in the future for our patients.
Learn more about how lifesaving donations improve patient outcomes by reading PanCAN's 2017 Impact Report or by visiting pancan.org. Follow the Pancreatic Cancer Action Network on Twitter, Instagram and Facebook.