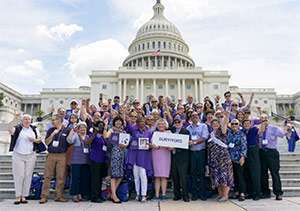 MORE THAN 650 ADVOCATES 'HEAD FOR the HILL' DEMANDING CONGRESS MAKE CANCER RESEARCH A PRIORITY
Senator Sheldon Whitehouse (D-RI) Joins the Pancreatic Cancer Action Network to Champion its 10th Annual Advocacy Day
MANHATTAN BEACH, Calif. – (June 7, 2017) More than 650 pancreatic cancer advocates representing all 50 states will join the Pancreatic Cancer Action Network (PanCAN) June 20 on Capitol Hill to urge Congress to make cancer research a national priority.
This year marks PanCAN's 10th annual National Pancreatic Cancer Advocacy Day, the largest single national gathering of people committed to fighting pancreatic cancer.
"When PanCAN was founded in 1999, there was very little happening in pancreatic cancer research," said Julie Fleshman, JD, MBA, president and CEO of the Pancreatic Cancer Action Network. "Our advocacy efforts have resulted in major funding increases -- both federal and private – and have helped advance critical pancreatic cancer research programs in institutions across the country. To sustain this progress and continue to grow a vibrant research community, Congress must make cancer research a national priority."
Senator Sheldon Whitehouse (D-RI) a long-time champion of the cause, will serve as a keynote speaker for the event, sending off a 'sea of purple' advocates to flood the steps of Capitol Hill – including over 100 pancreatic cancer survivors. Advocates will demand Congress prioritize federal funding for cancer research, including pancreas, which will kill 91 percent of its victims within five years.
Last month, the Trump Administration released its proposed fiscal year 2018 budget, suggesting drastic cuts to the National Institutes of Health (NIH) and the National Cancer Institute (NCI). Under this plan, billions of dollars would be eliminated, impeding progress in cancer research that could potentially impact pancreatic cancer patients nationwide. This news came on heels of the NCI's public release of its 2014 research funding portfolio, which included a 20 percent increase in pancreatic cancer funding and the announcement from the Department of Defense on their 2016 funding awards, which showed an 11 percent increase in pancreatic cancer funding over the previous year.
"Now more than ever, we must amplify the momentum in the field to protect the federal government's investment – one that translates into better treatment options and outcomes for pancreatic cancer patients. We cannot allow budget cuts to wash away years of progress," said Fleshman.
Over the last decade, PanCAN has played a major role in increasing the NCI's research investment in pancreatic cancer from $17.3 million in 1999 to nearly $122 million in 2014 – a 600 percent increase.
Passage of the Recalcitrant Cancer Research Act in 2012 was the culmination of a five-year pursuit led by the organization's passionate advocates and volunteers and led to a scientific framework for pancreatic cancer, outlining national research priorities for the disease which has also led to increased research funding.
Pancreatic cancer is the nation's toughest cancer, with a five-year survival rate of just nine percent. It remains the third leading cause of cancer deaths in the U.S.
PanCAN calls upon the public to join thousands of supporters across the country urging Congress to make cancer research a federal priority by participating in PanCAN's National Call Congress Day taking place on Tuesday, June 20 from 9 a.m. to 5 p.m. EDT.
To learn more about the Pancreatic Cancer Action Network's urgent goal to double survival by 2020 visit  pancan.org and follow updates from the organization on Twitter, Instagram and Facebook.