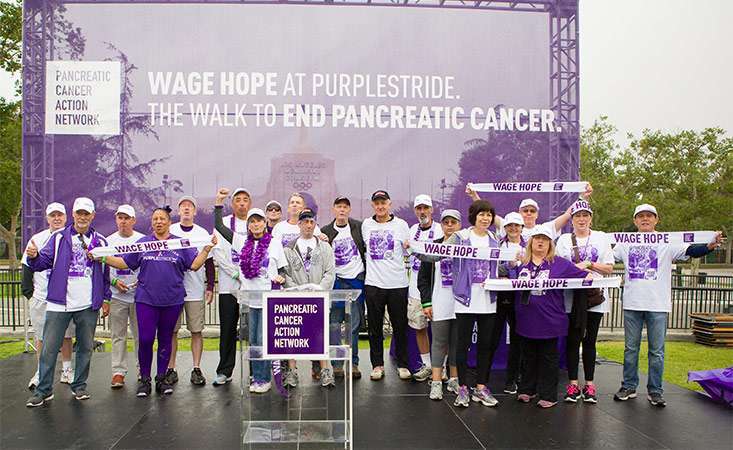 "The Voice" Semifinalist Erin Willett to Headline Opening Ceremonies
MANHATTAN BEACH, Calif. (April 11, 2018) – More than 1,600 people will walk to end pancreatic cancer, the world's toughest cancer, at PurpleStride Los Angeles on May 5 at Exposition Park's South Lawn East starting at 9 a.m. The community awareness and fundraising event, presented by the Kathryn Naficy Pancreatic Cancer Foundation, is hosted by the Pancreatic Cancer Action Network (PanCAN) Los Angeles Affiliate of volunteers.  There will be co-emcees for the event, CBS2/KCAL9 reporter Suzanne Marques and professional race announcer Matt "M.C." Starkey.
Pancreatic cancer is the third leading cause of cancer-related death in the U.S. with a five-year survival rate of just 9 percent. PanCAN urges the Los Angeles community to join PurpleStride and support the organization's goals to save lives and double survival by 2020. Funds raised through the event support critical research, clinical initiatives and patient services, including Know Your Tumor®, Precision PromiseSM,  Clinical Trial Finder and the Patient Registry.
Julie Fleshman, JD, MBA, PanCAN's President and CEO, lost her father to the disease in 1999 and has since made it her mission to change the course of pancreatic cancer.
"Every single dollar participants raise supports our organization's key patient programs and services," Fleshman said. "PurpleStride also allows patients, survivors and caregivers to come together to support one another, be inspired by each other and create a sense of community."
Singer and reality TV star Erin Willett will perform at the event. Willett, who lost her father to pancreatic cancer, was a semifinalist on NBC's "The Voice" and appeared on the show "The Biggest Loser." She's produced a new a single, "Hope's Alive," to honor those affected by the disease and 100 percent of the sales up to $1 million will benefit PanCAN. The single will be available for purchase April 13th on iTunes, Spotify, Amazon Music, Google Play and Tidal.
Meghan Luff, volunteer Affiliate Chair of the PanCAN Los Angeles Affiliate, lost her aunt to pancreatic cancer. She is also committed to PanCAN's urgent mission to change the course of this disease.
"PurpleStride is instrumental in raising not only funding, but just as importantly, awareness about pancreatic cancer," Luff said. "Unfortunately, most people do not understand how devastating this disease is until it is already too late. That's why we must get the word out, and PurpleStride is the perfect way to do it."
PurpleStride Los Angeles is supported by national presenting sponsor Celgene, national gold sponsors AbbVie and Ipsen; presenting sponsor Kathryn Naficy Pancreatic Cancer Foundation, gold sponsors Halozyme and Cedars-Sinai; gold media sponsor CBS2/KCAL9,  silver sponsor Crescent Capital Group and bronze sponsor Keller Williams Realty Encino-Sherman Oaks.
To register, donate or learn more about PurpleStride Los Angeles 2018, visit purplestride.org/losangeles.
To learn more about PanCAN and its signature walk PurpleStride, watch the PurpleStride PSA and the History of PanCAN. Follow PanCAN on Twitter, Instagram and Facebook.