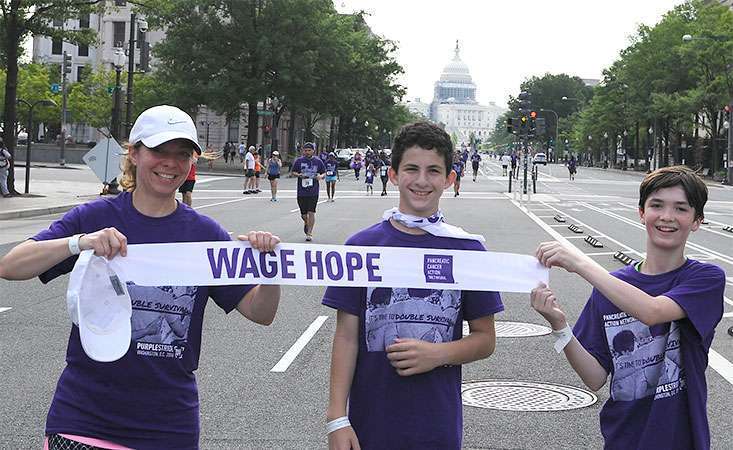 "The Voice" Semifinalist Erin Willett Headlines with New Song "Hope's Alive"
DISTRICT OF COLUMBIA (May 15, 2018) – More than 3,000 people will walk to end pancreatic cancer, the world's toughest cancer, at PurpleStride Washington, D.C. on June 9 at Freedom Plaza starting at 8 a.m. The annual community awareness and fundraising event, presented by Washington Capitals, is hosted by the Pancreatic Cancer Action Network (PanCAN) National Capital Affiliate of volunteers.
Pancreatic cancer is the third leading cause of cancer-related death in the U.S. with a five-year survival rate of just 9 percent. PanCAN urges the nation's capital to join PurpleStride and support the organization's goals to save lives and double survival by 2020. Funds raised through the event support critical research, clinical initiatives and patient services, including Know Your Tumor®, Precision PromiseSM,  Clinical Trial Finder and the Patient Registry.
Julie Fleshman, JD, MBA, PanCAN's president and CEO, lost her father to the disease in 1999 and has since made it her mission to change the course of pancreatic cancer.
"PurpleStride fuels progress and our ability to support critical patient programs and services," Fleshman said. "PurpleStride also unites survivors, caregivers and families who support and inspire one another and create a whole sense of community."
Singer and reality TV star Erin Willett will perform her new song, "Hope's Alive,"  to honor those affected by the disease at the event. Willett, who lost her father to pancreatic cancer, was a semifinalist on NBC's "The Voice" and appeared on the show "The Biggest Loser." The single is available for purchase on iTunes, Spotify, Amazon Music, Google Play and Tidal with 100 percent of the sales up to $1 million will benefit PanCAN.
Toni Wagner, volunteer PurpleStride Chair of the PanCAN National Capital Affiliate, also lost her father to pancreatic cancer after a six-month battle. She is committed to PanCAN's urgent mission to improve patient outcomes.
"My dad fought his hardest, trying every treatment available to him and always kept a positive attitude," Wagner said. "Fighting for something you really want and helping others is something my dad instilled in me and my sisters every chance he got. I hope that volunteering and participating in PurpleStride in honor of him will someday help more people win the fight and be able to enjoy more birthdays and every days."
PurpleStride Washington, D.C. is supported by national presenting sponsor Celgene, affiliate sponsor Kovler Fund of CFNCR, national gold sponsors AbbVie and Ipsen; presenting sponsor Washington Capitals, gold sponsor AmerisourceBergen; and silver sponsors Ruesch Center for the Cure of GI Cancers and  King's Hawaiian.
To register, donate or learn more about PurpleStride Washington, D.C. 2018, visit purplestride.org/dc.
To learn more about PanCAN and its signature walk PurpleStride, watch the PurpleStride PSA and the History of PanCAN. Follow PanCAN on Twitter, Instagram and Facebook.