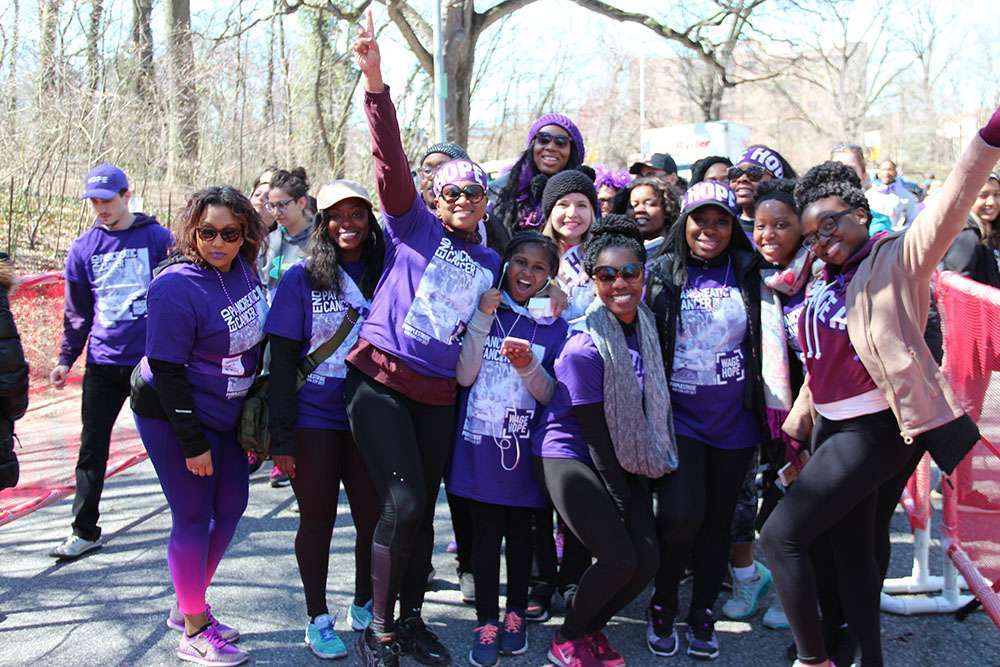 Event to be Hosted by ABC's "Good Morning America" Weekend Anchor Ron Claiborne
NEW YORK (Apr. 5, 2018) – Thousands will walk to end pancreatic cancer, the world's toughest cancer, at PurpleStride New York City on April 14 at Brooklyn's Prospect Park. The 5K event will start at 9:15 a.m. and is being hosted by the Pancreatic Cancer Action Network's (PanCAN) New York City Affiliate. The emcee of the morning festivities will be Ron Claiborne, the weekend anchor on ABC's "Good Morning America."
Pancreatic cancer is the third leading cause of cancer-related death in the U.S. with a five-year survival rate of just 9 percent. PanCAN urges the New York City community to join PurpleStride, the walk to end pancreatic cancer. Participant support will help the organization with its goal to improve patient outcomes and double survival by 2020. Funds raised through the event support critical research, clinical initiatives and patient services, including Know Your Tumor®, Precision Promise℠, Clinical Trial Finder and the Patient Registry.
Julie Fleshman, JD, MBA, PanCAN's President and CEO, lost her father to the disease in 1999 and has since made it her urgent mission to change the course of pancreatic cancer.
"More than 55,000 Americans – mothers, daughters, fathers, sons, colleagues and friends – will be diagnosed with the disease this year, and 91 percent of those patients will not live past five years," Fleshman said. "PurpleStride allows us to raise vital funds needed to Demand Better for patients and survival."
Singer and reality TV star Erin Willett will also perform at the event. Willett, who lost her father to pancreatic cancer, was a semi-finalist on NBC's "The Voice" and appeared on "The Biggest Loser." She's produced a new single, "Hope's Alive," to honor those affected by the disease, and 100 percent of the sales up to $1 million will benefit PanCAN.
Tommy Barquinero, volunteer Affiliate Chair of the PanCAN New York City Affiliate, lost his father to pancreatic cancer after a nearly three-year battle. He is committed to helping PanCAN achieve its mission to double survival by 2020.
"As my dad fought through his diagnosis and treatment, he always yearned for a cure for this disease," Barquinero said. "PurpleStride helps PanCAN turn this dream into a reality. This event is essential in funding scientific research, supporting patient services and affecting legislative reform in the fight against pancreatic cancer."
The event is supported by national presenting sponsor Celgene, national gold sponsors AbbVie and Ipsen, regional gold sponsor Halozyme, gold sponsor the Michael & Jonalie Korengold Charitable Fund; gold media sponsors WFAN FM/WFAN AM and WCBS 880 AM; and silver sponsor Perlmutter Cancer Center at NYU Langone Health.
To register, donate or learn more about PurpleStride New York City 2018, visit purplestride.org/newyorkcity.
To learn more about PanCAN and its signature walk PurpleStride, watch the PurpleStride PSA and the History of PanCAN. Follow the Pancreatic Cancer Action Network on Twitter, Instagram and Facebook.
# # #
Media Contact:
Michael Rosen
Chief Communications Officer
Pancreatic Cancer Action Network
Direct: 646-844-1227
Email: mrosen@pancan.org