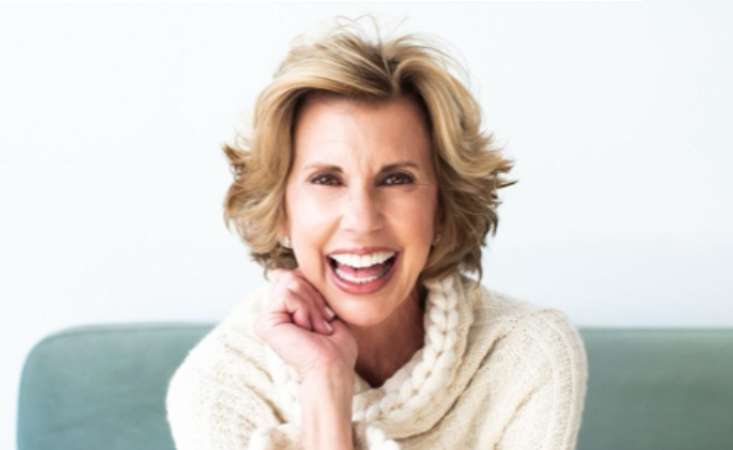 Editor's note: Today's blog is written by Laurie MacCaskill, a 15-year survivor of pancreatic cancer. Laurie is an emeritus member of PanCAN's Board of Directors, on which she also served as Board Chair.
I wasn't going to allow pancreatic cancer to take over and fulfill the prediction that I would not be able to fight the world's most challenging cancer. I had been told to get my affairs in order…that I had three-to-six months to live.
To make use of suffering is to know the art of living.
This month I am celebrating 15 years as a pancreatic cancer survivor. I have great love, gratitude, and awareness of how fortunate I am.
I am not alone in experiencing the complete shock, disbelief and fear of hearing this devastating diagnosis. Completely healthy does not begin to describe my condition at that time in 2006. I was an exercise enthusiast, never smoked, maintained a nutritious diet and was always incredibly active.
Stories leading up to my diagnosis, surgery and treatments  are on my website, which might be helpful for patients and caregivers. What I want to share with you now are some of the treasured memories I have with my association with PanCAN.
While in the hospital recovering from the Whipple surgery, I learned about PanCAN. It was July 2006; four months later, in October, I opened the contents of the envelope that had been left for me. It contained information on the organization and an invitation to attend a summit they were hosting on the disease.
My imagination was on fire with images of a dreary lecture delivered by physicians and scientists in medical jargon that was utterly foreign to me. I barely knew what the pancreas did when I was diagnosed, and I did not want to spend the day trapped, surrounded by other people just diagnosed. I was already depressed enough.
I sat in the last row in the seat closest to the exit – an easy escape route. I never needed it! I found the presentations easy-to-understand, interesting and helpful. The presenters were informative and described ways of navigating this challenging journey in ways that I found manageable and hopeful. As I mingled with the attendees, presenters and PanCAN staff, I felt an energy that seemed to unite everyone positively. It felt like a family.
After the event, I made a point of educating myself about PanCAN and pancreatic cancer. I started to participate in various PanCAN activities – they were a helpful distraction for me. I was never one to call attention to myself, but now found myself on stage delivering a story about my diagnosis and road to survival. Research has shown that dedication to a worthy cause or a belief in something greater than oneself has a resilience-enhancing effect.
As the years progressed, I became more involved – as a volunteer, Board Member, Chair of the Board, donor supporting the research of two grantees, participant in all PanCAN Advocacy Days in Washington, D.C., media, and other opportunities.
It doesn't take a person with an unusual ability to change the world. All it takes is a heart that cares, a mind that's determined, a spirit that's willing, a cause that matters and a person to help. That sums up everyone at PanCAN!
Anyone can make you smile, many people can make you cry, but it takes someone extraordinary to make you smile with tears in your eyes. I experienced this at each and every PanCAN event I attended. Walking alongside hundreds of loyal, committed volunteers, learning their stories, marveling at their strength, courage and commitment. Working alongside members of the Board of Directors who were smart, focused and determined to keep our mission at the forefront of everything we did. Meetings, trips, meals – quality time spent with PanCAN President and CEO Julie Fleshman, Founder Pamela Acosta Marquardt, Vice President Jenny Isaacson and many talented staff members. I was struck by the consistent focus and commitment to change the course of history for this disease to save lives.
Members of the PanCAN Scientific and Medical Advisory Board  (SMAB) never fail to disappoint in their extraordinary commitment to advance the science behind this disease. This incredibly talented community will forever change the course of history for improving survival outcomes.
Founder Pam's vision is being carried out with the incredible leadership of President and CEO Julie; they have never veered from their core values. The extraordinary accomplishments and advances they have made support this.
Attending and participating in numerous events is always a meaningful experience. Meeting new attendees and learning of their interest, reconnecting with survivors (a joy that just can't be expressed!), visiting with patients and caregivers, cherished memories with the Board of Directors and SMAB. We were always the beneficiary of the many gifts that waited in the wings to educate, surprise and entertain us. I was never disappointed, and this would forever change my life for the better.
After one of my speeches to a pharmaceutical company, I spoke with one of the lead scientists. He said he interacts with many advocacy groups, but PanCAN was his favorite. He complimented Julie's leadership and said he was impressed with the extraordinary focus from everyone – staff, volunteers, patients and caregivers associated with this organization. He said they never lose sight of the far-reaching goals, always to succeed.
PanCAN armed me with the tools and resources to tell my story to educate, inspire and provide hope to others. I am certainly not the only cancer survivor, and my story is not unique. What makes it distinctive is the constant thread of resilience when I didn't even know it was showing up. None of us escape tragedies, but these challenges are not supposed to paralyze us; instead, they are supposed to make us stronger.
We are not designed to live in uncertainty. Human beings crave information; we have a "need to know." A cancer diagnosis can turn our world upside down with so many unanswered questions. I know it did mine. Our brains perceive ambiguity as a threat, but it doesn't have to be that way.
PanCAN is the most valuable resource for answering many of these questions. They are the best at what they do. I coach cancer patients; it is reassuring to know I can refer them to PanCAN Patient Services with the utmost confidence, understanding their needs will be met.
Defeating pancreatic cancer remains their urgent mission. I have witnessed the significant progress made over the past 15 years in fighting this deadly disease. Raising funds for comprehensive private research is the only way advancements will be made for early detection, better treatments, and increased chances of survival.
Being part of a family that has provided hope, friendship, a purpose, and so much more has forever changed my life. Grateful thoughts and treasured memories flood my body daily.
I am inhaling love and exhaling gratitude!  Thank you to all!
I hope you will live long, touch often, hug frequently, smile much, laugh daily, kiss repeatedly, trust eternally, love infinitely.
If you or someone you know has been diagnosed with pancreatic cancer, contact
Patient Services
for free, in-depth, personalized resources and support.