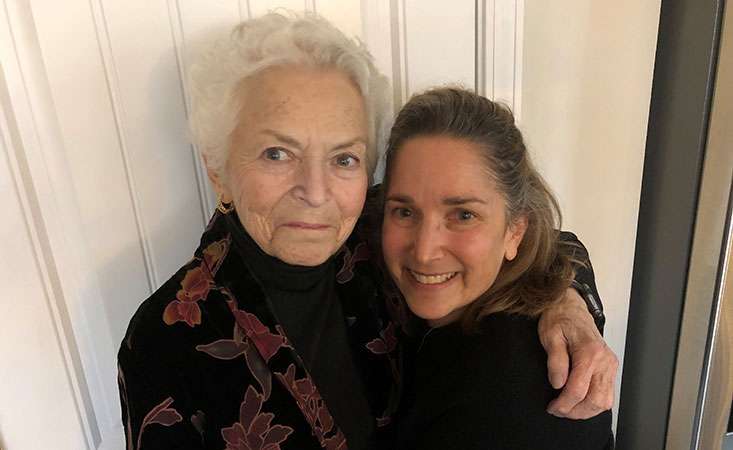 Editor's note: It's World Storytelling Day! We're grateful for all the beautiful stories from the pancreatic cancer community and in honor of the day, are sharing this one from Lauren Postyn. Lauren left her fulltime career late last year to become a fulltime caregiver for her mom, who has pancreatic cancer.
Many of you, like me – out of compassion, necessity or both – made the choice to become a caregiver to a loved one.
A desire may have stirred within you to provide something more than just a kind word when you saw that a family member, friend or neighbor needed more TLC. Providing care to another is more than a selfless act and labor of love. It ensures their health, safety and comfort is well taken care of.
The frightening possibility of COVID-19 lingering indefinitely has forced many of us to go above and beyond to keep loved ones safe from the virus. That, plus my mother's battle with pancreatic cancer and wanting to be her "go-to" person led me to become her "Curator of Care."
I left my cushy job for another and taking care of Mom is now my full-time gig.
Being Mom's "Curator of Care" (I call myself "Chief Caregiver" or CCG) – is a role I would not have aspired to, or just decided to do on a whim. But I've taken it on with enthusiasm and pride.
My professional journey led me to this point. As a professional Training, Conference and Program Manager (think jack-of-all-trades), I have been responsible for taking care of people and their needs – the small details, the specifics of which add up to something much larger than the task at hand.
The job of producing memorable conferences and high-end programs came down to recognizing that taking care of the smallest detail made it more personal.
A former CEO once said to the staff, "If someone asks you a question, you own it – it is your job to help that person find what they're looking for," before we kicked off our annual conference. Those words have always resonated with me, and now I bring that same promise and tenacity to my new role. Making oneself available to a loved one, even if "the ask" is minor, makes a world of difference to them.
Today I'm acting as CCG to one of the most amazing clients on Earth, my mom, and I make it personal for both of us. While my highly coveted position is voluntary, my overall compensation package has been more than generous.
Along with spending a great deal of time with a fierce pancreatic cancer survivor (three and a half years and counting), I receive an abundance of love, admiration and gratitude in return.
Hearing, "I don't know what I would do without you," is the confirmation I am doing something right, as a formal review process is not part of my new employment. What I want to say in return is, "I don't know what I'll do without you!"
Unfortunately, that thought runs through my head a million times a day, as I witness how the ravages of chemotherapy treatments leave her much weaker than before. As I open my mouth to say it, I stop myself from having those dark thoughts. I worry that if I say it out loud, I am afraid it will become a reality sooner than I am ready for.
As CCG, I've removed some of the everyday worries, those stressors that may cause anxiety. Getting to and from doctor appointments, preparing meals, maintaining a medication and vitamin schedule or anything else she needs so she can remain focused on the task at hand, managing her treatments.
Being her caregiver is a way for me to bring "personal" back into my mom's life. I don't want my mom to feel isolated, since visits with friends and family have been extremely limited or non-existent. The trips to the cancer center for blood tests, chemotherapy and other invasive treatments have become too impersonal. From the first moments of checking in, rattling off a date of birth, being weighed, having blood pressure measured and a temperature check, we forget about the person on the other side of the face mask being poked, prodded and evaluated only by blood counts.
By being the person who provides physical contact and emotional support to someone facing a deadly disease, the caregiver closes the loop, ensuring someone is completely taken care of. That's why being a "Curator of Care" is so vital.
I remain in awe as I celebrate the joy and comfort caregivers bring to others. Since becoming CCG, I now understand how difficult it can be, as each day brings a new set of emotional hurdles to overcome.
Caring for a patient who is in the fight of their life is not easy. And despite that, we show up every day do what is needed. When I have an emotionally taxing day, what gets me through the sadness is knowing that what I am doing allows my mom to finally put herself first, a novel concept for my mother, as old habits are hard to break.
Being available and present is personal for those who might otherwise feel invisible in a sea of patients in a waiting room. Providing transportation to treatment, standing next to them when they ring the bell for their last radiation treatment, administering medication, aiding with personal hygiene, cooking nourishing meals, sitting by someone's side when the oncologist delivers unimaginable test results, or simply holding their hand, just because, is what a "Curator of Care" does remarkably well, and it does not go unnoticed!
To all the "Curators of Care" – you are heroes of humanity. You see a person for who they are before seeing them as a patient. Your contribution in the welfare of others is immeasurable. Know you are loved, valued and most importantly, indispensable.
Cancer patients fare much better with your love and support, and know that millions out there are saying, "I don't know what I would do without YOU!"
If you are considering becoming a "Curator of Care" or are interested in the process I went through of leaving my job to start my own caregiving journey, read my full essay.
Written by Lauren Postyn
Lauren is a contributing writer at PanCAN, essayist, poet and blogger. Find her at www.laurenpostyn.com/blog.
Contact PanCAN's Patient Services
for free, in-depth information about the disease, including treatment, clinical trials and support resources for patients and caregivers.