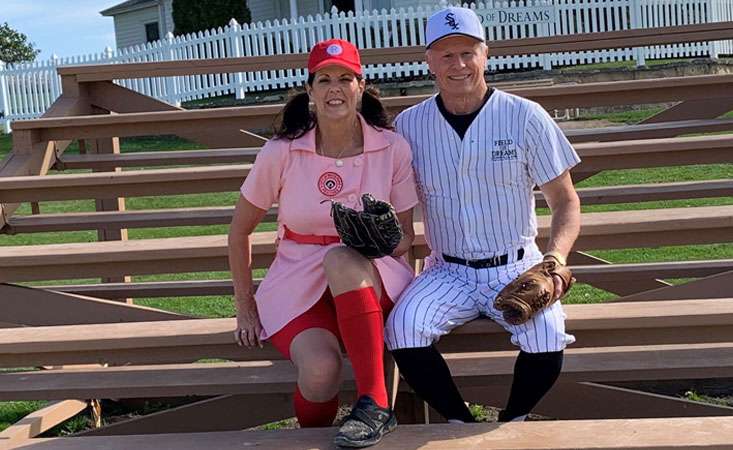 Editor's note: Rick and Nicki Hackman retired in July of 2019 and were looking forward to travel and more time with their family. Then, Nicki was diagnosed with pancreatic cancer. Here, Rick shares more about their journey, including the importance of accepting help and cherishing each day.
Packing for Florida
It was January 16th, 2021. My wife, Nicki, and I were starting to get ready for our upcoming trip to Naples, Florida.  Nicki had developed some low-grade nausea symptoms earlier in the month and thought she had caught a virus.  A couple of months earlier, she had complained about fatigue and a cramping feeling in her abdomen -- similar to menstrual cramps – highly unlikely for a 64-year-old woman though.
She decided to contact her doctor so that we wouldn't be bringing any disease to our friends in Florida.  In the next few days, Nicki's symptoms increased – an itch in her palms and feet, grey stool, and a yellowing in her eyes closest to her nose.  Her doctor believed Nicki had pancreatitis – an inflammation of the pancreas, maybe caused by gall stones.
On January 28th, Nicki checked in to our local hospital for a round of tests. She had an MRI, CT scans and laparoscopic procedure to place a stent in her common bile duct to alleviate the back-up of bile fluids.  The doctor also took tissue samples for biopsy.
After the procedures were complete, I asked the doctor, with all of his years of experience, what he thought the diagnosis would be.  He told me that he was 99% sure Nicki had pancreatic cancer. My heart dropped to the floor. I had friends and colleagues who had been diagnosed with pancreatic cancer and none of them lived more than six months following diagnosis. The tears fell like rainwater as I called our family members and close friends with the news.
The Long Journey Begins
The biopsy results confirmed the preliminary diagnosis -- adenocarcinoma of the pancreas, the most common type of pancreatic cancer.  The CT scans did not show that there was any spread of the cancer, which was incredibly good news. They scheduled  surgery to remove the tumor, to be followed by six months of chemotherapy and possibly radiation.
As you would expect, Nicki and I were stunned to hear this news.  We both had retired in July 2019 and had hoped for a long, happy, and healthy period in our lives.  Nicki had lost a brother and father to cancer, but their cases were different and not considered genetic in origin. Cancer at this age was the last thing we considered.  Later genetic testing indicated that Nicki did not have inherited genetic mutations (changes) that would make her more at risk for developing cancer.
Finally, the day arrived for Nicki's surgery. Several hours in, I got a devastating phone call from the doctor.
He said while using robotic tools they had discovered that the tumor was not a discrete mass, but a layering of cancer cells all around the head of the pancreas and wrapped around multiple key blood vessels. They couldn't remove the tumor.
After Nicki awoke from the anesthesia, Dr. Maynard broke the news to her. He explained that the next step would be chemotherapy.  He stated that if the chemotherapy didn't work, or if she chose not to do it, the "cancer would take her life in seven to 10 months."
I had never been with someone before when they are told that they might only have a few months to live. It was a surreal moment to hear those words. I looked at Nicki and she had a blank, stunned look on her face. We both didn't know how to react. I wanted to stay strong for her and not show any emotion.  She later told me she was doing the same thing for me. For the rest of the year, no matter what we did or where we went, the cloud of uncertainty regarding Nicki's future hung over us constantly.
Nicki's recovery progressed slowly.  After about a week, she was discharged from the hospital.
In the meantime, I started searching every website that contained information about pancreatic cancer, its causes, treatments, clinical trials, and stories about long-term survivors.
We found PanCAN immensely helpful -- a PanCAN Patient Services case manager sent a list of resources and possible clinical trials. We also read many inspiring stories of long-term pancreatic cancer survivors.  Please consider contributing – PanCAN's work is clearly saving lives.
Chemo and Recovery Break
In early March 2021, Nicki initiated chemotherapy, which called for a six-hour infusion of FOLFIRINOX every other week for six months.  It was so incredibly difficult to watch Nicki go through chemo and experience side effects like vomiting, hair loss, weight loss and loss of appetite.  As a caregiver, all I could do was provide whatever she needed – Gatorade, water, light soup, etc.  We kept reminding ourselves that chemo was our friend and cancer was the enemy.
Finally, Nicki completed her six months of chemotherapy. CT scans along the way continued to indicate that the cancer had not spread although they weren't providing clear images of the tumor.  We were thrilled that Nicki had completed the chemo regimen but felt uneasy not knowing if it was effective in destroying the tumor.
Following Nicki's chemo program, her doctors wanted her to have about a month to gain strength and recover. A close friend offered us great advice.  His wife had battled a very tough cancer over 20 years ago and is still doing well today.  He said that as hard as this time is with the chemo treatments and uncertainty of outcome, we needed to celebrate each day that we did have together and recognize the joy in our lives.  We took his advice to heart.
During the break from the chemo treatments, we decided to visit the Field of Dreams site made famous by the movie. We had been there before, only this time, we had only one wish to pray for – successful treatment of Nicki's cancer.  On this visit, one of the actors from the movie was there and in uniform, throwing batting practice to anyone who wanted to take a few swings.  We both took advantage of the opportunity.  Nicki's uniform barely fit her with all the weight she had lost, and her stamina was not what it had been the prior year, but she thoroughly enjoyed the visit.  Something about that site just inspires hope.
After our trip, Nicki went through 28 rounds of radiation with oral chemotherapy. At the end, we had a little celebration to recognize her incredible accomplishment.
Scans continued to indicate that the cancer had not spread, although they didn't show if the tumor had reduced in size.  Her doctors agreed that they would move forward with surgery – another attempt at performing the Whipple procedure.  Her surgery was scheduled for December 23, 2021.  Two days before Christmas.
Surgery 2.0
I brought Nicki to the hospital at 5:30 a.m. We kissed and hugged and then she walked through the glass doors. The waiting room was filled with other masked, anxious families and friends.  The time seemed to crawl by.
Finally, at 2:45 p.m., one of the surgical assistants called. He started out by saying: "We got it out!" They planned a biopsy to confirm but it looked like they were able to remove the tumor cleanly and the surrounding tissue looked "clean" – no cancer present.  Again, tears fell like rainwater – only this time they were tears of joy.
After several days biopsy results arrived – no sign of cancer cells in any of the surrounding tissue or in any of the 19 lymph nodes that were sampled.  Prayers again answered! Nicki is recovering from the Whipple surgery and has started to take pancreatic enzymes to help with digestion. It remains to be seen how long she will need to take this medication. The really good news though is that about three weeks after the surgery, Nicki said she didn't have any nausea for the first time in 12 months.
CT scans taken two months following Nicki's surgery again showed no sign of cancer.  When we met with her oncologist, he said that he was not recommending that she take any type of chemotherapy as a preventive measure.  We were, of course, elated to hear this.
We understand that cancer can come back and often does so with a vengeance.  We will anxiously await each successive CT scan and continue to pray that it never returns.  It goes without saying that we feel extremely grateful.  Grateful for all the prayers said on Nicki's behalf.  Grateful for amazing doctors and nurses.  Grateful for the fact that we were retired and could focus all our energies on Nicki's care.  We often talked about how incredibly difficult a journey like this would be for someone working full-time – especially a single parent raising children.
Strength and Encouragement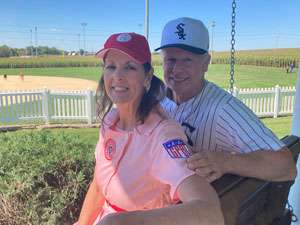 We hope that sharing our story helps those in the fight for their lives to keep fighting despite the odds, to persevere through the toughest days. As a caregiver, please remember to take care of yourself. Multiple friends and family members gave me this advice -- I have come to understand how important it is to be healthy for your loved one.
Also, it's important to seek out help – contact PanCAN Patient Services. They provide resources and support when faced with difficult questions. We found their guidance to invaluable as they helped us navigate so many challenges.
Most of all, believe in yourselves, the power of prayer, and the power of our amazing health professionals.  Cherish each day – because they are indeed gifts.  Never give up! Believe in miracles!!
Rick and Nicki Hackman recently published their memoir, A Second Chance: Our Journey of Hope, A Memoir, now available.