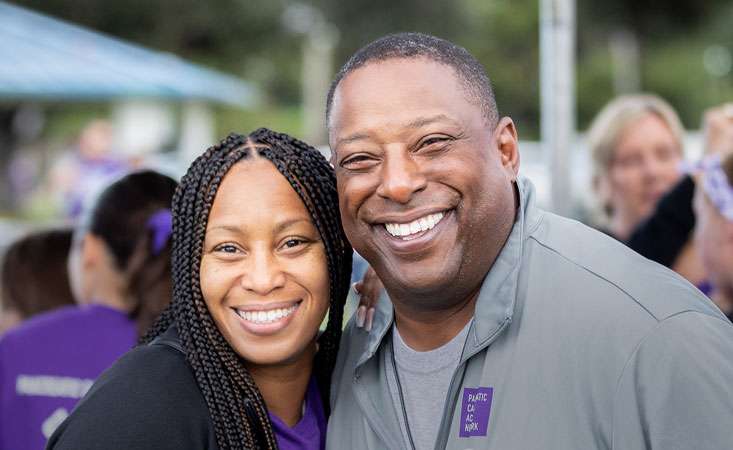 Editor's note: Mark Gardner and Sharaye Samuels are featured on the cover of our 2020 Impact Report. We're grateful for all they do for PanCAN in memory of Erica and for everyone affected by pancreatic cancer. See how much progress you've helped make by reading the report.
Mark Gardner's and Sharaye Samuels's story may feel familiar to anyone who has lost a loved one to pancreatic cancer. It's one of loss and grief, but also perseverance and connection.
Erica Gardner was Mark's wife and Sharaye's lifelong friend. She was a loving and devoted mom to Ashley, Jacob and Payton. An attorney by trade, she ran half marathons for fun.
She died at the young age of 43, two years after she was diagnosed with pancreatic cancer.
Mark and Erica met in law school. As president of the Black Law Students Association, Mark took his role as a mentor to first-year students in the association seriously. Out of the entire first-year class, only 15 were Black and he wanted them all to succeed.
As president, he'd email the group throughout the fall semester offering his help and sharing tips for what and how to study for exams. He didn't know if his emails were helpful, but that didn't stop him from continuously offering his services.
Then, as the semester ended, he received an email from Erica. She told him that she took all of his advice during the semester, felt comfortable going into finals and was grateful for all the help. She then asked him to dinner.
A few years later, he asked her to be his wife.
As for the relationship between Erica and Sharaye, they were friends for nearly 40 years. They met in kindergarten, sailed through four years as college roommates and Sigma Gamma Rho sorority sisters and kept in close touch long after that. Sharaye is the godmother to Erica and Mark's oldest child Ashley and is known as "Auntie Sharaye" to all three of their kids.
Like Mark, she misses Erica all the time.
When Erica was diagnosed in 2017, she and Mark went on the hunt for information. As Mark puts it, "Everyone had advice, but we needed a place that had the facts."
They found that place in the Pancreatic Cancer Action Network (PanCAN).
"A lot of the pancreatic cancer information we found on the internet was all over the place, but when we got to PanCAN's website, all the information was perfectly organized and easy to understand," said Mark.
They followed PanCAN's recommendation to see a pancreatic cancer specialist. According to Mark, "With the combination of a specialist at University of California, San Diego and PanCAN, our mood flipped from despair to hope."
Erica had run half marathons in the past that supported charities and wondered if PanCAN had something similar. That's when she discovered PanCAN's PurpleStride, the walk to end pancreatic cancer, and it became a family affair.
Though the family thought Erica was out of the woods after she completed her treatment, the cancer returned and was too powerful.
Mark and Sharaye both said that their involvement with PanCAN has helped them in the grieving process.
"When attending events, it's a beautiful time to remember Erica and the many others who have battled pancreatic cancer," Sharaye said. "There's such a special and warm connection in the air that you can't help but feel a sense of joy and peace."
For Mark, he wants those who are dealing with the disease to know that PanCAN is there for them.
"PanCAN worked for us and I want to make sure it works for others. Get to the website, and find your local affiliate, too – they'll get you straight."
Raising three children, Mark doesn't have a lot of time to volunteer, but he supports the cause in other ways. "I have resources, and if I have it, I'll give it."
Sharaye knows that Erica is proud of them for continuing her fight and helping others.
"I believe that Erica's heart would be full of happiness and she would say 'thank you' and 'I love you.'
"That might sound simple, but the deep and heartfelt meaning behind it is so great. It's something you could truly understand if you were lucky enough to have had the opportunity to know Erica."