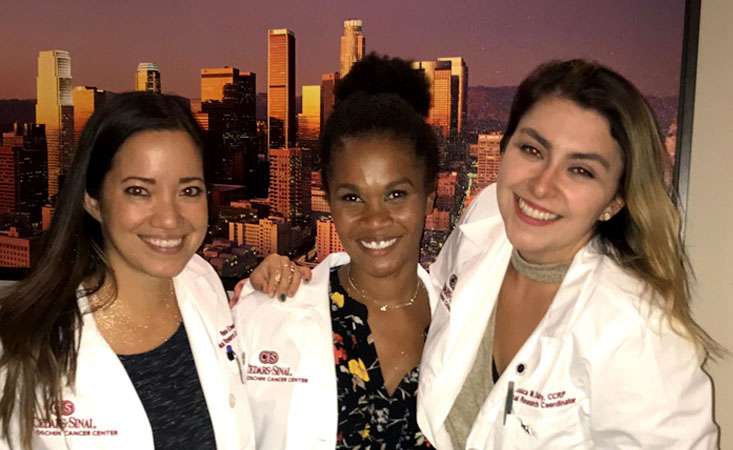 Editor's note: Today, on National Nurses Day, we are sharing a previously published story about a nurse who works with pancreatic cancer patients, and her inspiration for choosing this career path. A special thank you to all the nurses in our community!
Karla Russell was only 13 when her mother had a brain aneurysm so serious she was in the hospital for months.
"She may not make it," Karla and her sisters and brother were told, "and if she does, she may not fully recover."
But Karla's family held out hope. And the dark days brightened as their mother slowly improved.
Fast-forward 23 years, and today Karla's mom is thriving, doing all the things doctors weren't sure she would ever do again.
"She went from the ICU with tons of tubes, to walking out of the hospital and coming home to her kids," Karla said. "I'm eternally grateful for the doctors, nurses, physical therapists and occupational therapists who worked to get her back to us.
"That was when I knew that I wanted to be a nurse or a physical therapist – to give other people those same good feelings that we had."
Karla is now a clinical research nurse at UCLA Medical Center in Los Angeles, which means she is a liaison between cancer patients and the clinical trials they participate in.
When an oncologist recommends a patient be part of a clinical trial, Karla is there to further explain, "in an easy-to-understand way," the ins and outs of the trial, the therapy being tested, how it's different from the standard-of-care treatment and what the treatment plan will look like. She's also with patients during every appointment and all their treatments, answering questions and being a constant source of support.
"I'm there to be an advocate for patients," she said.
Karla is calm, compassionate and caring. Knowledgeable and positive. She's been working with cancer patients (including pancreatic) on clinical trials for over a decade.
It was early in her career, during her time at St. Jude Children's Research Hospital, that she learned a valuable lesson about having a good outlook during the most challenging times.
"One of my patients, a 9-year-old, had leukemia. She told us, 'I know I'll get better. I trust that I'll live.'
"That really stayed with me. She spoke with such clarity and confidence. As adults, we view cancer in a certain way based on perceptions and what we experience over time. But kids live in the moment, and they trust."
While she added that it's important to have realistic expectations, she wants pancreatic cancer patients, especially, to know that there are options in large part thanks to clinical trials.
"Trials are hugely valuable," Karla said.
It's research and clinical trials, she points out, that led to an increase in the survival rate for childhood leukemia from 4% in the 1950s to over 90% today.
"With pancreatic cancer," she said, in comparison, "the 5-year survival rate in 2009 was 5% and now it's 10%. This might not seem like much, but to live another year, to have more time with family, that's an incredible gift that more research brings."
Karla knows education about clinical trials is vital – especially in the Black community, where disparities in access to quality care have caused a lack of trust in the healthcare system.
Considering clinical trials is particularly important for pancreatic cancer patients who are part of an ethnic or racial minority group.
Contact PanCAN Patient Services
to learn more.
She does as much as she can in her job to make sure all patients, equally, have good information about clinical trials. She also reminds them to advocate for themselves – research their doctors, ask questions, get a second opinion and explore every option.
"Just because you have cancer, doesn't mean you lose all control," she reminds them.
Karla also knows the value in more funding and more awareness of the disease. She's hoping for a future in which people die of natural causes – and not cancer.
"PanCAN will get us there," Karla said. "PanCAN is doing for pancreatic cancer what Susan G. Komen® did for breast cancer – getting us closer to a time where pancreatic cancer is more commonly something we can live with and not be so fearful of."
She is a proponent of everyone doing their part to make that happen.
"If you can donate to PanCAN, do. If you can volunteer your time, do. If you can advocate from your couch on your computer or phone, do. Talk to people around you about the causes that are important to you.
"We can't all do everything, but we can all do something," she said. "We need to know more about pancreatic cancer and that happens through research. More research is the product of loud voices raising awareness and bringing more money to the cause."
When Karla thinks about her role in getting us closer to the future she envisions, the word "hope" comes to mind.
"I know it's cliché," she said, "but supporting clinical research gives me hope. My wish is for people to be able to work pancreatic cancer into their lives – while they have the time of their lives – and not live their lives around a cancer center."
From a young teen to a caring nurse with grateful patients, hope has come full circle for Karla.
Join the movement to create a better future for pancreatic cancer patients.
Get involved today
.