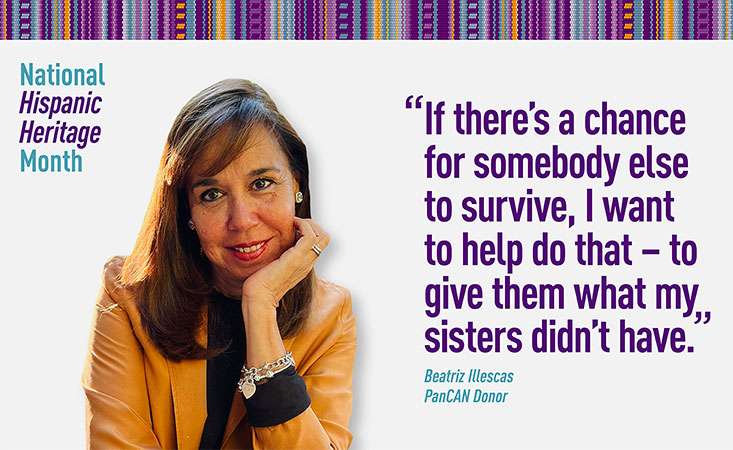 Beatriz Illescas never imagined she would be a philanthropist, but she has always led her life in service to others.
An educator who taught at both the university and preschool level, she also served as Consul General in the United States, representing her native Guatemala. Today, Beatriz is the President of Atlanta-based Foundation for a Better World.
She and husband Tom Claugus began the Foundation with a mission to support healthcare causes and research (a key focus area is pancreatic cancer); quality education; and global development initiatives in the developing world.
Pancreatic cancer is deeply personal to Beatriz.
She lost two of her three sisters to the disease. The first, Sylvia, died two months after her diagnosis.
"It was heartbreaking for our family, who have been always very close," Beatriz said. "We tried to do whatever we could to save her, but there was really nothing we could do."
A year later, sister Ana Maria was not feeling well. As a doctor, she knew right away that she might be facing the beginning of pancreatic cancer. Again, the diagnosis was confirmed. Ana Maria lived for a year after.  It was devastating for the entire family.
When the Foundation made the decision to begin supporting organizations that fund medical research, Beatriz thought of Sylvia and Ana Maria.
"I told Tom that I really wanted to make a difference for people impacted by pancreatic cancer," Beatriz said. "Besides my sisters, I know of a lot of people in Guatemala who have been affected by the disease."
Since 2019, Foundation for a Better World has supported PanCAN, giving at a significant level to fund PanCAN Precision PromiseSM – our innovative clinical trial platform that aims to bring improved treatments to patients more quickly.
"I know the disease is a challenging one," Beatriz said, "but if there's a chance for somebody else to survive, I want to help do that – to give somebody what my sisters didn't have. In some sense, if somebody else wins, my sisters will have won, as well."
Beatriz learned about PanCAN when she was searching online for organizations that fund pancreatic cancer research. She could see that PanCAN's mission aligned with Foundation for a Better World's goal of conquering diseases that have been difficult to make progress in.
She knows that the road is long, but she isn't deterred, saying, "We may not see a cure in our lifetimes, but what matters is that we are trying to make a difference. That we are working to pave the road for people who will be diagnosed 10 years from now, so that they will have hope."
She especially appreciates that PanCAN is working to raise more awareness about pancreatic cancer in the Hispanic community. Additionally, PanCAN Patient Services offers information for patients and families in Spanish, has Spanish-speaking case managers on staff, and provides resources in Spanish at pancan.org. All of this is possible thanks to the support of generous donors.
"It's important for the Hispanic population to get the information they need and for them to be supported through pancreatic cancer," she said. "It's very valuable for them to talk to people like them who have been in the same situation."
Beatriz remembers reading a book called "Dying Well" when one of her sisters was battling pancreatic cancer. In it, the author, Ira Byock, shares how to be there for someone who is facing death. The book was so helpful to her and made such an impact, that she wrote a note to the author to let him know.
To her surprise, he wrote her back. His response meant the world to her.
"When you get support from people who have been through something similar, there is a peace that comes along with that. You realize just how much goodness there is in the world," she said.
Goodness, indeed. And hope for the future.
Give today
and support pancreatic cancer research funding, free services for patients and families, and more.