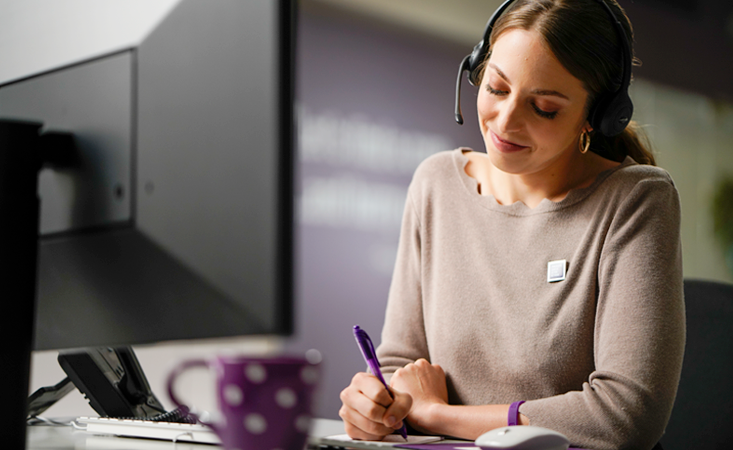 Read the Spanish version of this post.
Editor's note: During Hispanic Heritage Month, which runs from Sept. 15 to Oct. 15, we're highlighting the free services and resources we provide in Spanish to pancreatic cancer patients and families. 
A Spanish-speaking caller reached out to PanCAN Patient Services recently. Her sister had been diagnosed with pancreatic cancer and was told there were no treatment options available for her.
A PanCAN case manager who speaks Spanish recommended that they contact a pancreatic cancer specialist – someone who treats a high number of pancreatic cancer patients – for a second opinion. They did, and the caller's sister learned from the specialist that she did have options and that she was eligible for surgery to remove the tumor. This second opinion could lead to a better outcome for the patient.
PanCAN Patient Services helped pancreatic cancer patients and families over 45,000 times last year, and all of the free, personalized, one-on-one services and resources provided are available in Spanish, as well.
Ana Gonzalez, a PanCAN Patient Services case manager, is one of seven case managers on a team of 18 who speaks Spanish.
"What we get to do every day – help patients and families – is very fulfilling. Many people who reach out to us have no idea where to turn. If we can provide them with even one useful resource, that is our goal."
One area that Ana is often asked about is diet and nutrition, a common topic of interest for many pancreatic cancer patients.
"Spanish-speaking callers tell us that this is one area of their pancreatic cancer experience that they feel they have control over," she said. "They may feel that their doctor is handling treatment options but they can manage the nutrition aspect."
Ana said there are 4 key things she tells Spanish-speaking patients and families:
Make sure they're aware of all available treatment options. "I just spoke with a person who told me their mom was diagnosed at stage 3 and the doctor didn't recommend treatment," Ana said. "I reminded the caller to get a second opinion and to stay hopeful. Chemotherapy and radiation are typically offered as options at this stage of disease."
Translation services are available. If there is a language barrier, ask that a healthcare professional who speaks Spanish be allowed in the room to translate what the doctor says. "Some patients tell me they have been communicating with their doctor through hand signals – that is very, very tough," Ana said.
Ask the doctor and PanCAN about clinical trials they could be eligible for. Ana said, "Patient diversity in clinical trials is extremely important and the Hispanic population is often not well-represented. Make sure your doctor is thinking beyond standard of care." PanCAN helps patients find clinical trials they may be eligible for.
Get a second opinion on diagnosis, treatment and any other concerns. "Often, people are not comfortable questioning their doctor, so I remind them it's not only appropriate, it's encouraged to be your own advocate with your healthcare team," Ana said.
Spanish-speaking Patient Services case managers are best equipped to help people in the United States, but they do receive calls and emails from people who live internationally.
"If we know that a Spanish-speaking patient or caregiver is located in a different country, we'll try very hard to find and offer resources that will be helpful to them," Ana said. "We'll also do our best to find pancreatic cancer advocacy groups in their country who may be able to better assist with specific needs (for example, financial assistance, specialists)."
PanCAN is a founding member of the World Pancreatic Cancer Coalition and is familiar with the nearly 100 organizations involved, spanning six continents. Coalition organizations are usually recommended by PanCAN Patient Services as the next best place to contact for help.
PanCAN Patient Services can provide all patients and families one-on-one information on clinical trials that patients may be eligible for, information about testing – both biomarker testing and genetic testing – a list of pancreatic cancer specialists in the patient's area, as well as information on diet and nutrition, supportive care, support groups and more.
"Everyone is so very appreciative of the help that we give, and it's an honor for me to help serve the Spanish-speaking population," Ana said. "They have a special place in my heart."