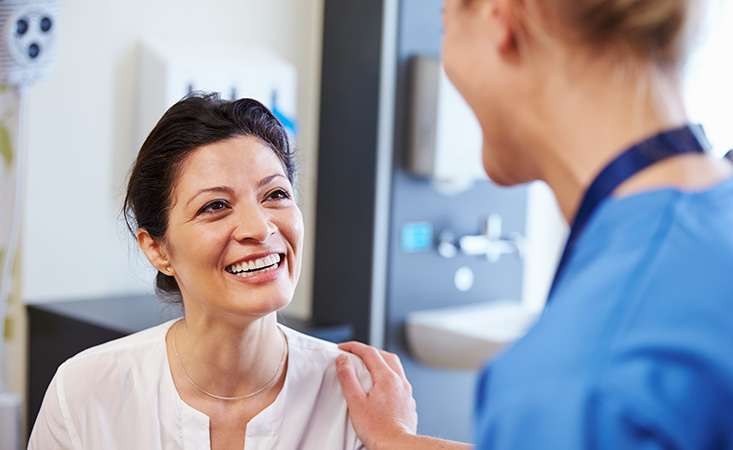 Editor's note: It's Hispanic Heritage Month, which runs from Sept. 15 to Oct. 15. We spoke with Jose Trevino, MD, FACS, Associate Professor and Chair of the Division of Surgical Oncology at Massey Cancer Center at Virginia Commonwealth University, and Kelly Herremans, MD, a general surgery resident and surgical oncology research fellow at the University of Florida, who has trained with Dr. Trevino. We discussed diversity in clinical trial participation and disparities in patient outcomes within different racial and ethnic groups.
PanCAN: Why is it important to study diversity and equity, as well as disparities, in pancreatic cancer research and clinical practice?
Dr. Trevino: Our country has a challenging history of not including racial and ethnic diversity in many aspects of society. The populations we refer to as "minorities" today are predicted to make up half of the U.S. population in the coming years.
Our interest in disparities in pancreatic cancer care and outcomes arose from clinical observations. We were seeing Black patients coming into the clinic with later-stage disease at initial diagnosis and worse overall clinical outcomes than patients who are white. We've published several studies on pancreatic cancer racial and ethnic inequities and their effect on patient outcomes. We found that when we account for socioeconomic status and healthcare availability, the poor clinical outcomes persisted, suggesting there may be biological or genetic factors at play.
We were also somewhat surprised to find that Americans of Hispanic or Latinx descent have lower pancreatic cancer incidence and death rates, and better survival outcomes, than other racial and ethnic groups. This finding underscores the importance of studying biology as well as community and environmental factors.
PanCAN: How can diverse clinical trial participation make a difference in improving outcomes for all pancreatic cancer patients?
Dr. Herremans: The goals of clinical trials are to test safety and efficacy of investigational treatment options for patients, and ultimately, to establish new standards of care. If the clinical trial doesn't include representation of diverse patients, we can't – and shouldn't – expect that the findings will be relevant to all patient demographics.
Dr. Trevino: What drives success in a clinical trial is the hope that you'll affect the majority of the population and provide a clear benefit to patients' length and quality of life. But what happens if you find out the treatment approach helps about 10% of participants? The clinical team may conclude that the trial wasn't successful, but what is it about those 10% of participants that we might be missing?
Dr. Herremans: We know that a patient's tumor biology and genetic makeup can influence which treatments are most effective for their pancreatic cancer. We're interested in learning how a patient's ancestry impacts both the genetic changes they were born with and somatic changes – biomarkers found within their cancer cells – and how to bring race and ethnicity to a precision medicine approach. Ultimately, we hope to tailor treatments to a diverse patient population and be able to offer each patient a treatment option with the best likelihood of success for them.
PanCAN: Why are Hispanic Heritage Month and similar awareness opportunities important for the pancreatic cancer community?
Dr. Trevino: Our country was founded by immigrants, and it's becoming even more diversified. We need to continue to pursue the importance of our differences. We know that someone who identifies as Hispanic or Latinx in San Diego isn't the same as a Hispanic or Latinx person in Miami – genetically or culturally. What can we learn about our cultures and makeups to better understand pancreatic cancer and potential therapeutic targets?
Hispanic Heritage Month is important because it celebrates a strong population in this country. PanCAN is in a position to help push the idea that we are all incredibly diverse and carry beautiful things within all of us.
Dr. Herremans: PanCAN also has a role and responsibility to make sure all patients feel like they're included. No one should feel like they're fighting a disease like pancreatic cancer alone.
Contact PanCAN Patient Services
for a personalized clinical trials search and other information and resources about the disease, provided in English or Spanish.