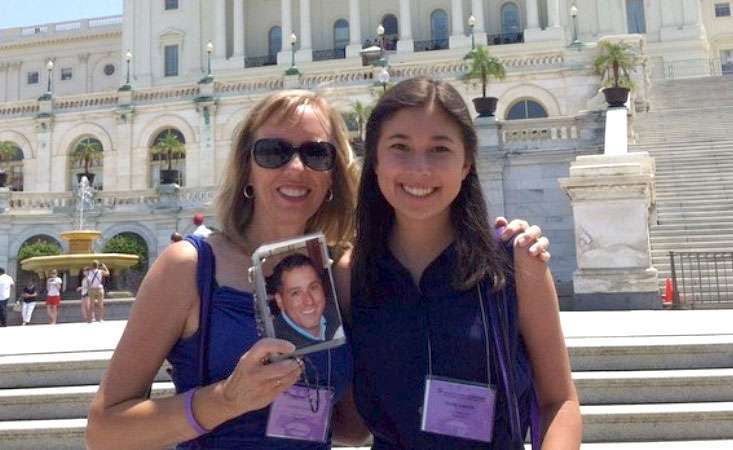 Colleen and Emily LaSalle have been involved with the Pancreatic Cancer Action Network (PanCAN) for nearly 10 years. For Emily, 20, that's half of her life.
Why has this mother-daughter duo been so dedicated to PanCAN? Because they don't want another person to lose a loved one to this disease.
Twelve days after Emily's 11th birthday, her father, John LaSalle, passed away from pancreatic cancer. It was only four months after his diagnosis.
Looking for an outlet for their grief, Colleen and Emily found PanCAN and started volunteering, participating in PanCAN's PurpleStride fundraising walks and advocating at the PanCAN Advocacy Summit (formerly known as Advocacy Day) in Washington, D.C.
Ten years later, their dedication has only grown.
Emily now serves as volunteer PurpleStride Team and Individual Development Chair for the Orange County Affiliate of Calif., hosts Wage Hope My Way DIY fundraiser events and has even interned with PanCAN at its national office during her summer vacation.
Most recently, she also became a Circle of Hope monthly donor.
Circle of Hope is PanCAN's monthly giving program that funds critical programs benefiting patients, caregivers and loved ones through their journey with pancreatic cancer.
"I hadn't really thought about it as an option for me," Emily said. "I knew I couldn't be a huge donor because I'm 20 years old, working two minimum-wage jobs and attending college.
"But I realized that I can give $5 a month…my lattes are more expensive than that."
Emily's excitement was so infectious that her mom Colleen became a Circle of Hope member, too.
"At my first Advocacy Day in 2012, I sat next to a pancreatic cancer researcher who told me that 'research follows money,'" Colleen said. "I think that research follows money, but I also think that hope follows money."
Colleen and Emily are self-professed "true believers" in what PanCAN is doing in the pancreatic cancer community. They also credit PanCAN for making them feel less alone.
"I grew up with PanCAN," Emily said.
"Working with them has really given me a voice. It's a really powerful thing when you realize you're not alone. I wouldn't be the person I am without my PanCAN community. I can give monthly to an organization that helped me become who I am."
Colleen added, referring to PanCAN's free patient support service PanCAN Patient Services, "There are so few things that are free, especially when it comes to your health. How can you not give back to an organization that's helping so many?"
When asked why others should consider joining Circle of Hope, Emily shared that it's not necessarily about the dollar amount, but the "constant commitment" to something she believes in.
"My monthly donation can't fund a research program, but it could help. And if enough people do the same, the possibilities are endless."
Join the Circle of Hope
and become part of a community of people creating a brighter tomorrow for pancreatic cancer patients.