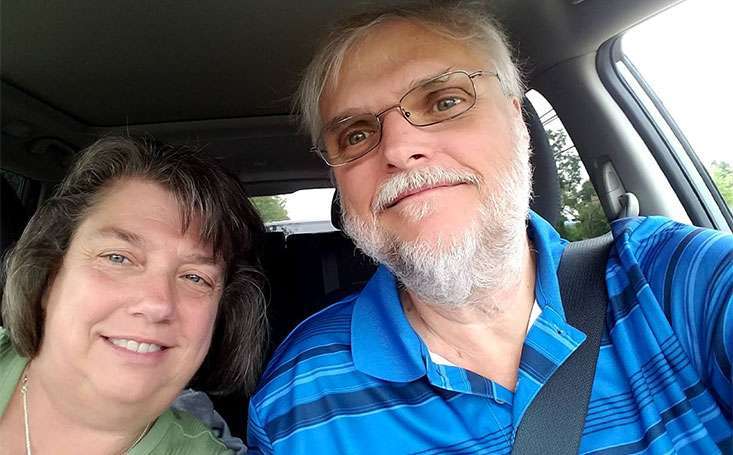 Bob and Eileen Williams of Brunswick, Ohio, met when a friend set them up on a blind date. That one date was all they needed to realize they wanted to spend the rest of their lives together. That was the plan.
Through the years, they traveled, spent time with family and friends and most importantly, enjoyed each other's company.
Their family was completed with the adoption of their two children.
"Our family grew and so did the love!" Eileen said. "The children became our focal point, but we made sure we had 'Bob and Eileen time.' We had a great life."
Then, in April 2018, after experiencing stomach pains – which were not common for him – Bob went to see a doctor who sent him for tests and imaging. Results in hand, Bob's doctor diagnosed him with pancreatic cancer.
"When we found out, our world came tumbling down. He looked at the imaging with the doctor and I looked over his shoulder with tears coming down my cheeks. After the appointment I remember saying that this really sucks. He then told me, 'Let's go look at the outdoor furniture we wanted to buy.'"
Bob started chemotherapy and responded well to it – his tumor was shrinking in size. He was able to continue his everyday activities. He worked, traveled, camped and spent time with family and friends.
"He carried on like always," Eileen said. "We lived life!"
The two heard about the Pancreatic Cancer Action Network (PanCAN) through a former classmate of Eileen's whose fiancée was battling the disease.
"We counted PanCAN as one of our primary sources of information, along with the Cleveland Clinic, where Bob had his treatment," Eileen said.
They signed up for PanCAN's PurpleStride Cleveland and Eileen created the team Bob's Warriors in 2018. Bob wore a purple wristband and shared bands with others. The whole family rallied to raise funds for PanCAN.
"Bob was so proud of the amount that was donated…it brought tears to his eyes. He wanted to stop this disease. It has affected too many people."
In February 2019, things changed for Bob. Once an enthusiastic eater, he couldn't stand the sight of food and he began to retain fluid. Bob spent the next weeks surrounded by the friends and family he cherished. In the early morning hours of March 16, 2019, Bob passed away.
"My husband of 34 years was gone. He was only 59. He had a lot of life to live yet," Eileen shared.
Feeling that there was more she could do to honor Bob, Eileen became a PanCAN Partners in Progress member. Partners in Progress is a group of PanCAN's most loyal donors committed to improving outcomes for pancreatic cancer patients.
While her dedication to PanCAN has helped her throughout the grieving process, Eileen would do anything to have Bob back.
"Others told us over and over that we had a special relationship not many people have. I am so thankful we did. He was my soulmate."
Today is Eileen's and Bob's 36th wedding anniversary. We are thinking of Eileen today and we thank her for her generous support in tribute to Bob.
Learn more
about how to become a PanCAN Partners in Progress member.