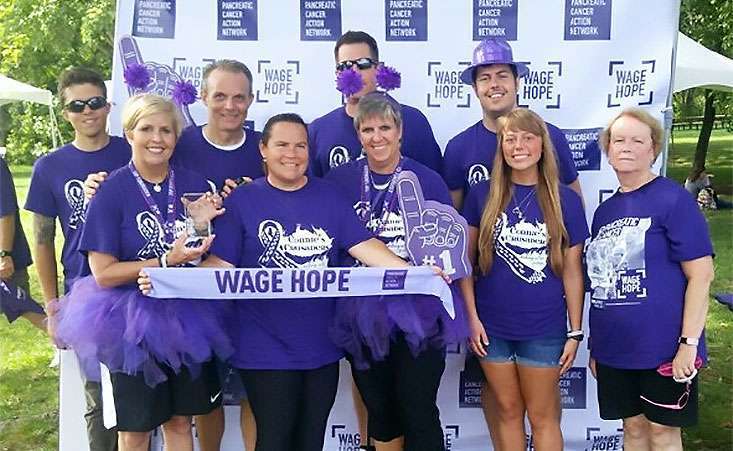 Editor's note: Our "It Starts with Someone" series chronicles all kinds of Pancreatic Cancer Action Network (PanCAN) supporters – volunteers, survivors, caregivers, advocates, researchers – and describes the "someone" who has impacted their efforts in the fight against pancreatic cancer. This week's "someone" highlights a top-performing fundraising team, Connie's Crusaders. Read about their inspiration for supporting the cause.
They are determined, and they will not stop raising money until a cure for pancreatic cancer has been found.
For Susan Jonas and fellow members of the Louisville-based PurpleStride Team "Connie's Crusaders" that sentiment could not be stronger.
Jonas lost her mother, Connie Erickson, to pancreatic cancer in 2015 after 18 months. Since then, she has made it her mission to help others who are fighting the disease through fundraising.
"We found the Pancreatic Cancer Action Network online and contacted them as we started our journey. We knew we needed to arm ourselves, as a family, with the most accurate information possible. PanCAN Patient Services provided amazing support, and because of that assistance, I decided to give back and help those still fighting the fight, and support those who have lost loved ones."
One unique aspect of the Connie's Crusaders fundraising team is that they channel Erickson's love of art and cooking.
"My mom was an amazing artist and calligrapher as a hobby," said Jonas. "After her passing, I was helping my dad get their winter home ready to put on the market. I found a shoe box with some of her Zentangle artwork in it and thought, 'This is way too nice to be stored away in a box.' I asked my dad if we could make them into notecards, sell them and donate all the money raised to PanCAN in her memory. He was totally supportive."
Jonas sold over 300 notecard boxes in a short time and had a "lightbulb moment." Soon after, Connie's Creations was born. They now sell ceramic tiles, canvases and prints featuring Erickson's art. Proceeds go to PanCAN.
"It is helpful for me to share my mom's artwork with others and not only keep her artwork alive but also her memory. Our most recent venture was Connie's Creative Cuisine Cookbook. We compiled her favorite tried-and-true recipes including those of her friends and family. The cookbook also features several pieces of her artwork and calligraphy – it is a collection of her love of art and her love of cooking."
Connie's Crusaders, a top-performing team, have participated in PurpleStride events in Nashville and Louisville since 2015. They have raised more than $40,000 to-date for the cause.
"Fundraising for PanCAN has become a passion of mine," said Jonas. "I am doing something to help find a cure for the cancer that took my dear mom from me. During her battle my mom fought. I learned a lot about pancreatic cancer, and I continue to learn as this journey in life goes on without her by my side."
"Connie's Crusaders will not stop raising money and fighting until we hear the magical words, 'a cure has been found.'"
PurpleStride Louisville is Aug. 4. Visit
purplestride.org
to find a walk near you and raise critical funds for pancreatic cancer.