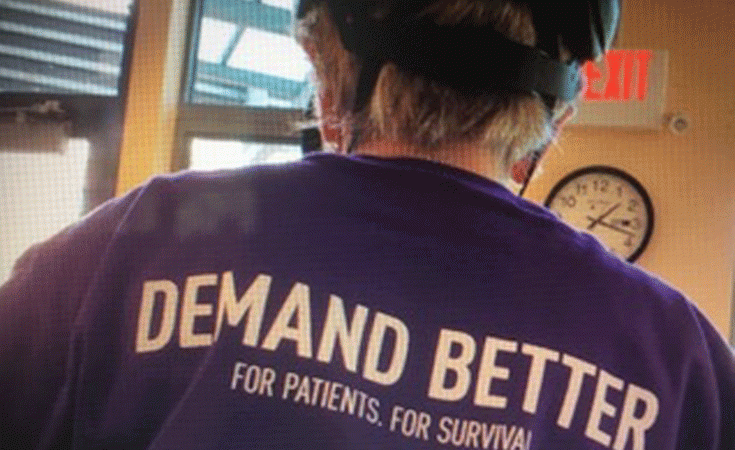 In tribute to Women's Health & Fitness Day, Sara Weinberger who lost her mother and her cousin to pancreatic cancer, gives a personal account of her 106-mile bike ride in 2018. She discusses how she fulfilled a long-standing need to honor her mother's memory and offers tips for successfully running your own personal fundraiser. 
On Sept. 29, 2018, I rode out on a very foggy morning with the goal of completing my first century bicycle ride. My tri-state pedaling adventure would take me from my home in Easthampton, MA., to Brattleboro, VT., and back.
Although I have spent my adult life cycling, until this summer, I had never ridden more than 60 miles in a day. At the age of 68, I approach life as a "now or never" opportunity, realizing that my physical ability is time-limited.
While riding 100 miles in a day would be a challenge, it felt important to make this ride about more than myself. The impetus came in a newsletter from the Pancreatic Cancer Action Network (PanCAN).
In 1983, my mother, who survived the Holocaust, died just two years after she was diagnosed with pancreatic cancer. At that time, the survival rate for this disease was in the very low single digits.
Early diagnosis is rare because most symptoms, like my mother's jaundice, don't occur until the disease has significantly progressed.
When a cousin died of the same illness years later, I found PanCAN while searching the internet for an organization to donate to in her memory. The PanCAN newsletter that I received several months ago enticed readers to "turn your fitness into fundraising to support vital services for patients."
PanCAN would provide me with a fundraising web page and technical assistance to launch my solo fundraising effort.
For six weeks, I was held captive by ambivalence. I dread asking people for money, especially friends. Was I too old to ride 100 miles? Could I commit to the training necessary to make this happen?
In the end, my long-standing need to honor my mother's memory won out. On Aug. 1, I launched "Pedaling for a Cure: Sara's Century Ride to Combat Pancreatic Cancer."
The many hours I spent training gave me lots of time to think about those affected by pancreatic cancer. Some of those who donated to my ride shared the names of family and friends who had been affected by pancreatic cancer.
I carried those names in my vest pocket during my ride as a reminder that each victim of pancreatic cancer has a constellation of people in their lives who are also affected. Who will speak for the dead and for the suffering? Who will speak for their loved ones?
I arrived home 106 miles after I began my ride, tired, but grateful for having the strength to achieve my goals. Thanks to everyone who helped make my dream a reality!
And thanks to my mother, whose energy, spirit and love inspired me to do this ride. I continue to believe that one day, a diagnosis of pancreatic cancer will no longer be a death sentence.
My top four tips for a successful fundraiser:
Be clear about why you are doing this fundraiser. My desire to honor my mother's memory by supporting PanCAN's important work, and my goal of completing a century ride gave me the motivation I needed for this fundraiser.
If you are like me and have a difficult time asking people for donations, make a list of people you know well who are likely to donate. You will be amazed at how responsive people will be. As more people donate, you can add to your list.
PanCAN's fundraising page is easy to use, and their staff is also extremely helpful, so be in contact with them. They will provide you with tech support and lots of encouragement!
Choose a fundraising idea that gets you excited! Think of something you love to do and then turn it into an opportunity to raise money for PanCAN.
PanCAN would not be able to make moments that matter for patients and their families without you. Wage Hope My Way, PurpleStride, Advocacy Day, local Volunteer Affiliates —
find the way
to make those moments that feels right for you.