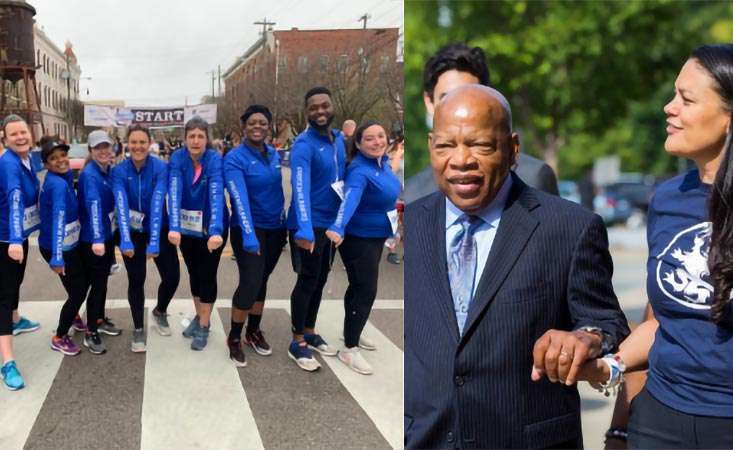 The John Lewis Freedom Runners of Atlanta recently donated $5,000 to the Pancreatic Cancer Action Network (PanCAN). They run in honor of renowned Congressman and civil rights leader John Lewis (D-GA), who was diagnosed with pancreatic cancer in late 2019. The team's slogan is "He walked for us, so we run for him." We are grateful for their generosity and commitment to the fight against pancreatic cancer.
As the newly recruited superintendent of Atlanta Public Schools back in 2014, Meria Carstarphen, PhD, remembers being under an intense amount of stress. To manage it, she started a small running group and invited colleagues to join.
What started as a healthy and fun activity for the group has today evolved into something far greater and has gifted each of the group members with cherished memories, life lessons and the added benefit of giving generously in their community and beyond.
At first the team could be found raising money in Atlanta for public schools. Then they branched out to support just about every charitable cause they could.
"If there was a community run, we were there!" Dr. Carstarphen said.
"But when my dad passed away and the date of his passing closely coincided with the 50th anniversary of Martin Luther King, Jr.'s assassination, I knew we had to do something in Selma (Ala.), where both my dad and I are from."
Fellow running group member Tammie Workman found out about a relay from Selma to Montgomery, Ala., on April 1, 2020.
The 51-mile relay would follow the footsteps of 600 nonviolent activists (including Rep. John Lewis) who marched in 1965 to demonstrate their desire to exercise their constitutional right to vote. Even though none of Carstarphen's team members had run a relay before, let alone a 51-mile one, they all agreed they had to do it.
Rep. Lewis was a natural person for them to honor. "No one had the name, 'Freedom Runners,'" Workman said, "and when we asked Rep. Lewis if we could use that name for our running group, he said yes!"
They designed special T-shirts and began to train for the long relay.
Carstarphen shared, "One day we ran into John Lewis at the airport. We showed him our shirts and asked what he thought of our brand. He stopped to talk to us and was so gracious. I know him, but when I see him, I always feel like I'm seeing The Beatles."
Workman remembers the day of the relay: "It was so moving. Before we ran into the state capitol in Montgomery, we all held hands and cried.
"After our run, we had a van to pick us up. I couldn't help but to think back to those who marched back in 1965, and how there was no van. People risked their lives to march – they didn't know if they would make it."
Michael Wilburn, the youngest John Lewis Freedom Runners member, who's 27, said with pride, "I was able to represent a legacy name – John Lewis – and run across the bridge he walked across in Selma."
When Rep. Lewis was diagnosed with pancreatic cancer in December 2019, the team decided to further honor his name while raising funds and awareness for pancreatic cancer.
Their goal was to run five 5Ks in District Five (Rep. Lewis represents Georgia's 5th district) in five months to raise a total of $55,555 to support the John Lewis Invictus Academy in Atlanta, Winship Cancer Institute of Emory University and PanCAN. The coronavirus pandemic led to an adjustment in their racing plans – but they were still able to generously donate $5,000 to PanCAN.
The team says they're honored to be making an impact on people battling pancreatic cancer.
John Lewis Freedom Runners member Jennifer Saunders shared what she finds unique about the team, in addition to fundraising for special causes.
"We've shown up with our real selves from the beginning. You know how you're on your best behavior with people you don't know yet? We were never like that. We brought it all: grumpy, helpful, bossy, kind. And it's made us closer – we're family."
Carstarphen agreed.
"Our team is diverse in ideology and belief systems and we represent so many demographics, but we're a family," she said. "This group pushes us to be tolerant."
Tolerance: a theme of special urgency in today's world, and of particular meaning to Rep. Lewis.
What's next for the John Lewis Freedom Runners? They look forward to running down the Black Lives Matter Street in Washington, D.C.
John Lewis Freedom Runners:
Meria Carstarphen, PhD; Rachel Sprecher; Tammie Workman; Jennifer Saunders; Michael Wilburn; Skye Duckett; Alan Lee; Jasmin Mosley; Carolyn Viator; Bill Goodman; Eshe Collins.
Make a gift
today to support lifechanging services for pancreatic cancer patients. They need your support now more than ever.