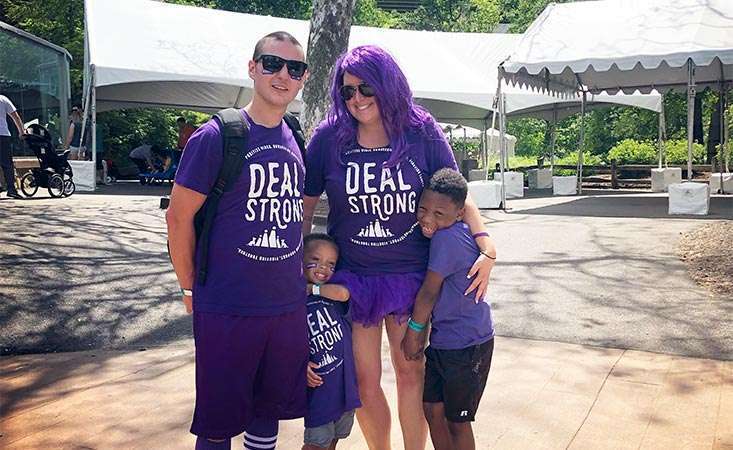 Editor's note: We are deeply saddened to share that Adam Deal died of pancreatic cancer in December 2020. His advocacy and support of PanCAN and the pancreatic cancer community have been an inspiration to so many people. We'll never stop fighting on his behalf.
Last week we introduced you to pancreatic cancer survivor, Adam Deal. He was diagnosed with stage IV pancreatic cancer in October 2017 at the age of 32.  
"I had no clue that anything was wrong with me."
After Adam Deal received his metastatic pancreatic cancer diagnosis, he thought back to the previous year, wondering if he'd missed any symptoms.
"I was tired, but we had a 4- and 3-year-old at the time, so that could explain the fatigue factor," he recalled. "I worked out six days a week, so my abs and back were sore all the time. It was never excruciating pain, so I could explain that symptom away, too."
Lastly, Deal was losing weight, which was the symptom that convinced his wife Amanda that he should see a doctor. "It was only when I was weighed right before my biopsy that I realized I had lost almost 40 pounds in three months."
In a haze of shock, sadness and fear, Deal vowed to do everything he could to fight this disease. The Deals had recently adopted young boys through the foster system, and their biggest wish was to make the children feel safe and stable.
"I knew the statistics, and they were not pretty. But how could I look at my boys every day and wonder if I am going to fail them?"
Even though others had advised the couple to stay away from the internet, Amanda did some searching online and found the Pancreatic Cancer Action Network (PanCAN).
"The information was extremely valuable. Instead of doom and gloom, we saw positive stories," Deal said. "From that day, we both felt we had to do everything we could to support PanCAN and raise money in order to not see anyone else go through this."
In November 2017, the Deals held an online fundraiser for PanCAN. Their initial goal was to raise $500. By the end of the month, they had raised around $19,000.
"This motivated us to do more," Deal said. They became connected with the PanCAN Cleveland Affiliate of volunteers and started a PurpleStride team, which has quickly become one of the top fundraising teams at their local walk/run event. They've also fundraised through Wage Hope My Way.
And just last month, Deal joined the organization's Circle of Hope as a monthly donor.
In total, the Deals have raised more than $75,000 for PanCAN to date.
"Every little bit helps," Deal said.
"To fight this disease, research must be done. Without donations and fundraising, there isn't any money for research. I tell people that their donation, whether large or small, may be the dollar that supports a breakthrough that may lead to a cure."
Looking back at the "rollercoaster" his family has been on for the past two years, Deal remembers one particular moment that stood out. His kids, Shai and Abel, like to request songs at bedtime. A favorite is "You Are My Sunshine."
"A few days after I was diagnosed, I was helping Shai get dressed for a family event," Deal remembered. "My emotions were high, as I had no idea if I was going to see my kids grow up. Shai looked at me and put his arms around me and started to sing 'You Are My Sunshine.'
"That moment gave me clarity that I would do everything in my power to fight this disease."
Donate today
to advance research, support patients and create hope for survivors like Adam.