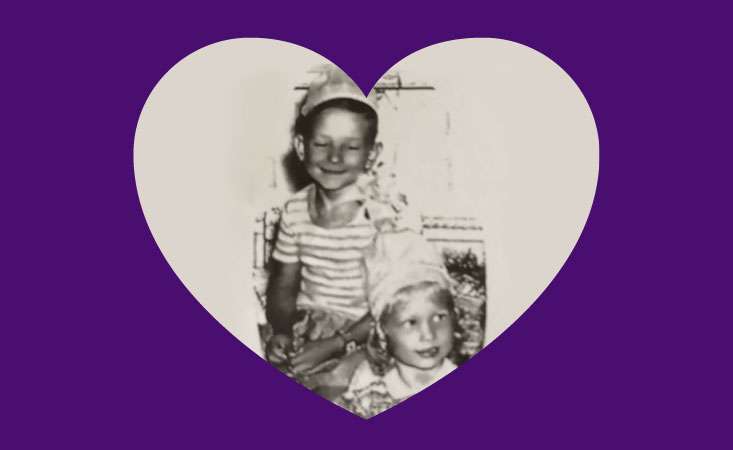 Their story started in a black-and-white photo.
He had just turned 4, and she was still 3.
It was Lewis Jordan's birthday party, and he was eyeing Joni with adoration.
"I thought she was the cutest thing I'd ever seen," he said. "You can see in the picture that I'm looking at her like she hung the moon."
The photo is a bit creased, but this memory is super sharp.
Lewis carries the picture in his wallet. His time with Joni, he carries in his heart.
Six decades after that fourth birthday party, Lewis married Joni.
A Lifetime Together
The two grew up in a small town not far from Atlanta. Though they were neighbors they attended different elementary schools. But from seventh grade, when "Buster," as Lewis was known, and Joni reunited at the same junior high school, and through their senior year of high school, they were inseparable… as friends.
"She was captain of the high school cheerleaders, the most popular, the most beautiful, and she was interested in dating older boys – think University of Georgia football standouts," Lewis said. "So, not wanting to be turned down, I kept my pride, lowered my expectations and settled for being her best friend."
Though he dated others, Lewis said, Joni was always THE ONE. They went their separate ways for college – she to nursing school and he to engineering school – married other people and lost touch.
Fast-forward 45 years, to 2007.
Lewis and Joni attended their high school reunion.
By then, each had experienced life's ups and downs.
Lewis, an airline executive, had been president of Continental Airlines and co-founder and president of ValuJet (which was later sold to Southwest Airlines), among other top positions in the aviation industry. But a devastating ValuJet crash into the Florida Everglades in the mid-90s had left Lewis depressed and weary, unsure of his next step.
Joni had battled breast cancer for two years and was recovering from a double mastectomy, chemotherapy and radiation treatments.
At their class reunion, more than an old friendship was rekindled.
"It was like magic," Lewis said.
Joni had told him she hadn't been interested in a new relationship unless something big were to fall in her lap. He remembers her later telling friends that she had no idea "someone as big as Lewis" was going to fall in her lap.
"I wasn't that same skinny kid from high school," he said with a grin. "We picked right back up where we'd left off, and before long, it was clear that we wanted to spend the rest of our lives together."
And they did, until last year.
'The Person I Adored'
In April 2020, Joni died of pancreatic cancer.
She had survived 12 years. A blessing, the couple acknowledged – the doctor who diagnosed Joni predicted she might have only six months.
Joni had been undaunted. "I'm gonna whip this," she told Lewis.
He was devastated: the couple had only been together for one year.
"It was horrifying to think that after all these years of waiting for this dream to come true, our time together could be very, very short," he said. "I decided my purpose was to be there in every way for Joni, and to make her happy for the rest of her life. It gave me such pleasure to do that for the person I adored."
Lewis tackled Joni's treatment like he had approached the biggest challenges in his career, but this time, it was for "the most precious thing in my life, my Joni."
He explored every option, called upon friends and business connections and worked relentlessly to ensure Joni would have the best care.
He soon found PanCAN Patient Services, where he and Joni were able to connect with others who had been in a similar situation. Their Patient Services case manager encouraged them to get a second opinion, to make informed decisions and to move quickly with treatment next steps. It was advice they would later give others they met who had also been diagnosed.
Lewis arranged for Joni to be treated at MD Anderson Cancer Center in Houston.
And, he arranged another event – and perhaps the most important one: their wedding.
Lewis and Joni had been engaged when Joni was diagnosed. They considered postponing but then figured, "Why wait?"
On Sept. 20, 2008, the two said their vows in front of the chaplain in the MD Anderson Cancer Center chapel. The adjoining Marriott at the hospital was where the couple danced at their wedding reception while a seven-person band, compliments of the hotel, serenaded them.
Hotel guests danced too. They smiled, cheered and clapped for the happy couple.
Six weeks after their wedding, Joni had the Whipple procedure at MD Anderson. It was a success.
Memories Bring Smiles
Over the years, Joni was in and out of chemotherapy, and most recently, she had additional surgery and treatment at Memorial Sloan Kettering Cancer Center in New York City. Some of Lewis' favorite memories of Joni are of their visits to New York, he said – the kiss they shared on top of the Empire State Building, meals at their favorite restaurants.
"I was so impressed with her," Lewis said. "We were there for treatment, but she had such a great outlook and would say, 'I want to have fun while we're there, too.'"
Other memories – like attending the Masters at Augusta National, Georgia Tech and Atlanta Falcons football games, and trips to Scotland, France and England – still bring a smile to Lewis' face.
Also comforting is the nonprofit that he and Joni started in 2012, GratitudeAmerica. It provides retreats for Afghanistan and Iraq veterans, many of whom have post-traumatic stress disorder and injuries. Connections, camaraderie and counseling are part of the no-cost four-day events.
Joni had loved giving back as much as Lewis – to GratitudeAmerica, PanCAN and other causes.
"She was simply the finest person I've ever known," Lewis said.
"She always did what was right. Everyone loved Joni – she lit up rooms with her smile. She was the most beautiful person, inside and out. Kind, considerate, loving."
A black-and-white photo started their story. Vivid, colorful, warm memories continue it.