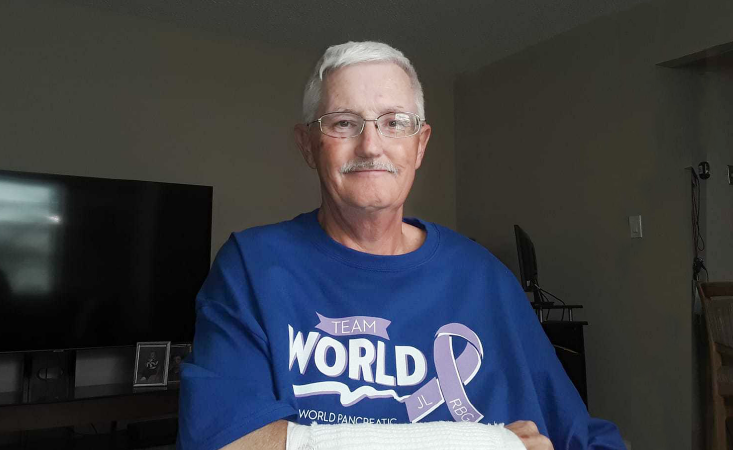 Editor's note: It's Volunteer Appreciation Week! A tremendous thank you to all PanCAN volunteers – you are generous, passionate, devoted and unmatched in your commitment to the cause. PanCAN couldn't exist without you.  
Almost 22 years ago, on May 26, 2000, Michael Fitzpatrick of Florida finally had a diagnosis.
He had struggled for at least a decade before that with electrifying pain in his back, severe fatigue and trouble keeping food down. Doctors had always just prescribed common medications used to treat acid indigestion and heartburn. Even an exploratory surgery to pinpoint what was making Michael ill didn't yield a concrete diagnosis.
But pancreatic cancer turned out to be the true culprit – a rare form called Zollinger-Ellison, which causes pancreatic neuroendocrine tumors (PNET) called gastrinomas.
"Later," Michael said, "I found out that my mother had had pancreatic cancer – adenocarcinoma, the most common kind. She passed away when I was 5."
Michael had the Whipple procedure and years later, moved from New England to Florida. There, he found a connection to PanCAN in triathlete Molli Serrano, a fellow pancreatic cancer survivor who had formed a team to participate in her local PanCAN PurpleStride in 2012. Michael joined her team. Although Molli died the following year, Michael got more involved with PanCAN as a way to pay tribute to her and give back to the entire pancreatic cancer community.
Michael has since spoken at PanCAN PurpleStride events, attended PanCAN Advocacy Day in Washington, D.C., and is an active volunteer with the PanCAN Broward-Palm Beach Affiliate in Florida.
He has also marked his long-term survivorship by celebrating with new adventures. Like when he walked for 26 miles, from Boca Raton to Hollywood, Fla., on World Pancreatic Cancer Day. It was an "Extreme 5K" to honor all those affected by the disease. Or in 2019, when he walked for 24 hours straight. He had been inspired by Molli.
This year, Michael is looking forward to hosting fellow survivors in the Survivor Tent at PanCAN PurpleStride Broward-Palm Beach, as well as participating in the event with Team 22/SFC/Truist/Fitz, of which he is the captain.
Reuniting with friends that he has volunteered with all these years will also be a highlight at PurpleStride.
"All the volunteers are dedicated, awesome and hard-working," Michael said. "They go the extra mile to get things done."
Which aligns nicely with a recurring theme in Michael's life when it comes to pushing through obstacles: "where there's a will, there's a way."
In 2018, Michael had a recurrence of pancreatic cancer and had the NanoKnife procedure to remove the tumors. And more recently, during a walk on a neighborhood road, he got clipped by a passing truck.
"I had bumps and bruises but nothing too serious. It happened right in front of an urgent care. I told the team there who helped me, 'I gotta continue my walk.'"
PanCAN takes a similar approach to getting things done when it comes to fighting pancreatic cancer, Michael said.
"From PanCAN Precision Promise℠ to the Early Detection Initiative, progress is being made," he said. "To think that when I was diagnosed, PanCAN Patient Services didn't yet exist and there was little support for patients."
Michael enjoys sharing his story with others who are facing pancreatic cancer. People all over the world have reached out to him for inspiration.
"I tell them to pray and encourage them to stay positive. Also, I say, find out if a clinical trial makes sense, get a second opinion and contact PanCAN Patient Services."