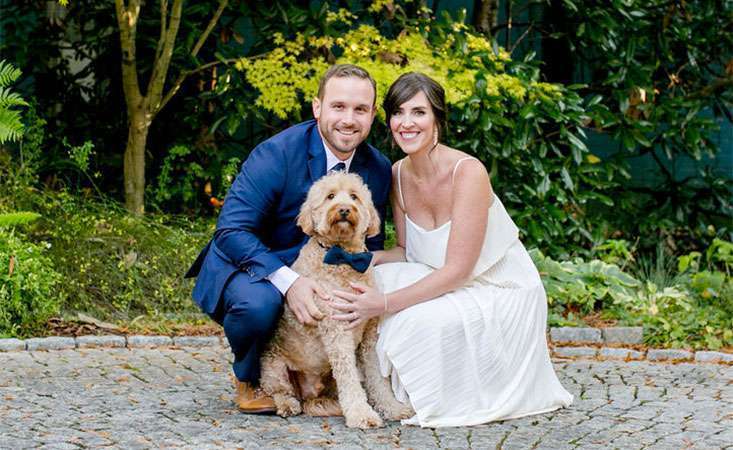 Editor's note: All week long, leading up to Valentine's Day, we're sharing stories of love, inspiration and special connections made through the Pancreatic Cancer Action Network. Come back for a new story each day.
"Cardinal" was the perfect code.
When Jenny Gold and Brian Clark invited their wedding guests to join them on their big day at the Pancreatic Cancer Action Network's (PanCAN) PurpleStride Atlanta walk, they registered guests using this special code, signifying they were paying each person's registration fee.
It was just one more way the couple would honor the memory of Brian's mother, Jan, who died of pancreatic cancer before the two got engaged this past May.
Jan had loved cardinals. Anytime Brian and Jenny saw one, they took it as a sign that she was near.
Indeed, at PurpleStride Atlanta on Nov. 9, 2019, they felt Jan's presence among nearly 40 friends and family who gathered to not only celebrate the couple prior to their wedding later that day, but to remember her, too.
"We were sad we weren't able to get married when Brian's mom could be part of it," Jenny said.
Jenny had floated by Brian the idea of eloping, but he preferred a small wedding with family and friends at the reception. When the two realized their local PurpleStride was the day they were considering for the wedding, they knew this was an opportunity to send a special tribute to Jan and keep her memory alive on one of the most important days of their lives.
The two included the PurpleStride invite in their wedding save-the-date cards, website and their wedding invitations.
Expecting that maybe only close friends and family who had known Jan would participate, they were excited to hear that nearly all the guests were onboard with attending the walk to end pancreatic cancer.
"100%, yes, we are walking with you!" they replied.
On the morning of PurpleStride, the group wore signs that read, "I walk for Jan." There were so many people walking that they spilled off the walk path.
Brian was especially moved by the turnout.
"It was really special to be able to bring friends and family together at PurpleStride to remember my mom," he said. "The wedding would have been when many of Jenny's family and friends met her, but instead, they were able to honor her memory. It meant a lot."
While Jenny and Brian paid for their guests' PurpleStride registration fees, many attendees made donations to PanCAN through PurpleStride Team Jenny and Brian. The donations support PanCAN's mission to speed progress for patients.
That afternoon, the two were married in a small ceremony, and the PurpleStride crowd and others joined them for a celebratory dinner that evening.
The day was spent sharing stories about Jan as both Brian's and Jenny's families and their closest friends mingled, chatted and bonded.
"We could feel Mrs. Clark's presence there," Jenny said. "Despite the 30-something degree temps, it was a warm and intimate day, filled with lots of support, love and laughter."
The couple looks forward to walking in more PurpleStride events – Atlanta again, and maybe Chicago, where more family lives.
And they'll look for signs of Jan.
On the day of the couple's engagement, a cardinal had soared past.