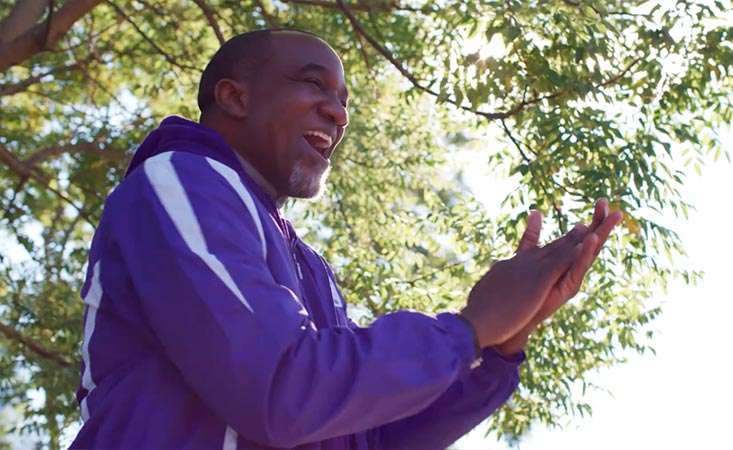 It's a picture-perfect day at the Pancreatic Cancer Action Network's (PanCAN) PurpleStride Boston 2019, and Craig Irving is greeting pancreatic cancer survivors and families, joining them for photos and offering supportive encouragement.
"I know you're going to beat this!" he says to one woman who has shared that she is in treatment.
In a one-on-one interview, he says, "When I see a pancreatic cancer survivor, it makes me happy. It's like my sister still lives. I can feel her presence here, cheering us on."
Irving's sister, Vi, died of the disease in 2013, four months after her stage IV diagnosis.
"My sister would have walked at PurpleStride if she could have. I attend for her."
PurpleStride Boston is the third PurpleStride that Irving attended this year.
He knows PurpleStride plays a role in improving patient outcomes, since much of the money raised through the event goes toward pancreatic cancer research and patient support services.
And seeing all the survivors in attendance, and friends and family there to support the cause – and in some cases, keep their loved ones' memory alive – is inspiring.
"PurpleStride brings a community of people together who have a connection – who know what each other is going through – and that is powerful."
Then there's the awareness piece.
"We share our stories, and the more we do that, the better. My story is the story of many. And my voice is the voice of those who aren't here anymore."
At PurpleStride Boston, as he surveys the crowd, Irving is thinking about his sister, their relationship and his commitment to her before she died.
"If I don't make it," she had said, "please promise me that you won't stop fighting."
Vi Would Be Proud
Irving and his five siblings grew up in a small Mississippi town. Vi was older and the motherly type. Nurturing with a big heart. They were best friends.
"I still miss our conversations," he says. "Vi was the fix-it person – the one we would all go to to talk about our problems."
The persistent pain in Vi's back was one problem neither she, nor her doctor, could seem to solve. Fibromyalgia, she was told.
When she was finally diagnosed with pancreatic cancer after a year, the family was in shock.
"I thought, 'My sister is my lifeline … how am I going to continue?'" Irving remembers.
He went online to find answers: "My sister has pancreatic cancer – what do I do?" he typed in Google. PanCAN's PanCAN Patient Services was in the top search results.
"As an overwhelmed caregiver, PanCAN was a lifesaver for me," he says. "They stepped in and gave us information about clinical trials. For anyone dealing with a pancreatic cancer diagnosis, I strongly advise them to get in touch with PanCAN.
"Even after Vi's death, PanCAN has been key to our healing. They've given me an outlet – I've gotten involved as an advocate.
"PanCAN never left our family, so I'm never leaving PanCAN."
Irving is a 30-year employee of American Airlines, and in addition to attending PurpleStride, PanCAN's Pancreatic Cancer Advocacy Day, PurpleLight and other events, he has gotten his company involved as a PurpleStride sponsor. This year, American Airlines teams participated in 13 PurpleStride events nationwide.
Irving says his sister would be overcome with joy to know this.
"Vi knew the importance of this cause. And she knew the work that needed to be done so that years to come, when another family gets the call that a loved one has pancreatic cancer, it doesn't mean death – it means treatment and a cure."
The View Ahead
On the walk at PurpleStride Boston, Irving is making friends.
"Look for me here next year," he says enthusiastically to a fellow walker. "As long as I have breath, I will walk on behalf of Vi, and when I can't walk anymore, I'll have someone push me in a wheelchair."
He can't help but think that if his family had known then what they know now about pancreatic cancer symptoms, his sister might be alive today.
"Knowledge is power," he says, "and I think we would be telling a different story."
He is hopeful for other families.
"A 9 percent survival rate is not OK – we can do better than that," he says. "And PurpleStride is one way to do it. Every year the crowd gets bigger. And I see even more clearly that the cause is bigger than just me, and it's bigger than Vi.
"PanCAN has helped me keep a promise to my sister, and I will always be grateful."