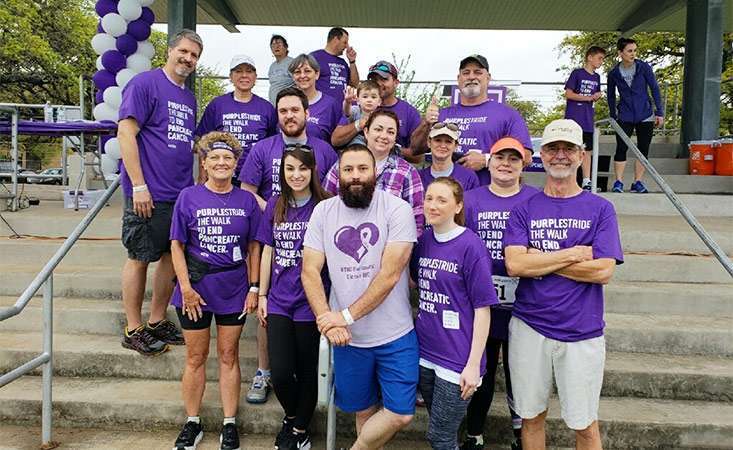 Dustin Lee James was a friend, husband, father and faithful . Friends and family say that his smile could light up a room, and his personality was so grandiose that it left a lasting impression on your heart.
In July 2014, just weeks after his son, Cade, was born, James was diagnosed with stage II pancreatic cancer. At only thirty-three years old, James began aggressive chemotherapy and radiation therapy for the disease.
"It's devastating to hear that your loved one has pancreatic cancer," said Kellie Warmath, James' little sister. "It completely rocked our world, and because we didn't know much about pancreatic cancer, we felt so alone."
In 2015, family member Debbie Martin invited the James family to the local PurpleStride in Austin, Texas, the walk to end pancreatic cancer. It was the family's first time at the event, and little did they know that it was going to be a game-changer.
"What stood out about PurpleStride were all the little touches – like signs where you could write about why you're there and who you're striding for. The messages of hope and encouragement really pushed it over the top for us," Warmath said.
Although James' health prevented him from attending PurpleStride, his family left the event feeling inspired and ready to tackle pancreatic cancer head-on. Warmath said, "Going to PurpleStride gave us all the hope and strength we needed to move forward and be there for Dustin."
Later that year, James' health started to rapidly decline and eventually, he died from pancreatic cancer. He put up a strong fight, but the world's toughest cancer is a ruthless disease. Its five-year survival rate is just 9 percent.
One of his final requests was for his family to continue fighting for pancreatic cancer survival. Since then, the James family has participated in PurpleStride Austin every year. They are consistently one of the top ten teams and aim to educate others about pancreatic cancer.
"PurpleStride is an emotional event for us," Warmath said. "We love the sense of community – it's an inspiring and uplifting atmosphere."
Wanting to be fully invested in the fight against pancreatic cancer, Warmath even interned at the Pancreatic Cancer Action Network (PanCAN) national office during the summer of 2016. "We are in love with PanCAN and their efforts. Their tenacity is unheard of, and their vision is something my family and I strongly believe in."
Commenting on the fundraising success of their team, Warmath noted, "We're on social media, and we reach out to people at work and invite them to join our team. My brother had such a huge personality and because of that, he had so many connections. We're grateful for all of their continued support to Dustin."
Every May the James family throws the "Beat the Hell Outta Pancreatic Cancer" BBQ fundraising event. 2019 marks the fundraiser's fifth year. "We always have live music, raffles, and drinks. We make sure that a portion of the donated dollars go to PanCAN and that everyone there knows about the organization," Warmath said.
The James family continues to fight for pancreatic cancer survival in hopes that every effort will contribute to one less person lost to the disease. Warmath continued, "We don't want Dustin to just be another statistic, and we're going to continue to do something about pancreatic cancer."
James' son, Cade, is almost 5 years old. Although he is too young to remember his father, James' legacy lives on through the Dustin Lee James Foundation. Warmath serves as the Foundation's president and Martin, who introduced the family to PurpleStride Austin, is a foundation member and treasurer.
In the future, Warmath wants Cade to see how "PurpleStride is an amazing group of people who are going through the same thing. There is help, hope and a sense of community that is unparalleled. It's something special to experience."
The James family is striving to make a difference in the pancreatic cancer community. Your support can further the cause, too. Whether it's participating in your local PurpleStride or creating your own fundraiser through Wage Hope My Way, the funds you raise will go a long way toward lifesaving initiatives for patients.