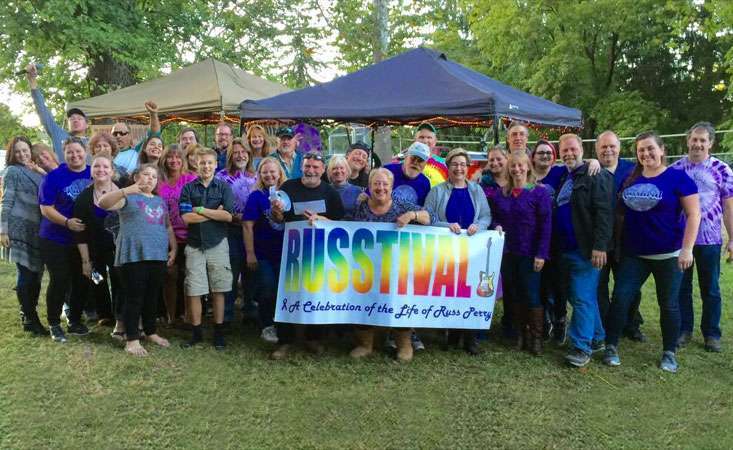 Russ Perry was at the center of a tightly-knit music community in Hunterdon County, N.J. In 2008, while planning his wife Sharon's 40th birthday party, he was diagnosed with pancreatic cancer.
But that didn't stop him from putting together the big bash. With so many musician friends, the party turned into a huge jam session with nearly 100 people attending.
"For many, it was the last time they saw Russ," said Lisa Ellis-Manning, Sharon's sister and Russ's sister-in-law. "We made unforgettable memories and hung on to them, such as how wonderful it was to see him perform."
After he passed, Russtival – now in its 11th year – was borne out of the idea to have a memorial jam in Russ's honor.
"We thought we could raise a bit of money for the Pancreatic Cancer Action Network (PanCAN) and handed out their information," Ellis-Manning said. "We all had so much fun that we decided to make it a yearly get-together."
She and her husband Bob kept it going at their own home for three more years, feeding everyone who came. "I cooked pan after pan of macaroni and cheese and sausage and peppers," Ellis-Manning laughed. "It was nuts."
When 300 people showed up, she knew she had to find another venue, which they did and outgrew in two years. They moved to the Clinton Elks Lodge, where they've been ever since.
Today, Russtival has grown into a two-day event with nearly 1,000 people attending.
The power of Russ's memory in the music community is clear. There's a waiting list for bands who want to play.
The Russtival Facebook page generates much interest and engagement. The event's core group of volunteers, TEAM RUSS BRAIN TRUST, helps Ellis-Manning organize the event and secure donations from local businesses.
On top of raising more than $78,000 for PanCAN to date, Russtival also funds "The Russ Perry Memorial Scholarship for the Arts," helping support a graduate of local Hunterdon Preparatory School with their college expenses. Also, the event raised funds for local musician Tracy Sousa, a regular Russtival performer and volunteer, who battled breast cancer several years ago.
When asked for her advice for others interested in starting a music event, Ellis-Manning cautioned that "It's not easy."
She continued, "I've said, 'This is the last year,' for five years in a row! Last year was the 10th anniversary, and I really thought it was a good time to call it a day.
"But then everyone said, 'NO WAY. We look forward to this every year! Look at how much good we're doing.'"
"Musicians are a different kind of species," Ellis-Manning added. "They are the most generous human beings I've ever met.
"The friends who help with the event have become family. And, I guess it really all comes back to Russ. He was easy to love and impossible to forget."
Russtival 2019 hits the stage Saturday and Sunday, Sept. 21-22.
Every year, Russtival makes moments that matter for their community. How will you make your own moments?
PanCAN would not be able to make moments that matter for patients and their families without you. PurpleStride, Wage Hope My Way, Advocacy Day, local Volunteer Affiliates —
find the way
to make those moments that feels right for you.