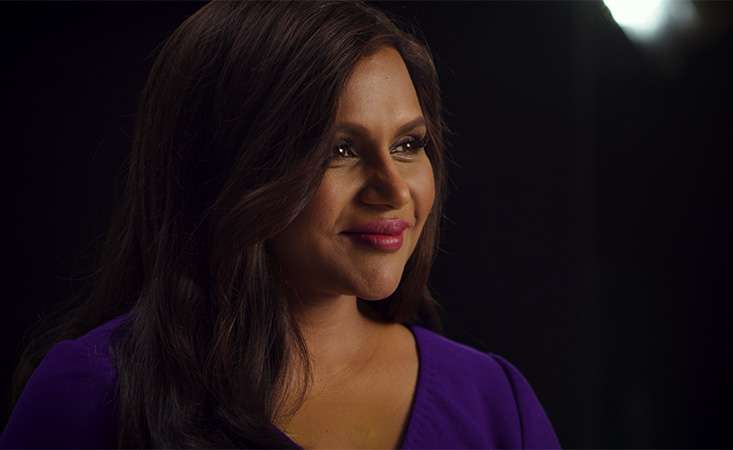 Mindy Kaling knows what it's like.
Quietly recognizing the tell-tale symptoms that led her mother to get an endoscopy. The hellish days of waiting to get results. Then a stage 4 pancreatic cancer diagnosis.
And her mom's passing, just eight months later.
"It was the greatest trial of my family's life," Mindy says.
It gave the well-known actor, writer and producer/director membership in a "club" she and many others affected by pancreatic cancer never wished to be a part of.
But if there is one part of that experience that gives Mindy comfort, it's that she can use her voice to bring greater awareness to pancreatic cancer: To make sure people know the symptoms, which can lead to an earlier diagnosis and a better outcome; to emphasize the critical need for more research funding and an early detection method.
"I think it's one of the greatest gifts I can contribute to the fight," she says. "I can also relate to others who have been through what our family went through."
"That's why I'm standing here today, with my mom in spirit, to advocate and fight back against pancreatic cancer," Mindy says in PanCAN's new Pancreatic Cancer Awareness Month
PSA
. "Because when we do that, we give those fighting today a chance my mom didn't have.
Mindy and her mother were best friends. Swati Chokalingam was a respected obstetrician/gynecologist in the Boston area with patients who adored her – she was just as warm, friendly and caring at work as she was at home with family.
As a physician, Mindy's mother was aware of what her persistent back pain, unexplained weight loss and yellowing eyes could be signaling. So when the diagnosis came, it was not a shock.
"She was used to delivering bad news as a doctor," Mindy says, "but being on the receiving end was something she was not used to. She stayed strong, though, and our family got a lot of strength from her."
Mindy looks back on that time as the moment in her life where she "became a real grownup."
"I wanted to be able to give her hope – something that pancreatic cancer patients struggle to find," Mindy says.
The family turned to PanCAN to help them navigate next steps, and for hope.
"PanCAN restores hope by giving patients and families the most up-to-date information about treatments, clinical trials and all their options," Mindy says.
This year marked the eighth year since her mother's death in 2012, and she says she feels her absence every day – especially now that she has children of her own.
"I see so many of her personality traits in my daughter, and that's hard for me," she says. "Plus, anyone with kids knows it makes you think about your own childhood and your own parents and what they went through.
"My mom was a workaholic like I am, but she was also an incredibly present mother. There are so many times I wish I could ask her how she did it because that's something I struggle with, as do so many working moms."
But she also feels that her mother is still ever-present.
"It makes me sad that my kids will never meet her, but I can feel her presence and I know that she is happy we're involved with PanCAN."
She continued: "I think it would be incredibly meaningful to her that her illness inspired me to fight back against the disease. I want people to know that although the diagnosis is frightening, there's still hope."
Make a gift
of any size today and speed progress for patients. All of PanCAN's innovative scientific and clinical research initiatives, as well as its Patient Services for patients, caregivers and loved ones, are funded by generous donors.