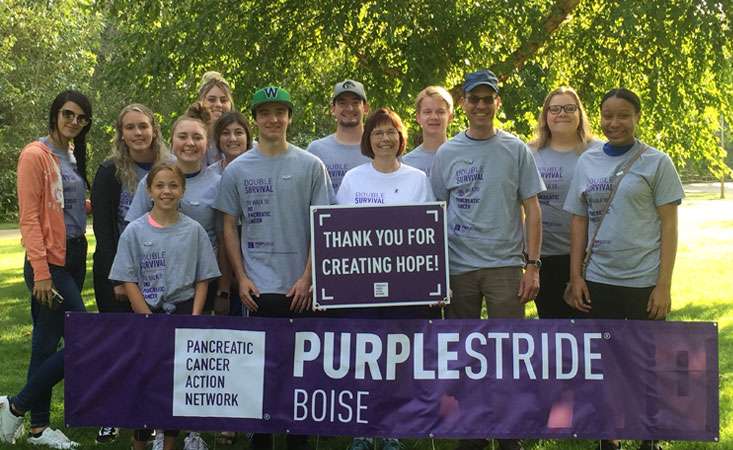 When Diane Schooley-Pettis was diagnosed with pancreatic cancer in 2002, she remembers wishing she could talk to someone who was going through what she was.
"People would say, 'Oh, my uncle had that.' It was always in the past tense," she said. "There was really no way to connect with someone who had survived it or was currently fighting it. So that made it pretty lonely."
Now, as a member of PanCAN's Survivor Council and a founding member of PanCAN's Boise Affiliate, she has the chance to make sure no one else feels that way.
When people find her through her work with PanCAN – she's helped to organize every PanCAN PurpleStride in Boise -- she always makes time to speak with them. Their stories have changed her.
"Before I had cancer, I don't think I could have been present and been right there with them and listening," she said. "But because of what I've gone through, I'm very comfortable doing that and I can empathize. I can stand there with them."
If they haven't already connected with PanCAN Patient Services, she encourages them to do so; she's grateful that patients and families have access to a caring, compassionate and knowledgeable case management team that is there with them through it all.
"Thinking back to when I was diagnosed, to have a number to call to talk to somebody about pancreatic cancer…that would've been amazing," she said.
One of the best features of PanCAN Patient Services is that "you talk to the same Case Manager when you call back." As those relationships deepen over time, Diane says patients have the opportunity to learn how to access resources and advocate for themselves.
"I feel so confident about recommending Patient Services because they don't say, 'Here's what you should do.' They say, 'Here are treatment options. Here is information to share with your doctor.'"
PanCAN's Clinical Trial Finder – along with the opportunity to discuss the results with a Case Manager – gives patients the tools they need to find the treatments right for them based on their specific needs.
"The search for clinical trials is so helpful," she said. "There's nowhere else you can go and have access to information on that many clinical trials for pancreatic cancer."
All of this is important when it comes to making sure patients have access to the best possible care, regardless of where they live.
"Especially for patients in rural areas, it's just so important. Not all doctors are educated in pancreatic cancer because it's so rare," she said.
Diane was declared cancer-free in 2004, after radiation and 27 months of chemotherapy. She's grateful that she had warning signs that prompted quick action – and she hopes that research identifies effective ways to catch pancreatic cancer earlier for more patients, which often opens up additional treatment options.
"We still don't have an early diagnostic tool," she said. "That's what I would hope to see as a way to get an earlier diagnosis."
Still, much has changed since Diane's diagnosis, including several new drugs and drug combinations approved to treat pancreatic cancer, with research yielding new discoveries every day.
Understanding hereditary risk has also come a long way in the past decade; research has shown that first-degree relatives of someone diagnosed with pancreatic cancer may be at increased risk for developing the disease. Genetic testing can help people understand that risk – and PanCAN Patient Services can help talk through the options.
"When I was diagnosed, nobody asked if I wanted to do genetic testing and I imagine it probably wasn't widely available at that time," Diane said. "Now it's a way for patients to help their families and find out if their family members may have a particular gene mutation as well."
As she looks forward to another year serving on the PanCAN Survivor Council, Diane is firmly committed to its mission to bring hope to patients and families. Building a community is key, she said, as the more people we have fighting pancreatic cancer from all angles, the more change and progress we will see.
"The five-year survival rate was 5% when I was diagnosed. Now it's 11%," she said. "A lot of that is thanks to PanCAN."
Contact
PanCAN Patient Services
for a free clinical trials search and to learn more about treatment options for patients with pancreatic cancer.