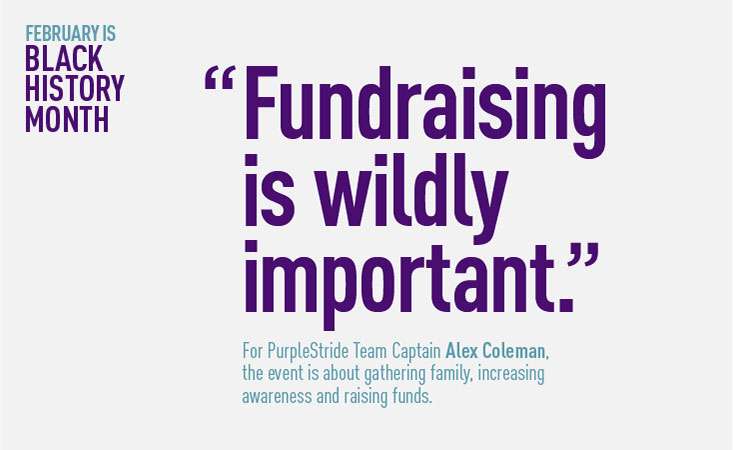 Editor's note: In honor of Black History Month, PanCAN is celebrating the contributions of our community's Black supporters and the amazing ways they're making a difference for pancreatic cancer patients.
There is an emptiness to grief – a void that wants to be filled. But how?
For Alex Coleman, that void is filled with family, especially when they gather for PurpleStride weekend every year.
Alex's former wife Donna passed away from pancreatic cancer in March 2014, almost a year to the day from when she was diagnosed. A few months after her passing, Alex searched the internet for ways he and their two children, Evan and Erin, could celebrate Donna while also contributing to a worthwhile cause.
The search led Alex to the Pancreatic Cancer Action Network's (PanCAN) PurpleStride website, which as Alex puts it, "felt like a good fit for what we wanted to do."
Alex sent an email to Donna's sister, specifically leading her to PurpleStride Atlanta, where the Colemans were living at the time. "She was into it," Alex said. "She wrote me back saying, 'Yeah, let's do it.'"
And so they did.
Team Donna Coleman had roughly 40 people at their first PurpleStride in November 2014. That was just the beginning.
Since then, the Colemans have made PurpleStride weekend into an annual family gathering. Each year, family and friends fly in from across the country to attend. The weekend kicks off with a welcome dinner on the Friday evening before the walk. Custom made T-shirts and wristbands are handed out to everyone. All in an effort to remember Donna on this special day.
Alex has since remarried, and he and his wife, Monica, moved the family to the Dallas area in 2017. Alex is grateful that Monica is understanding and is willing to participate along with other family and friends.
Alex talks about how his relationship with PurpleStride has evolved. "At the beginning it was about getting family and friends together. It still remains an important element of the weekend, but now it's combined with raising awareness and funds for pancreatic cancer research."
The collective goal for the Coleman family and Team Donna Coleman each year is to be part of the top 10 fundraising teams for PurpleStride – and to get Donna's name on the official PurpleStride Dallas-Ft. Worth T-shirt.
"That was always the goal and will always be the goal," said Alex, who is Team Captain. And since that first PurpleStride event in November 2014, it's a goal they've always achieved.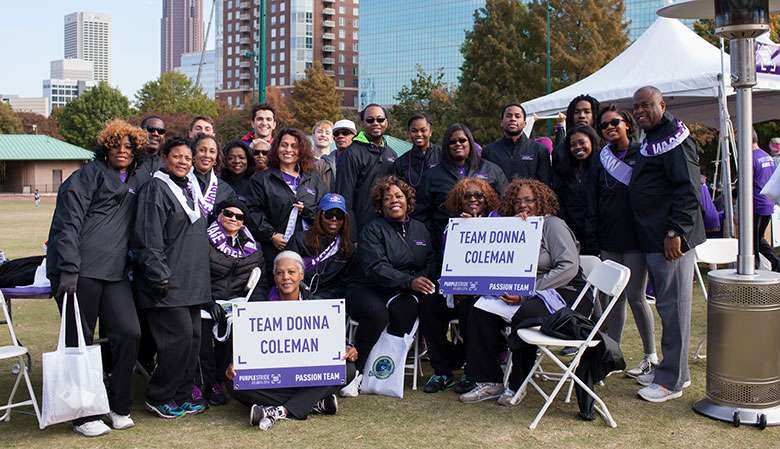 Team Donna Coleman has been a top 10 fundraising team since their first PurpleStride event in 2014.
To date, Team Donna Coleman has raised nearly $40,000 through PurpleStride Dallas-Ft. Worth. They show no signs of slowing down.
Alex wants to raise awareness for pancreatic cancer and bring the need for research to the forefront – especially in the Black community.
It's why he's dedicated to PurpleStride and why he's sharing his story today.
"I want people to realize that pancreatic cancer does affect the Black community at a proportionally higher rate than other communities. I want them to know about the resources available and where to find them.
"It's important for everyone, more specifically people of color, to take the disease seriously. If you have symptoms, get them checked by your doctor and take advantage of the resources offered."
Alex and Donna met on a blind date when they were in their teens and married nearly 10 years later. He describes her as a great mom and partner who loved to travel and educate her kids about the world.
The Colemans stride so that one day others won't have to.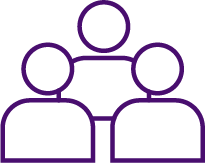 Join the movement to create a better future for pancreatic cancer patients.
Get involved today
.