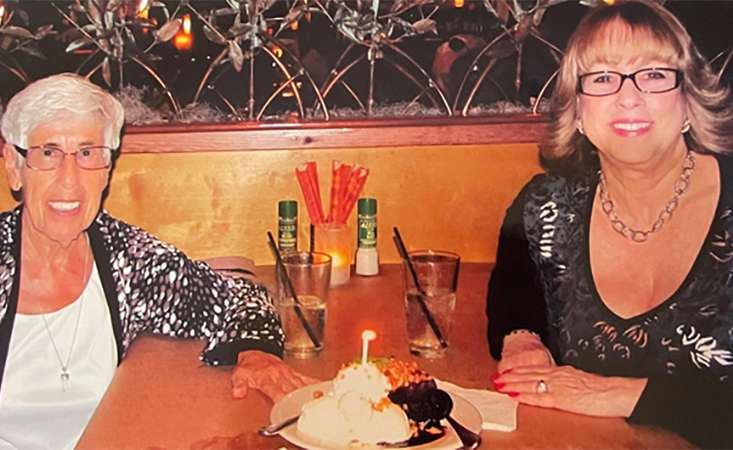 When you give people your food, you give them your heart.
And what a heart!
Engraved on Phyllis Bolotin's tombstone is this quote, an apt tribute to a woman who was known for her generosity, her baking, her hugs, her optimism and all things positive, even when handed a stage IV pancreatic cancer diagnosis.
Barely 5 feet tall, Phyllis made a sizeable impression on everyone she met.
Her longtime friend, Leslie Gaynor, was one of them. Leslie will never forget their instant connection – the two met in the '90s when they lived in the same development in Fort Lauderdale, Fla., and they remained close for nearly two decades before Phyllis died of pancreatic cancer in 2012.
Leslie was with Phyllis the day she got a call from her doctor saying her recent bloodwork revealed that something wasn't quite right and that she should have an MRI. She was nearly 83 years old when she got the news that she had pancreatic cancer. Doctors told Phyllis that they would not advise surgery because of her age. But Phyllis's love of life, and of her time with friends and family, led her to decide to move forward with the Whipple surgery to remove part of her pancreas, followed by chemotherapy.
"It was hard on her, but I never heard her complain," Leslie said. "She always had a smile on her face."
Phyllis delighted in making others smile, too.
Her not-so-secret weapon: baked goods. Rugalach, biscotti, brownies, chocolate chip cookies.
"She spent hours every week baking the best desserts you can imagine," Leslie said. "Ironically, she didn't have a sweet tooth and she gave away every single thing that she baked."
She was also a perfectionist, Leslie recalled. "She only gave away her very best work – if a batch of cookies was the slightest bit burnt, she would throw them all out. But her burnt cookies were better than anyone's unburnt cookies! I asked her to call me anytime she was going to throw them away and I'd come eat them. So, she did…and I did!"
Local bakeries wanted to sell Phyllis's goodies, but she wasn't interested. Making people happy and making them smile by giving them away was what gave her pleasure.
"She never went to a friend's house or to a doctor's office without bringing a batch," Leslie said. "If it was your birthday or a special occasion, you could expect to get a large container of sweets, even in the mail." She sent them all over the country; mouths watered coast-to-coast waiting on their arrival.
Phyllis and her beloved husband, Leon, were devoted to each other. They were married for 45 years until his passing in 2007. They had two children, Sharon and Steven, who lived out of state and were a support for their mother, as were Phyllis's sister, Evelyn, and brother-in-law, Clem, who put their lives on hold for six months to travel from their home in Hawaii to help.
"We loved spending time together," Leslie said. Although Phyllis was a homebody, she gave in to Leslie's invitations to go to the theater, concerts, movies, countless dinners and even a hockey game.
"Phyllis was a great hugger. When she hugged, she realllllly hugged! She would leave no doubt that she was happy to see you. Anyone who knew her, loved her."
Leslie frequently took Phyllis to doctor's appointments after her diagnosis. When Leslie asked Phyllis's doctor if there were organizations where they could get information and support, they recommended PanCAN. When Leslie and Phyllis contacted PanCAN, they also got to speak with other people who had stage IV pancreatic cancer, and they offered each other support and hope.
Leslie taught school in New York and Florida 12 months a year for 43 years before retiring. She always lived modestly and so was able to invest a small amount of money in the '90s.
"Recently, I realized how much my investment had grown, and I saw that I had more money than I needed to live on," Leslie said. "I knew I wanted to do something to honor Phyllis and at the same time, make the world a better place."
To celebrate the giving, kind and thoughtful person that Phyllis was, and to bring more hope to future patients, Leslie has generously made a substantial donation to PanCAN in Phyllis's name to help fund a noted pancreatic cancer scientist's research project for another year.
The 2022 Pancreatic Cancer Action Network Catalyst Grant, funded by Leslie Gaynor in memory of Phyllis Bolotin, will extend a research grant previously awarded by PanCAN to Gregory Beatty, MD, PhD, at University of Pennsylvania, to continue his study of immunotherapy in treating pancreatic cancer.
"Phyllis's own legacy of hope, positivity and giving can continue through Dr. Beatty's research," Leslie said. "He is a world-renowned researcher who needed more funding to keep his project going. Phyllis loved helping people, and if this research can bring about a new treatment that gives people with pancreatic cancer more time, I know that would make Phyllis very happy."
Leslie considered leaving a gift to PanCAN in her will in memory of Phyllis, but she decided a gift during her lifetime was better so she could see the progress being made.
"I'm humbled that I've been able to fund research and I'm excited to see if my gift leads to any discoveries," she said. "I pray one day soon there will be an end to the suffering from this disease that took the life of my dear friend."
Leslie is aware of the urgency of changing the statistics associated with pancreatic cancer for many reasons. She has been diagnosed with IPMN – cells in the pancreas that could develop into cancer – and she has an annual MRI to monitor. She also has a cousin who died of pancreatic cancer.
She knows the survival rate needs to improve. And that progress in research is critical to making that happen.
There is an oil painting that hangs in Leslie's home. It was done by Phyllis's husband, who began painting in his 60s. Phyllis gave the painting to Leslie to always remind her of them.
It's a peaceful scene – a waterfall flowing into a small pond, lush green trees surrounding it. Leslie is at peace knowing that her gift, made in loving memory of Phyllis, will give others hope.
When she looks at the painting, she smiles.
Donate
today and fund the progress needed to change the future of pancreatic cancer.