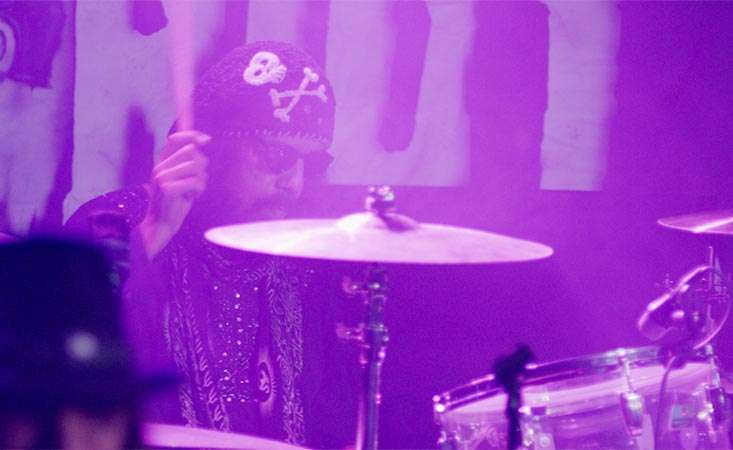 Although famed musician Frankie Banali died from pancreatic cancer on August 20, 2020, his legacy lives on. His wife, Regina Banali, is committed to helping other patients and their loved ones through sharing his story. As the drummer for Quiet Riot, a multi-platinum heavy metal band, Frankie built up a legion of fans during the more than three decades he was with the band. Here, Regina Banali talks more about Frankie's life, the importance of self-advocacy and the need for better early detection and treatment options.
Tell us more about Frankie. Most people of course know him from his remarkable music career. What was he like as a person?
He was very smart and amazingly talented. His knowledge and intelligence was vastly underrated. He studied music, Japanese history and art on his own and would be called to answer questions from experts in these fields. Frankie was a very loving and fiercely protective family man and a devoted friend. He was the best husband in the world. He lived for the people he loved and I was the lucky person who got to share my life with him while I could. We would have stayed together forever if possible. He didn't want to die because he really didn't want to leave me.
What are some of your favorite memories?
We were together for 11 years and did everything together. Our wedding trip to Hawaii and all of our trips to Japan and New Orleans are great memories. But honestly, it's the little everyday things I miss the most, like him walking in the door and dropping his keys and putzing around the house tinkering on a project. That made our home feel alive.
How does his memory inspire you to advocate for others who have been diagnosed?
I feel that he was let down by the medical system. He was diligent about getting check-ups. His doctors knew that his father passed away from pancreatic cancer. Routine scans would have caught it sooner and saved him or at least given him a lot more time. We want others to know how important it is to be your own advocates, and to talk to their doctors about risk so that they may have better outcomes.
You were a strong advocate for Frankie during his treatment. What advice do you have for others who are caring for a loved one?
I stayed with him in the hospital every minute and did not leave his side. I had to fight for him on a few occasions. It was the toughest thing I have ever been through. I honestly worried every minute. This was in a pandemic and we have no local family so we had no help. My advice is to get as many people as possible to help. It's a lot for one person to take on alone.
Join us on World Pancreatic Cancer Day, Nov. 17, for our webinar Research for All of Us: A PanCAN Community Conversation.
RSVP now
.
You came to PanCAN shortly after Frankie was diagnosed. How did you find our organization? How was PanCAN helpful to you and Frankie?
Everyone at PanCAN was very kind and loving to both of us. It felt like a huge relief to have a group of people who really cared about what we were going through and knew a lot more than us about pancreatic cancer. We spoke with a Case Manager from Patient Services and she was very helpful. We were given a full report on Frankie's tumor profile, including what type of chemo would work best for him, and we were referred to a clinical trial. In hindsight, it was really all too late, but we wanted to fight. He ended up getting ten more months than the doctors predicted and that was partly due to our efforts. I am grateful to PanCAN for their help.
In November, PanCAN is highlighting the urgent need for more pancreatic cancer research – for both early detection and for better treatment options for patients. What needs to happen so that we can continue to make progress for patients fighting this disease?
I feel that early detection is key. Too many people are diagnosed at stage IV, which contributes to the low survival rate. Those with a family history of pancreatic cancer should talk with their doctor about genetic testing and screening programs that may be right for them. Also, we need to help people become better advocates for themselves. I have a lot of guilt and regret about how Frankie's cancer got so advanced without our awareness. Helping other people help themselves is the only thing I can do about it now.
What do you think Frankie would say about you advocating for other pancreatic cancer patients today?
We talked about it. He wanted me to advocate on his behalf. I told him that I would and he seemed very relieved. Most of all I think he wanted to be remembered. This is a way for people to remember him and hopefully save themselves or their loved ones.
Make a gift today
to support critical patient services and lifesaving research for pancreatic cancer patients and their families.