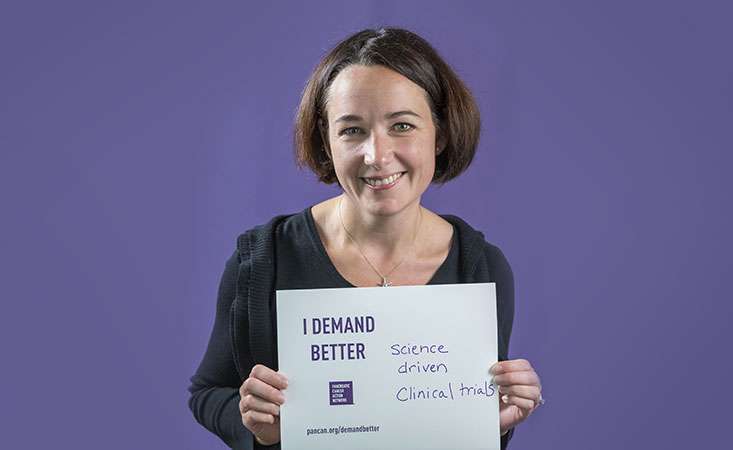 Editor's note: Stephanie Dougan, PhD, is an immunologist at Dana-Farber Cancer Institute in Boston. She is also the recipient of a scientific research grant from the Pancreatic Cancer Action Network (PanCAN).
Tell us how you came into the field of pancreatic cancer research.
The Pancreatic Cancer Action Network took a chance on me as a young scientist. I was an immunologist by training and could've studied any cancer. But I got my first research grant from PanCAN, and it was a transformative experience for me.
Coming to the scientific summits that PanCAN holds, and getting to speak with patients and their families, really brought home to me how important this disease is from a basic science research perspective, and also from the perspective of patients who are fighting.
Beyond the scope of that first grant, I've dedicated my whole life and research effort to finding new therapies for pancreatic cancer.
What excites you most about the field?
The prospect of immunotherapy. How can we train the body's own immune system to fight this cancer? It's working for other cancer types – why not pancreas cancer?
Also, I'm excited by the community of pancreatic cancer researchers. PanCAN is like none other.
It's a family – a group that is so welcoming and so hopeful about how we address this problem of pancreatic cancer. Being brought into a community of researchers, advocates, patients and families all working together toward the same common goal is very humbling.
How do you stay motivated, given that pancreatic cancer is a particularly challenging area of research?
You're right – it is one of the most challenging tumor types. We've made good progress but it's something that continues to drive me and that continues to drive the research efforts in our community.
Recently, one of the young scientists in my lab who was studying pancreatic cancer was diagnosed with a rare, metastatic, aggressive form of cancer. From her diagnosis to her passing was only two months.
To see that happen to someone so young, so smart and so promising – and knowing this happens much too often with pancreatic cancer as well, further drove home the importance of finding much better treatments for pancreatic cancer patients.
What would you say to those who donate to this cause?
Thank you so much to all of you. It's very humbling to know that many of you have donated amounts large and small after having a loved one with this disease. Know we are fighting for you and using your support to make important strides in research, to translate it into clinical trials and new treatments, and to continue to demand better for patients.