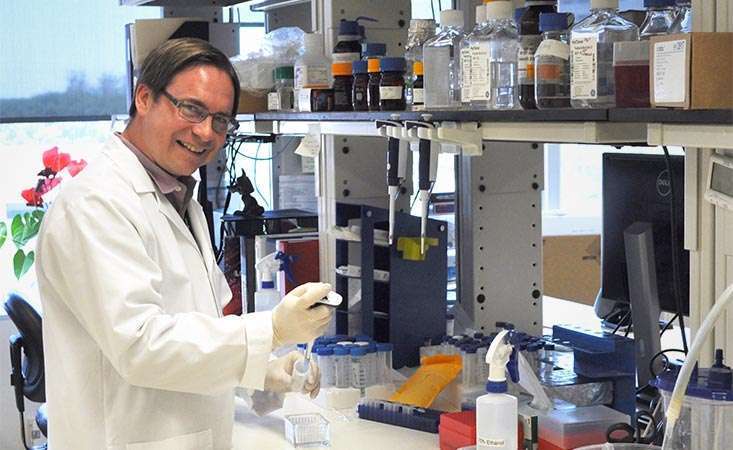 Editor's note: On July 25, 2008, 10 years ago today, professor Randy Pausch, PhD, of "The Last Lecture" fame, died of pancreatic cancer. One of his former students, who happens to be a 2018 Pancreatic Cancer Action Network (PanCAN) Translational Research Grant recipient, recently reflected on Pausch's influence on the work he does today. We share his story as part of our "It Starts with Someone" series about why our supporters have joined the cause.
"The world is worse off for not having Dr. Pausch in it," said Michael Curran, PhD, PanCAN research grantee and an associate professor of immunology at MD Anderson Cancer Center in Houston. "He was my favorite teacher and the smartest person I had ever met."
Curran hadn't always been interested in biology.
"I started college as a foreign affairs major, and then I decided to minor in computer science – thanks in large part to Dr. Pausch's influence. I became one of the first – if not the first – computer science minor who wasn't in the engineering school at the University of Virginia."
Curran's favorite aspect of Pausch's teaching style was his ability to make the driest subjects interesting and relevant to cutting-edge technology and projects at the time.
"Not everyone could make a class like Data Structures exciting," Curran recalled with a chuckle. "The information was fundamental to all computer programming languages, but it was also really difficult. Instead of telling students that the material was important, and they should go learn it, Dr. Pausch gave real-life examples of how that information was being applied in his own research projects."
While Curran's research efforts today don't directly incorporate the computer science techniques he learned from Pausch, he does try to emulate Pausch's ability to inspire and excite his students. Even when he's teaching the most basic biology or immunology to students, Curran strives to link it to major developments and breakthroughs in the field. "It's important to make students feel connected and understand why they should be learning and mastering things," he said.
Curran's decision to add a biology major to his education stemmed from his father being diagnosed with, and dying from, head and neck cancer. Because of that lifechanging experience, Curran reached out to a professor and asked if he could try working in her lab over a summer. He recalls feeling very grateful that the professor was "willing to take a hapless undergrad, with barely any science experience, into her lab."
He continued, "I really liked it – I especially liked the ability to take on intractable problems that were impacting people's lives."
After college, Curran applied to both graduate school in life sciences and law school. He decided on the graduate school path, pursuing a PhD in immunology at Stanford University. During that time, he became interested in the question of why cancer cells, which can be vastly different from healthy cells in the body, do not spark an immune response.
Curran partnered with Jim Allison, PhD, for his postdoctoral training. Allison has become a world expert in cancer immunotherapy, and Curran led some of the group's seminal findings that helped explain – and combat – how cancer cells disguise themselves and hide from the patient's immune system.
During his postdoctoral training, Curran learned of Pausch's diagnosis with pancreatic cancer. And about a year after Pausch's death, another prominent scientist, Ralph Steinman, MD, with whom Curran had interacted, also died from pancreatic cancer.
"Seeing the losses of such prominent thinkers across multiple fields to the same disease was a tragedy for their loved ones, as well as a tragedy for society," Curran said. "Drs. Pausch and Steinman had access to the best therapies available at that time, but the therapies I was working on weren't working for pancreatic cancer."
He continued, "Their deaths definitely influenced my decision to take on pancreatic cancer. If I can figure out how to make immunotherapy successful for pancreatic cancer patients, I believe it can be successful for any type of cancer."
Curran also recalls being struck by Pausch's bravery and openness about his diagnosis, and his efforts to bring awareness to the disease, through his now-famous "The Last Lecture" speech, as well as his book. Just a few months before Pausch died, he also testified in front of Congress on behalf of PanCAN to advocate for increased federal funding and attention to the disease.
"Pancreatic cancer is a disease I think we can beat," Pausch told Congress, "but it's going to take more continued courage and funding from our government to help protect us from the things that we can't protect ourselves from."
Pausch's powerful testimony helped set the foundation for what became the Recalcitrant Cancer Research Act, passed into law in 2013. And PanCAN's recent National Pancreatic Cancer Advocacy Day event on Capitol Hill shows that the organization's grassroots efforts are stronger than ever.
"I had been aware of PanCAN for a while and a big admirer of all the efforts across patient support, new research funding, lobbying – and I've wanted to be involved," said Curran. "Without research funding like the Translational Research Grant, promising findings could languish in the lab for too long. This funding will help get us to the next level to take some of our encouraging lab results, understand them better and figure out the best way to bring them to patients expeditiously."
He added, "The world will be a much better place when pancreatic cancer can no longer deprive us of the Randy Pausches of the future."
Donate today
to help pancreatic cancer researchers like Dr. Curran continue to fight the disease and work toward improved patient outcomes.
Watch Dr. Pausch speak about testifying in Congress shortly before his death: