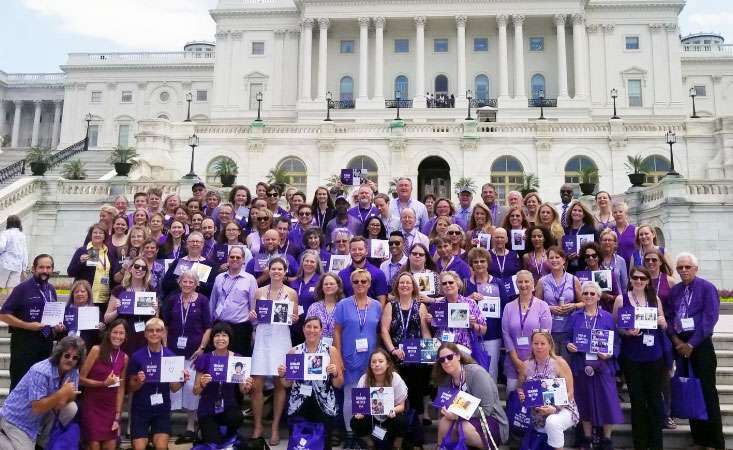 The Pancreatic Cancer Action Network's (PanCAN) National Pancreatic Cancer Advocacy Day in Washington, D.C., was a success, thanks to hundreds of advocates who traveled from across the country to speak with their state representatives about the importance of making cancer research funding a national priority.
On June 18, attendees got to work with some of the leaders in the pancreatic cancer field with trainings and breakout sessions.
Experts offered tips on how to connect with PanCAN's patient services and clinical initiatives in their "How to Navigate Pancreatic Cancer Resources" talk. They touched on topics like the organization's Know Your Tumor® precision medicine service, the benefits of participating in clinical trials and the value of recording and sharing their journey through the Patient Registry.
"How to Tell Your Story" taught attendees about impactful ways they can make a difference in the fight against pancreatic cancer, such as telling personalized stories to members of Congress – the gatekeepers to federal funding for cancer research.
Our young advocates have raised their voices to #DemandBetter! Let's change the future of #pancreaticcancer -- join the movement at https://t.co/uSlCgSOFwQ #PANCaware pic.twitter.com/beskkoPRQG

— PanCAN (@PanCAN) June 18, 2018
In "Young Voices: Advocating for Change," participants between the ages of six and 12 were introduced to PanCAN's advocacy program. They also learned how to approach lawmakers on Capitol Hill in an engaging and fun way.
In addition to the breakout sessions, PanCAN also invited attendees to a first-of-its-kind scientific panel discussion, which included the organization's Chief Science Officer Lynn Matrisian, MBA, PhD, as well as Norman "Ned" Sharpless, MD, the director of the National Cancer Institute. The prestigious panel of scientific and clinical leaders discussed key topics surrounding the diagnosis and treatment of pancreatic cancer.
Also on the panel was Gloria Petersen, PhD, of the Mayo Clinic. Petersen, who serves on PanCAN's Scientific and Medical Advisory Board, received an Early Detection Targeted Grant in 2017.
She is also one of the lead authors of a newly-published study found in the Journal of the American Medical Association (JAMA). Petersen and her team of researchers discovered that the genetic mutations that can be inherited, known as germline mutations, are more prevalent than previously thought – and can occur at a similar rate in people with pancreatic cancer who do or do not have a family history of the disease. This is an important revelation for the pancreatic cancer community that may impact genetic testing recommendations, and her contributions to the panel discussion were impactful for participants.
After an information-packed June 18, advocates came back for more on June 19. First, Sen. Chris Coons (Del.), whose father died from pancreatic cancer, addressed the crowd to get them excited about lobbying on Capitol Hill. Coons later spoke in front of lawmakers and President Trump where he highlighted their crucial job of funding cancer research.
"Last February, I lost my father to pancreatic cancer and this year was my first Father's Day without him," said an impassioned Coons. "I am grateful for the opportunity to join with these Americans from every state this morning, and I join them in urging my colleagues to consider this year investing more in research to end the scourge of pancreatic cancer."
After he gave that speech, advocates turned Capitol Hill purple. They met with members of Congress to explain the importance of increased funding for cancer research – after all, 80 percent of all funding for cancer research comes from the federal government.
Tuesday was also National Call Congress Day, an opportunity for supporters across the country to call their congressional leaders and urge them to make cancer research a national priority.
Over the course of 48 hours, advocates told their stories to not just lawmakers, but also the news media. PanCAN's president and CEO Julie Fleshman, JD, MBA, participated in several media interviews to raise awareness of the disease and to ensure cancer research funding remains a national priority.
One of the farthest-reaching interviews was the one Fleshman did with six year survivor Camille Moses on CBS News. The piece not only ran on CBSN, the company's online news streaming service, it also got picked up by MSN and Yahoo News UK.
While Advocacy Day is one of the most critical events PanCAN organizes each year, it's only one of many ways people can get involved in the cause. Here are four other ways you can lend support throughout the year.
Register for PurpleStride, the walk to end pancreatic cancer
These 5K walks epitomize the strength and spirit of communities across the U.S. as participants unite to raise awareness and funding for PanCAN. You can register as an individual, or make it a group effort by creating a team. Find the PurpleStride closest to you.
Volunteer with PanCAN
PanCAN's nationwide grassroots army helps organize events and awareness opportunities throughout the year. Join the one million people who've taken action in the fight to end pancreatic cancer. The best part is that there's something for everyone – with roles that utilize your strengths, interests and availability. Learn more about volunteer opportunities in your area.
Donate to help fund innovative research and programs
There are many ways to donate. Whether you become a monthly donor or a one-time donor, all funds help support research breakthroughs, more treatment options and greater awareness for pancreatic cancer patients. Make a difference with a donation.
Contact PanCAN Patient Services
PanCAN Patient Services is the place to contact when facing pancreatic cancer. PanCAN's highly trained and compassionate Case Managers provide free, personalized information about the disease, including support services. Reach out to PanCAN Patient Services to find resources and address any questions you have related to pancreatic cancer.
Sponsorship is critical to the continued success of Advocacy Day. We are incredibly grateful to our sponsors, Celgene Corporation and Genentech, for the generous support they provided to us to help make Advocacy Day a success.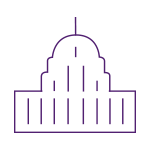 Do you have 60 seconds? Then you too can become an advocate for pancreatic cancer research. Urge lawmakers to make cancer research a national priority and 
send a pre-written message to Congress
.