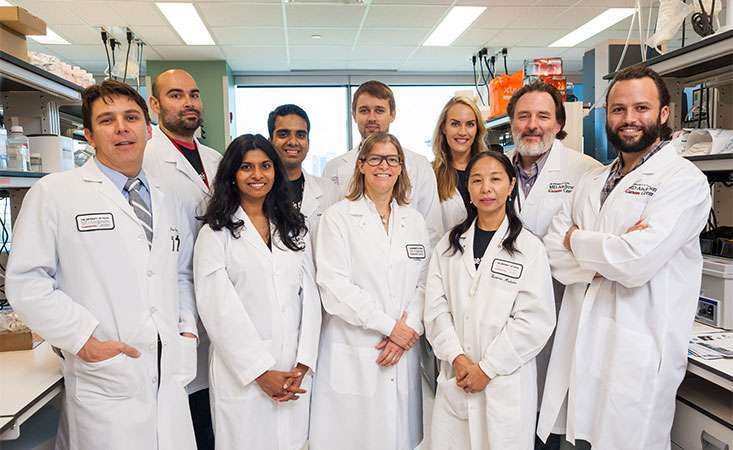 Not all heroes wear capes; some of them wear lab coats. And if Jennifer Wargo, MD, MMSc, were to gain superhero status, perhaps her name would be "Microbe Maestra."
The University of Texas MD Anderson Cancer Center surgeon and researcher earned the nickname due to her research and subsequent paper about how some cancer patients respond better to treatment than others. Her hypothesis: that certain melanoma patients with diverse gut bacteria had better outcomes than those who did not. She's currently studying how this idea can also be applied to pancreatic cancer patients.
"I have spent my career trying to better understand why some patients respond to cancer treatment and why some don't," said the surgeon-scientist. "Initially, gut bacteria were considered to mainly aid in digestion and nutritional absorption. However, what we've discovered more recently is that the microbiome plays a major role in health and disease, and that it can even influence how people respond to cancer treatment."
She continued, "We have hundreds of trillions of microorganisms in our bodies. The majority of these bacteria live in our gut. These organisms shape how our immune system functions and can ultimately change how some cancer patients respond to cancer therapy – particularly immunotherapy."
While she's always been interested in science and medicine, even becoming an RN before an MD, Wargo's commitment to solving the mysteries surrounding cancer go beyond her profession. For her, it's personal.
"The need to find a cure for cancer is urgent," Wargo said. "My mother was diagnosed with pancreatic cancer in 2006 while I was on faculty at Harvard caring for patients with pancreatic cancer and other cancers. I got a call from my sister, who said she had taken our mom to the emergency room for back pain. Doctors discovered she had tumors all over. Life changed in a heartbeat."
Wargo's mother died six months after her diagnosis. Multiple myeloma later claimed her father's life.
"It was devastating for them to go through that, for our family to watch them go through that," she said. "It left a big mark on my life, but it helps to know that every day we are trying to find better ways to treat cancer patients."
For her, that means a collaborative effort on behalf of experts in the medical field, researchers who tirelessly look for improved treatment options for patients and nonprofit organizations, like the Pancreatic Cancer Action Network (PanCAN), that are dedicated to helping patients and caregivers navigate the difficulties of this disease.
"PanCAN does tremendous work," Wargo said. "It is through the efforts of organizations like PanCAN that patients, advocates, clinicians, scientists and others can join forces to help end the pain and heartache caused by cancer."
That's the approach Wargo takes each day she walks into her research lab. While she has an active research effort targeting melanoma and other cancers, she also continues to treat cancer in the patients she sees. She said her personal experiences with loss and heartache make her a better doctor, not only because she wants to find a cure faster, but also because she applies the compassion she had for her parents to each of her patients and their families.
"Life is a gift, and it's fragile and precious," she said. "One thing I do with all my patients is to try to connect with them. I care about them. I truly believe that when it comes to treating them, kindness is part of the package."
You can read more about Wargo's discoveries and research at MD Anderson Cancer Center.
The Pancreatic Cancer Action Network is dedicated to improving patient outcomes and doubling survival by 2020 by funding groundbreaking research and by spearheading leading-edge clinical initiatives.
Donate today
.