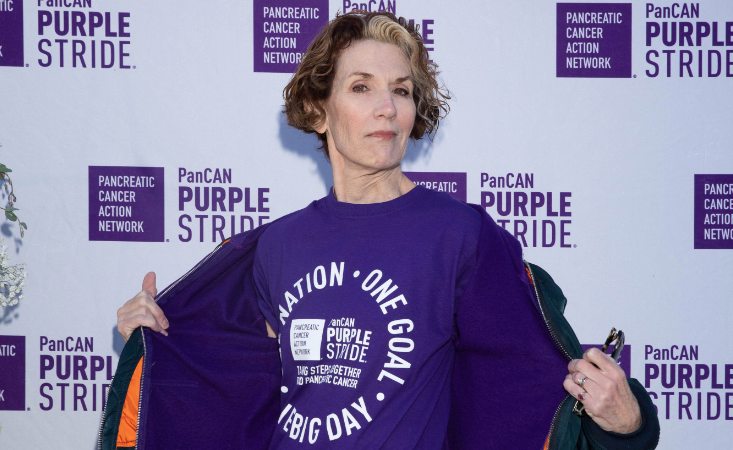 Editor's note: Our series focused on pancreatic cancer survivors continues, featuring a moving speech from "Star Trek" actor Kitty Swink, given at PanCAN PurpleStride Los Angeles on April 30, 2022.
We hope you are as inspired by Kitty, and all pancreatic cancer survivors, as we are.
In the words of Kitty, "PanCAN has proven, over and over, that investing in research funding doesn't just extend lives. It saves them. I'm going to keep advocating for it until every patient is as lucky as I am."
Here, her rousing PurpleStride speech:
Good morning, everybody! I am so glad to be here. Heck, as an 18-year survivor, I wake up every morning so glad to be here.
When I started having symptoms, I didn't really put together what pancreatic cancer was telling me.
But one day I was visiting a friend who had cancer. She said I should see a doctor. My husband, Armin, agreed. That was a Thursday. Friday I saw my doctor. She thought it was acid reflux from stress, but she ran some tests to be safe.
By Saturday it was clear something was really wrong. On Monday she called and said, "Go straight to the hospital." While I sat in the emergency room, I turned yellow from jaundice.
Seventeen days later, I left Cedars having had a Whipple procedure. Three weeks after that I started chemo.
While I was in treatment it became my goal to help anyone I could to get the help they needed. I didn't know about PanCAN then, but I did my best to become the West Coast distributor of hope.
Then our niece, Amy, started walking in PanCAN PurpleStride in my name and my friend Charlotte got me involved with PanCAN in Orange County.
But the real lynchpin to getting me here was that PanCAN Founder Pam Acosta Marquardt reached out a few years ago and asked me to help. I asked Armin and we didn't hesitate. We created our PurpleStride team, Trek Against Pancreatic Cancer, with our friend Jonathan Frakes, who lost his brother Daniel to pancreatic cancer and together we rallied the "Star Trek" community.
See, "Trek" fans are like PurpleStriders.  They are generous, they believe in science, they support their community and they are committed to changing the world for the better. Team Trek's goal was to raise money and awareness so that more people could survive. But it was more than that. It was about giving people hope.
Last year we passed our goal of $50,000. This year we are at just over ($65,000 and counting). Our goal is $75,000 and we will get there. Thanks to personal friends and the amazing help of the "Star Trek" community.
So, I am here to offer hope that it is possible to survive the disease. Hope that together we can change the course of pancreatic cancer. The knowledge that while we are here, we can grab life with both hands.
So all you survivors out there, raise your pom poms and everyone who has a loved one impacted by this disease, join me in saying what "Star Trek" captains say: "Engage".
Come on everybody, here we go. 1, 2, 3: "Engage!"
Happy PurpleStride! Let's take the steps together to end pancreatic cancer!