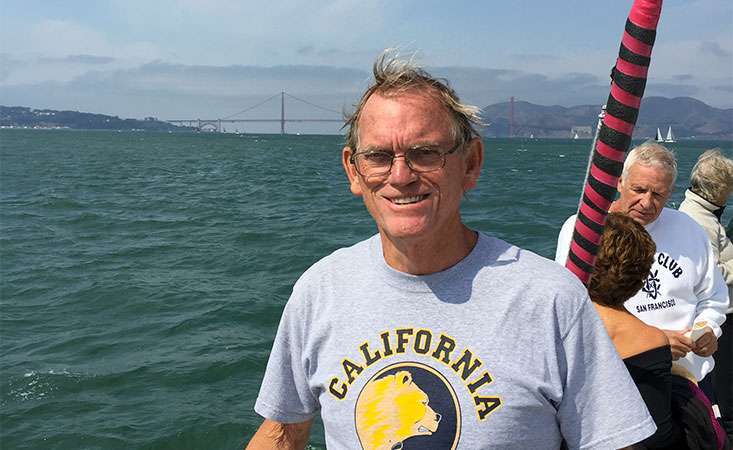 For Ed Duncan, the four miles it took to set the sub-50-minute record for the fastest Golden Gate Swim in the San Francisco Bay tested his discipline, his persistence, his endurance.
What he didn't know back in 1965 – when he set what is still an unbroken record – is that certain events that would occur four decades later would reveal his true valor.
"When you're a swimmer, you're responsible for yourself," explained Duncan, 72. "Swimming in open water is existential. Unlike in team sports, there's no one to rely on but yourself. You, alone, are responsible for what you do and how you will meet your goal."
Setting a goal, pacing himself and making it to the other side. This is the strong and positive mindset Duncan used when at age 71 he swam from Alcatraz to the shores of San Francisco. And it's the same approach he took in 2008 when at age 62 he was diagnosed with pancreatic cancer.
Duncan ignored his dark urine and itchy skin for weeks, but when he turned yellow, his wife intervened and made him go to the emergency room. Doctors completed several tests and determined he had stage I pancreatic cancer.
"This is the height of luck," Duncan said of the early discovery of his cancer. "If my bile duct wouldn't have been blocked by my tumor, I may not have had the symptoms I experienced. My story could have ended in a very different way."
After back-to-back surgeries, five weeks of hospitalization and three months of chemotherapy, Duncan finally began to regain control of his health. There have been bumps in the road, but Duncan said the past decade has been mostly smooth sailing – or swimming.
"I was so lucky, I should've been playing the lotto," Duncan joked. "This is one of the worst diagnoses to get, yet over the last 10 years I've been able to see all of my children graduate from high school and college. I got to see them get married. I have my grandfather's name and now my grandson has my name. And this June, I will celebrate my 50th wedding anniversary with my wife."
This summer Duncan will also celebrate his 10th year of survival from the world's toughest cancer, and he said that milestone does not come without lessons.
For example: Duncan values every day in a way he wouldn't have been able to if he hadn't faced death. He enjoys the privilege of just "being around" and finding the little miracles in everyday life. And now he's traveling, most recently to Scotland and up next to New Zealand.
But what he values above all else is his family – his wife, their five children and nine grandchildren.
"It's all about relishing the little things," he said. "If I hadn't been surrounded by my family, I never would have survived this."
And while Duncan didn't use his streak of good luck to win the lottery, he said it doesn't matter, because he has his family and his health, and that's enough for him.
Whether you're a patient or a caregiver, a pancreatic cancer diagnosis isn't something you have to go through alone. Contact PanCAN Patient Services, where a highly trained and compassionate Case Manager can help you access personalized services, all FREE of charge.