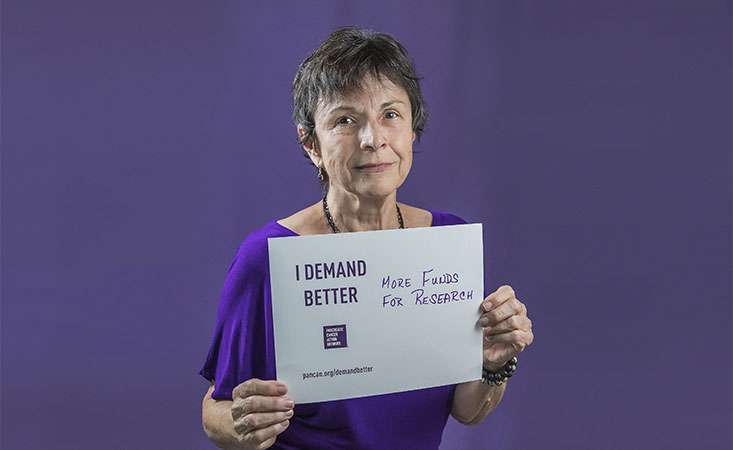 Editor's note: Barbara Washburn, a pancreatic cancer survivor, is a volunteer leader for the Atlanta Affiliate of the Pancreatic Cancer Action Network (PanCAN). She serves as the affiliate's November Awareness Chair in her community and in the below interview, she explains why she Demands Better for patients and for survival during Pancreatic Cancer Awareness Month and beyond.
Why do you raise awareness about pancreatic cancer?
I am a pancreatic cancer survivor – a little over one year. It is very important to me that we make people aware of what pancreatic cancer is, what the symptoms are and how it can affect your life.
I had only had stomach problems – a lot of cramping – before my diagnosis, but at the time I didn't think it was anything that serious. Looking back, I know that it was.
I was at the doctor for something totally different – a heart scan – and they found something else. Through the process of CT scans and ultrasounds, they finally determined that I had pancreatic cancer.
I was shocked. But it just seemed like any other challenge I would need to face, and I did. I had great doctors and felt comfortable with them every step of the way.
Why is advocating for yourself when you're a patient so important?
You really have to advocate for yourself, and if you cannot, it's important to have a family member or friend to do so. I had some complications at one point, and my daughter stepped in to advocate for me. She spoke with the doctors and specialists for me. That was very helpful.
Tell us about your interactions with the Pancreatic Cancer Action Network.
Once I was diagnosed, I wanted to find out what organizations were out there working toward a cure. I came across PanCAN and was grateful I did.
PanCAN has been very helpful to me in this journey – initially through dietary suggestions, and through their webinars on important topics, and for just a general support network. I would absolutely recommend PanCAN to people to get information and get questions answered.
Why should more people be aware of the symptoms of pancreatic cancer?
It's important to be aware of the symptoms because many of them we think of as everyday life, and we don't pay much attention to them. We have to explore them and make people more aware of why they must be persistent in finding out what is wrong with them. Everyone needs to know the risks and symptoms.
What does it mean to you to Demand Better for patients and survival?
I personally demand more funds for research. It's important that we focus on pancreatic cancer and do more to find a cure.
What is your message to other pancreatic cancer survivors?
As a survivor, it's important to be optimistic, realistic and proactive. Reach out to PanCAN for encouragement. If you can get involved with the organization as a volunteer locally, do. It's great to have the community support.