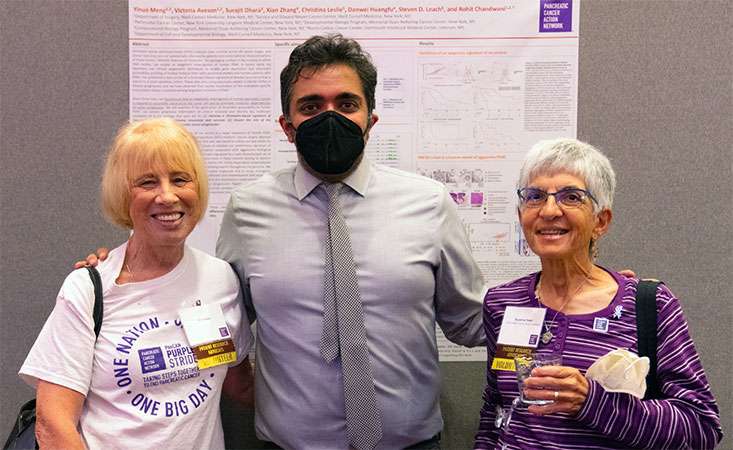 For nearly two decades, Kay Kays has been speaking up on behalf of patients with pancreatic cancer.
In September, she traveled from her home in Arizona to PanCAN's Scientific Summit in Boston, where she attended sessions hosted by researchers and perused research posters.
This year, she was especially optimistic about the progress on display.
"Having been in the arena now for almost 20 years, I've seen a lot of things, but I think this has been probably the most promising," she said. "I love talking with the researchers. The commitment and the caring -- the brightness of our new research is just refreshing."
As a research patient advocate for multiple organizations, including PanCAN, she speaks nationally on behalf of patients with cancer and sits on committees that review grant applications. She's known as a fierce advocate; she's not afraid to ask pointed questions when a research project falls short of demonstrating a clear benefit to patients.
And she's gotten to know the research community over time through her grant review work. At Scientific Summit, when she encountered a researcher who was particularly in tune to patient needs, Kay gave her a big compliment.
"When I met her, I said to her, 'I really appreciate you and I'll tell you why. Because I see you always bring up the patient impact that might be a benefit.'"
It's those interactions that bring her hope that patients with pancreatic cancer will have more and more options available to them for treatment.
"As I talk to patients they'll say, 'How can you have a smile on your face when you talk about pancreatic cancer?' And I said, 'Because I'm involved in the research.'"
Join us on World Pancreatic Cancer Day, Nov. 17, for our webinar
Research for All of Us: A PanCAN Community Conversation.
RSVP now
.
Every Person's Story is Different
Kay knows the patient experience because she has been living it for more than 25 years. In 1994, she was first diagnosed with pancreatic cancer. She went through the Whipple procedure, experienced three cancer reoccurrences and has had her entire pancreas, her spleen and part of a lung removed. Every time she speaks with a patient, she emphasizes that survivors of pancreatic cancer do exist. Above all, she tells them, every person's story is different.
"There are statistics out there, but there's not a cancer at any stage that somebody hasn't survived," she said. "You have to remember that."
Although PanCAN didn't exist when Kay was first diagnosed, she's seen it blossom through her decades of work with the organization. As a volunteer with the Survivor and Caregiver Network, she regularly talks to patients who are in the thick of navigating a new reality, one filled with physicians, tests, scans and procedures. It can be overwhelming. She encourages them to become what she calls "patient active" by asking questions of their doctors and seeking out information wherever possible. Contact PanCAN Patient Services, she tells them, even if they don't know what to ask.
"I talk to so many patients and they'll often say, 'It's so hard to make that phone call.' I tell them, 'I understand. It is. Put your trust in PanCAN.'"
Case Managers are knowledgeable, empathetic and ready to help patients and families find the resources they need, whether it's a second opinion, a pancreatic cancer specialist, a dietitian or any other support. They are there for you, even if you just need to share your story and be heard. Time on the phone with a Case Manager is time well spent, said Kay.
"If you don't understand, call PanCAN. They're navigators. Ask the questions."
The Value of the Patient Perspective
Not only are patients benefitting from PanCAN Patient Services, they are benefitting from all of the new discoveries coming from PanCAN's research initiatives and the community of scientists PanCAN funds.
"I'm just so proud of PanCAN," she said. "The services that they've given the pancreatic cancer  community are above and beyond. I love the research that they're doing now."
As she reviews the many grant applications PanCAN and other organizations receive every year, she's especially passionate about increasing the diversity of patients enrolling in clinical trials. It's important to be intentional with establishing site locations, she said, so that it is easier for a wide range of patients to access trials.
"We need to take [the trials] to the patients rather than having them come to us," she said.
Another important, but often overlooked need in study design: A straightforward enrollment process. She always asks researchers to look at it from the patient perspective.
"If we don't get our patients on the trial for their benefit and for ours, then we've lost time, money and save no lives," she said. "I'll sit in on a lot of design and I will say, 'That's a stop sign for patient.'"
Over time these improvements add up to real progress…and more hope for better outcomes.
Patients make it happen, said Kay.
"The patient -- I don't think they realize how important they are," she said. "When I sit at the review table, I have the experience behind me as far as the patient, but I represent us all."