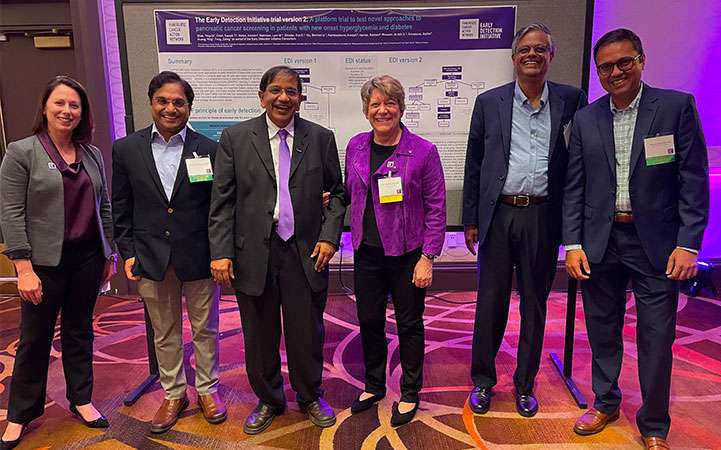 After two years of virtual gatherings, PanCAN Scientific Summit was back in person last month in Boston. The event hosted current research grant recipients, Scientific & Medical Advisory Board members, industry partners and special guests alongside PanCAN staff. The annual Scientific Summit is the cornerstone event for PanCAN's Community for Progress, a robust and dynamic community of researchers, clinicians and others passionate about working together to improve outcomes for people affected by pancreatic cancer.
The Scientific Summit immediately preceded the American Association for Cancer Research (AACR) Pancreatic Cancer Special Conference, which brought together approximately 600 researchers, clinicians, patients, advocates and others from around the world. PanCAN staff were able to attend both meetings to learn more about happenings in the field and meet more people passionate about the disease.
Both events were held in person for the first time since late 2019.
"When the world shut down, PanCAN didn't stop," said Margaret Tempero, MD, director of the University of California, San Francisco (UCSF) Pancreas Center and chair of PanCAN's Scientific & Medical Advisory Board, in her opening remarks.
"Julie [Fleshman] kept the motor running every day."
The PanCAN Scientific Summit kicked off with a reception that featured poster presentations from last year's early-career research grant recipients as well as posters from PanCAN's initiatives that were also presented at the AACR conference. Conversation, collaboration and comradery were apparent throughout the evening.
The following morning, Fleshman gave an opening talk about PanCAN's scientific and clinical initiatives and community engagement, advocacy and PanCAN Patient Services. She also introduced and welcomed our new 2022 research grant recipients – the largest single-year group of grantees in the organization's history. Last year, we awarded a record $10.5 million in research grants, as part of PanCAN's largest-ever research investment of nearly $25 million.
Research grant recipients next had an opportunity to speak about their progress made possible through PanCAN's donors and supporters.
Daria Esterházy, PhD, an assistant professor of pathology at University of Chicago and recipient of a 2020 PanCAN Career Development Award, said, "Thank you to PanCAN for giving me the courage to conduct experiments focused on pancreatic cancer. This is now one of the most exciting avenues in my lab."
Dr. Esterházy's work focuses on the anatomical and functional connection between the pancreas and the intestine. A better understanding of this relationship could allow for new treatment options, harnessing the immune system's role in different regions of the gut.
Darren Carpizo, MD, PhD, spoke about his PanCAN Translational Research Grant, awarded in 2018. Dr. Carpizo, professor in the departments of surgery and oncology at University of Rochester Medical Center, described how his grant accomplished exactly what it was designed to do – move a project from lab-based studies to the clinic. Because of support from PanCAN, the investigational drug being tested in his lab is now in Phase II clinical trials in patients prior to receiving surgery for their pancreatic cancer.
In addition to his Translational Research Grant, Dr. Carpizo also received a PanCAN Career Development Award in 2012, funded by the Daniel and Janet Mordecai Foundation. Looking back, Dr. Carpizo said, "PanCAN has played a significant role in my career. The Career Development Award was my first ever grant, and I feel it catalyzed the work we have accomplished since then."
There was also a presentation co-led by Jonathan Pachter, PhD, and Denis Louis, MD, Chief Science Officer and Chief Medical Officer at Verastem Oncology, respectively. The Verastem team is the inaugural recipient of the multimillion-dollar PanCAN Therapeutic Accelerator Award, supported by 1440 Foundation and the Gail V. Coleman-Kenneth M. Bruntel Research Fund.
The Therapeutic Accelerator Award will support a Phase I/II clinical trial testing a combination of investigational targeted therapies under development by Verastem to treat patients with metastatic pancreatic cancer. If successful, the hope is for the investigational drug combination to undergo later-phase testing through the PanCAN Precision PromiseSM adaptive clinical trial platform.
The value of PanCAN's Community for Progress was on full display during the presentation from the Verastem team. Dr. Pachter shared a pre-prepared slide that showcased data from research G. Aaron Hobbs, PhD, about a specific mutation in KRAS that occurs in some pancreatic tumors and may predict effectiveness of their investigational treatment regimen. Lo and behold, earlier that morning, Dr. Pachter found himself sitting at the same breakfast table as Dr. Hobbs, who is a fellow 2022 PanCAN research grant recipient!
The final presentations at the Summit highlighted PanCAN's large-scale internal initiatives: our Early Detection Initiative, Precision Promise and the SPARK health data platform.
The Early Detection Initiative was presented by study principal investigator Suresh Chari, MD, professor of medicine in the department of gastroenterology at MD Anderson Cancer Center and a member of PanCAN's Scientific & Medical Advisory Board, who described some of the successes and challenges of the initiative to date. The goal of the Early Detection Initiative is to determine whether people with new-onset diabetes and other clinical characteristics would be an effective population to screen for pancreatic cancer. Dr. Chari introduced "version 2" of the initiative, which will transition the study to a platform design, allowing multiple investigational early detection strategies to be tested side-by-side to determine which is most effective at identifying people with new-onset diabetes who are most likely to have or develop pancreatic cancer – and to find the disease at its earliest, most treatable stages.
PanCAN Precision Promise Steering Committee chair, Diane Simeone, MD, provided an update on the clinical trial, which is now enrolling patients at more than 20 sites across the country. Precision Promise aims to develop new and more effective drugs for patients with metastatic pancreatic cancer in a way that's faster, less expensive and requires fewer patients to determine if an investigational treatment is effective, as compared to traditional clinical trials.
"We can innovate how we do science," said Dr. Simeone, director of the Pancreatic Cancer Center at Perlmutter Cancer Center/NYU Langone Health and member of PanCAN's Scientific & Medical Advisory Board. "Why can't we innovate how we conduct clinical trials?"
One of the talks during this session was given by past PanCAN grantee Stephanie Dougan, PhD, whose immunology expertise allowed her lab team at Dana-Farber Cancer Institute to carefully study specimens from patients who'd been treated with an investigational immunotherapy combination through a study leading into Precision Promise. Their lab-based experiments shed light on the precise mechanisms of the drugs at the cellular level. "We owe it to patients to learn from every person who participates in the study," Dr. Dougan said.
PanCAN SPARK health data platform represents another opportunity to maximize learnings from all patients who participate in our clinical initiatives. SPARK, as described by PanCAN's associate director of health data analytics, Kawther Abdilleh, PhD, provides user-friendly data and analytical tools all in one place. Through a data-sharing agreement, information housed in SPARK can be made available to investigators to help answer their most pressing scientific and clinical research questions. Giving scientists with diverse expertise and research interests access to the same data allows for a tremendous expansion of knowledge and uncovering of new avenues to pursue.
The energy throughout PanCAN Scientific Summit was palpable from the opening reception to the closing remarks. The Community for Progress was delighted to be back together in person and more motivated than ever to work together to create a world in which all people with pancreatic cancer will thrive.
This vision can only be achieved with your help.
Donate today
to allow PanCAN to continue to fund and conduct potentially lifesaving pancreatic cancer research.