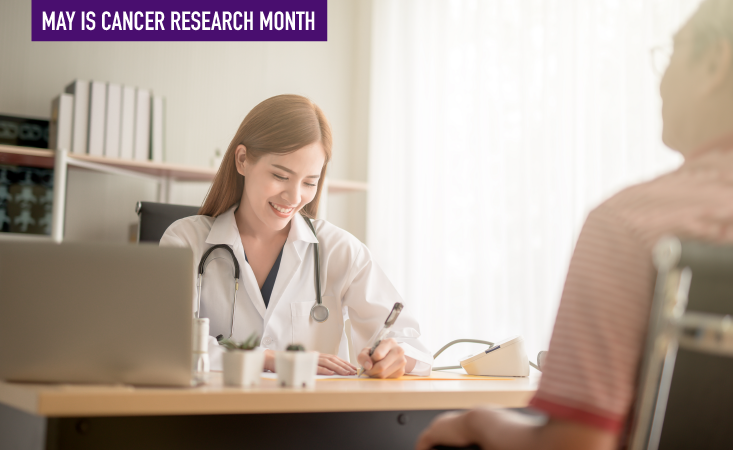 Editor's Note: This blog post was originally published in May of 2022 as part of National Cancer Research Month. It was updated in October of 2022.
PanCAN's Early Detection Initiative is an ambitious study and a step toward developing a screening strategy to detect pancreatic cancer early, before the disease has spread. This initiative is a key component of PanCAN's overall goal of improving survival rates. An expert team of researchers, clinicians, statisticians and diagnostic specialists from across the country has been hard at work since the Early Detection Initiative launched in April of 2021 – publishing several research papers in top journals and enrolling patients.
Here, PanCAN Chief Science Officer Lynn Matrisian, PhD, MBA, discusses the newest developments with our Early Detection Initiative and what's next on the horizon.
First of all, what is the Early Detection Initiative?
Today, there is no standard screening test to detect pancreatic cancer early, when it's more treatable. Earlier detection would mean that more patients could be eligible for surgery to remove their tumor, which could lead to significantly higher survival rates.
Research has shown an association between new-onset diabetes and pancreatic cancer. PanCAN's Early Detection Initiative is exploring whether this association could be useful to develop a screening strategy. If we conduct imaging at the time of new-onset diabetes in people over 50 years old, does it result in earlier detection of pancreatic cancer in this high-risk population? How feasible and cost-effective is this approach? These are some of the questions we're working on answering.
As part of the Early Detection Initiative, participants are also answering survey questions and providing blood samples to help search for blood-based biomarkers to indicate the early presence of pancreatic cancer.
Why is the Early Detection Initiative important?
As the largest forward-looking clinical trial of its kind, this work has the potential to change the standard of care and result in screening a significant population of people for nonhereditary pancreatic cancer – those with new diabetes diagnoses and other clinical features. Ultimately, the goal is to lay the foundation for future advancements to discover the disease in its earliest, most treatable stages -- for everyone. We want to build a comprehensive early detection protocol to be used in healthcare systems across the country.
Our efforts are already contributing new knowledge. We are excited that in just the past two years our team has published several papers. We've studied the cost-effectiveness of risk-based screening in patients with new-onset diabetes, as well as shared the methodology behind the Early Detection Initiative and the feasibility of cross-sectional imaging. The goal is to continue to publish and share what we are learning through the Early Detection Initiative.
Talk more about the relationship between diabetes and pancreatic cancer. What do we know and what do we hope to find out?
In about 0.85% of people who get a new diabetes diagnosis over the age of 50, their diabetes is caused by an undiagnosed pancreatic tumor. In these individuals, the elevation in blood sugar can occur as much as three years before other symptoms lead to follow-up and a diagnosis of pancreatic cancer.
Longstanding diabetes is also known to be a mild risk factor for pancreatic cancer, but in the case of new-onset diabetes, the cancer can be the cause of the patient's diabetes. The challenge is differentiating the less than 1% of diabetes cases that are caused by pancreatic cancer from the 99% that are unrelated.
It's critical to pinpoint high-risk individuals and identify an effective early detection method, as pancreatic cancer found in its earliest stages potentially gives patients a 16-fold increase in survival.
How many patients have enrolled in the Early Detection Initiative so far and what is the goal moving forward?
The Early Detection Initiative began enrolling patients in October 2021. Over 2,500 patients were randomized into the study during the first year of enrollment. Two clinical sites, Kaiser Permanente Southern California and Baylor College of Medicine/Kelsey-Seybold Clinic, are open and recruiting patients. A third site is anticipated to open before the end of 2022.
The goal is to have the study running at a total of three to five sites to accrue the necessary 12,500 participants and ensure they are representative of the U.S. population and its diversity.
How is PanCAN working to ensure a diverse patient population is enrolled in the Early Detection Initiative?
Eligible participants are identified through electronic health record systems at participating institutions with the intention of finding patients at the earliest indication of diabetes. The sites have been chosen for their geographic locations and the racial and ethnic diversity of patients they serve. We have created a variety of materials to recruit patients and raise awareness about the Early Detection Initiative, including a recruitment letter, an Early Detection Initiative study fact sheet and a diabetes fact sheet. These materials are available in both English and Spanish. Having Spanish-language materials available allows our sites to offer enrollment to more patients and helps ensure that Spanish-speaking patients are included in this important study.
What's next for the Early Detection Initiative?
At PanCAN's Scientific Summit in September of 2022, EDI principal investigator Dr. Suresh Chari introduced "version 2" of the initiative, which includes plans to transition the study to a platform design. Conversion to a platform design will allow multiple early detection strategies in the study to be compared to a single control arm. This will provide a unique opportunity to evaluate future new biomarkers for early detection of pancreatic cancer in a high-risk new onset diabetes population, including new blood-based tests for cancer detection that are now commercially available. Our innovative approach to transform the current study into a platform trial aligns well with the overall objective of the initiative – to advance research in pancreatic cancer early detection and identify the best strategies to find the disease at its earliest, most treatable stages.
How does the Early Detection Initiative complement some of the other initiatives PanCAN is pursuing?
Earlier detection of pancreatic cancer alone is not enough. We also have to accelerate new treatment options, because most people have a recurrence of pancreatic cancer – even when it's detected early. Our Precision PromiseSM clinical trial platform is designed to get new, improved treatments to patients more quickly.
PanCAN Patient Services is also available to provide free information and resources to patients and their families, including a personalized clinical trials search and access to our Know Your Tumor® precision medicine service, which provides eligible pancreatic cancer patients and their oncologists with information about the patient's biology through tumor tissue biomarker testing.
We are tackling this disease from all angles as we work to improve outcomes and the lives of all of those affected by pancreatic cancer. It takes a great team to move progress forward – from researchers and clinicians to generous donors and patients and families who join our cause – and we have all of the pieces in place. We've made outstanding progress – and I am optimistic about what we are poised to accomplish.
Give today
to advance progress in pancreatic cancer research.