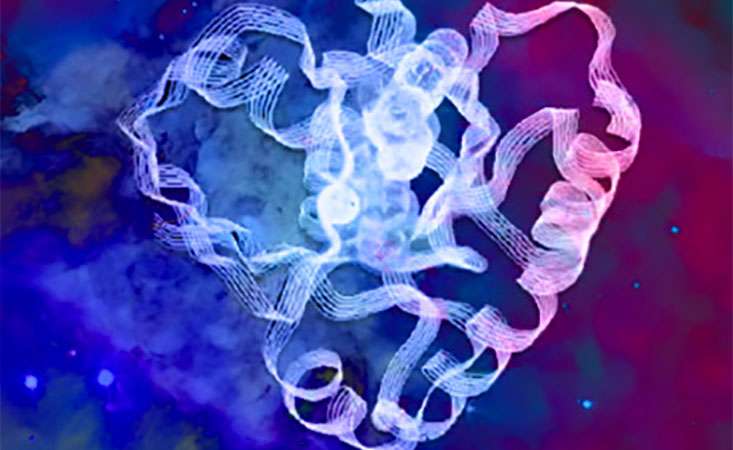 Editor's note: Originally published in February 2021, we've updated this article to include the exciting news that the first drug targeting mutant KRAS has been approved for the treatment of patients with a certain type of lung cancer (non-small cell) whose tumors have KRAS G12C mutations. Below are five things to know about KRAS mutations in pancreatic cancer and how this new drug may impact patients with the disease.
Small changes to healthy cells can sometimes lead to cancer. In almost every case of pancreatic cancer, one of those changes is a mutation (mistake) in the gene KRAS. The mutated KRAS protein causes the cells to behave like cancer. Because of this, scientists and doctors have tried for decades to block the activity of KRAS and other RAS proteins – but they've been considered "undruggable." Now, the first drug that can block one of the types of mutant KRAS has been approved.
1. About 95% of pancreatic cancer tumors have a KRAS mutation.
The "RAS" family of genes was discovered to be oncogenes – genes that can be altered to promote the transformation of healthy cells into cancer cells – nearly 40 years ago. Today we know that RAS is the most common oncogene in human cancer, mutated in around 30% of all solid tumors and in approximately 95% of pancreatic adenocarcinoma, the most common type of pancreatic cancer.
Mutations in KRAS, a form of RAS, have been shown to play an important role from the earliest formation of pancreatic tumors all the way to their progression to advanced disease. Therefore, a targeted therapy approach to block KRAS activity could have a significant impact on pancreatic cancer patients.
2. For decades, RAS has been labeled "undruggable" – until now.
Because of the therapeutic potential for many cancer types, researchers and clinicians have studied the RAS proteins and worked toward developing drugs to block them for many years. The shape and structure of the protein have made this very difficult, leading to RAS being deemed "undruggable."
Recently, however, candidate drugs have been developed that target a very specific mutation within KRAS – G12C.
More about KRAS Mutations
The building blocks of proteins are called amino acids. The KRAS protein is made up of 186 amino acids.
KRAS G12C refers to an amino acid, glycine (G) at the 12th position within the protein, that gets mutated to a cysteine (C) amino acid instead. Drugs that target KRAS at the G12C site are so specific that other mutations at the G12 site, including G12D (glycine to aspartic acid) and G12V (glycine to valine), which are much more common in pancreatic tumors, are unaffected.
The KRAS G12C mutation is present in about 13% of non-small cell lung cancer, 3-5% of colorectal cancer and about 1% of pancreatic tumors.
3. A drug targeting KRAS G12C has been approved.
Through clinical trials to test its effectiveness, the Amgen drug Lumakras™ (sotorasib) has been approved for patients with non-small cell lung cancer whose tumors have a KRAS G12C mutation. Although the approval is for patients with lung cancer, it's possible that the small subset of patients with pancreatic or other cancer types whose tumors have KRAS G12C mutations may be able to access this drug through an "off-label" use.
Contact PanCAN's Patient Services for a personalized clinical trials search, including information about treatment options that may match the patient's biology.
4. Biomarker testing can tell pancreatic cancer patients if their tumors have KRAS G12C or other mutations.
Every pancreatic cancer patient is different – and their unique biology can help determine which treatment they should receive. PanCAN strongly recommends all pancreatic cancer patients get biomarker testing of their tumor tissue to help determine the best treatment options. Patients should discuss biomarker testing of tumor tissue and genetic testing for inherited mutations with their care team. The tests can be available through their treating institution or private companies. Biomarker testing can also be accessed through PanCAN's Know Your Tumor® precision medicine service.
Evidence from PanCAN's Know Your Tumor has shown that pancreatic cancer patients who are able to go on treatment that aligns with their tumor biology live an average of one year longer than patients who aren't. About one out of every four patients is found to have an actionable alteration – a finding that signifies a certain drug or treatment option may work well for them – in their tumor.
Although there isn't currently an approved drug that specifically targets the types of mutant KRAS that are most common in pancreatic tumors, other treatments based on patients' unique biology are available. Along with a list of the mutations and alterations found in their tumor tissue, Know Your Tumor participants and their healthcare teams receive a personalized list of treatment options, including clinical trials.
5. PanCAN has worked to advance KRAS-related research efforts.
PanCAN's grassroots advocacy efforts led to the passage of the Recalcitrant Cancer Research Act in 2013, which directed the National Cancer Institute (NCI) to develop a "scientific framework" focused on pancreatic cancer. One of the key topics identified in the framework was targeting KRAS. Shortly after the release of the framework, the NCI's RAS Initiative was founded and reignited research into the RAS family of proteins.
PanCAN has also prioritized KRAS-related research through its research grants program, including offering KRAS Fellowships and Travel Scholarships to junior scientists to study the protein and collaborate with scientists at the Frederick National Laboratory for Cancer Research, the site of the RAS Initiative.
By funding and advocating for laboratory research as well as encouraging patients to participate in clinical trials, including those that align with their biology, PanCAN continues to advance research toward treatments that block mutant KRAS and other targets within pancreatic cancer cells.
Contact PanCAN's Patient Services
for personalized information and resources about the treatment and management of pancreatic cancer, including a personalized clinical trials search and information about enrolling in PanCAN's Know Your Tumor.