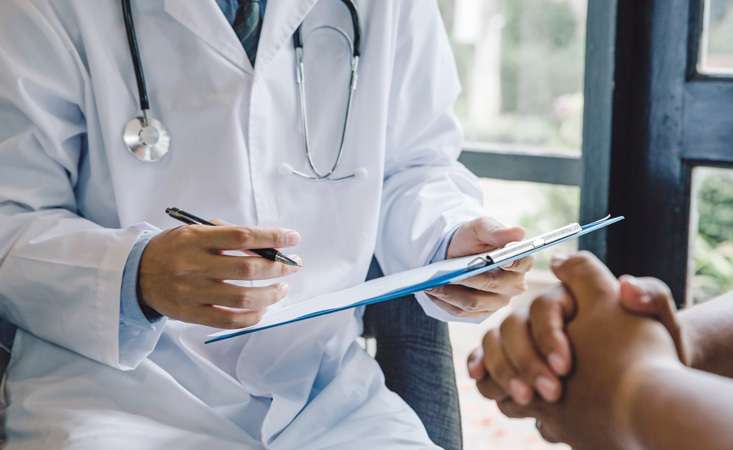 We are pleased to announce the inaugural recipient of the PanCAN Therapeutic Accelerator Award, Verastem Oncology, supported by 1440 Foundation and the Gail V. Coleman-Kenneth M. Bruntel Research Fund. PanCAN will invest $3.8 million toward an early-phase clinical trial testing a leading-edge investigational treatment combination developed by Verastem, with the future goal to pursue later-stage clinical trial testing of the combination through the PanCAN Precision PromiseSM adaptive clinical trial platform.
Toward our mission to create a world in which all patients with pancreatic cancer will thrive, PanCAN is working to accelerate the development of new and better treatment options to offer patients. Precision Promise is designed to take less time, cost less money and require fewer patients than standard clinical trials to determine if an investigational treatment option is working.
In order to drive pharmaceutical and biotechnology companies to prioritize pancreatic cancer in their early-phase clinical trial development and de-risk the investment in this difficult space, PanCAN offered the Therapeutic Accelerator Award.
"The Request for Applications for the PanCAN Therapeutic Accelerator Award came at a perfect time for us, as Verastem has had a long-standing interest in treating pancreatic cancer," said Jonathan Pachter, PhD, Chief Science Officer at Verastem. "The grant did exactly what it intended to do – it enabled us to more rapidly expand our development program and advance clinical research in pancreatic cancer to improve patient outcomes."
Verastem was selected as the inaugural recipient of the award – the first time the organization has directly funded a pharmaceutical or biotechnology company – through a rigorous, competitive process that included scientific, business and programmatic review.
Verastem's therapeutic approach involves targeting signaling pathways in pancreatic cancer cells that get activated by and alongside mutant KRAS. Nearly every pancreatic tumor has a mutation in the KRAS protein. Mutant KRAS drives the transformation of healthy cells into cancer, and signaling generated from KRAS is responsible for the initiation and progression of the disease. Despite being an attractive clinical target in pancreatic cancer, efforts to directly inhibit the activity of the specific KRAS mutations commonly found in pancreatic tumors have been unsuccessful to date.
The investigational treatment approach Verastem will pursue includes a unique drug they are developing that acts as a "clamp" to block the activity of RAF and MEK, two proteins that get activated as a result of KRAS signaling. Scientific and clinical evidence has shown that blocking either RAF or MEK is insufficient to block signaling generated by mutant KRAS, prompting their clamp approach to impede the activity of both proteins simultaneously. And early clinical evidence has indicated that the RAF/MEK clamp drug with its novel intermittent schedule is more tolerable and causes fewer side effects in patients than the MEK-only inhibitors, Dr. Pachter shared.
In combination with the RAF/MEK inhibitor, Verastem will treat patients with their inhibitor of a protein called FAK. There are two reasons why blocking FAK may be important. "First, signaling from FAK can compensate for the absence of KRAS-generated signaling through RAF and MEK – representing a potential mechanism for the tumor cells to become resistant to the RAF/MEK clamp," Dr. Pachter said.
"In addition, FAK signaling promotes density of the stroma, the complex tissue that surrounds and protects a pancreatic tumor. Reducing the density of the stroma may help facilitate drug delivery to the cancer cells and activate an immune response."
The two investigational drugs will be administered in patients with previously untreated metastatic pancreatic cancer in combination with chemotherapy. If the investigational combination treatment shows positive results in patients in the early-phase clinical trial, it may be considered for entry into the Phase II/III PanCAN Precision Promise clinical trial platform.
The Therapeutic Accelerator Award is part of PanCAN's approximately $28 million investment in research this year. The organization takes a comprehensive approach by funding early-career scientists, supporting highly translational projects with promise for clinical benefit and taking on large-scale initiatives like Precision Promise and the PanCAN Early Detection Initiative. None of this would be possible without the support and trust of PanCAN's donors.
"With our investigational agents currently in clinical trials for cancers with high unmet need, it would have been difficult for us to conduct this additional clinical trial now without PanCAN's support," Dr. Pachter said. "Thank you for choosing Verastem, and we are energized to move this collaboration forward quickly for patients."
Learn more
about how you can support the PanCAN Therapeutic Accelerator Award and other groundbreaking research.