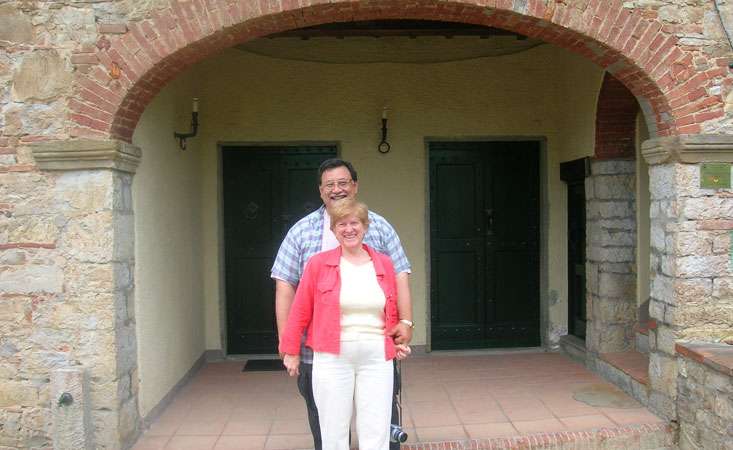 Kenneth Bruntel valued relationships.
With family – he adored nephews Dan and Devin Soule, who described him this way:
"To say that he was larger than life would be an understatement. He was truly a titanic figure. Someone of tremendous generosity and immense courage. With a few words of respect, he could make you feel as if you'd been given the world. It was Ken whom we sought to impress above all others."
With clients, with peers, with junior attorneys who looked to him for mentorship and guidance. Among his myriad professional successes and accomplishments, he was deeply admired for helping others grow in their own careers.
"I hope you know what a positive impact you've had on the lives of so many," a colleague wrote to Ken just before he passed away. Another wrote a letter to Ken's wife, Gail Coleman, telling her, "His generosity, advice and wisdom had no bounds. No one cared more." And yet another said, "Ken was a rock. He taught me to be myself and be good at it."
Ken was a senior partner and founding lawyer at Crowell & Moring, an international Washington, D.C.-based firm, when he was diagnosed with pancreatic cancer in May 2009. Four months later, he was gone.
In the years since Ken's death, Gail has been passionate about fighting metastatic pancreatic cancer.  She has funded numerous pancreatic cancer research projects, including a PanCAN Translational Research Grant, and most recently, our new, innovative Therapeutic Accelerator Award.
The 2022 Pancreatic Cancer Action Network Therapeutic Accelerator Award, supported by 1440 Foundation and the Gail V. Coleman-Kenneth M. Bruntel Research Fund, is a multimillion-dollar grant designed to drive pharmaceutical and biotech companies to prioritize pancreatic cancer in their early-phase clinical trial development.
The ultimate goal of the PanCAN Therapeutic Accelerator Award is to get new, more effective treatments to pancreatic cancer patients sooner.
This is important to Gail not only because she lost Ken to the disease. Her mother and father also had pancreatic cancer – and each died three weeks after diagnosis.
Progress in Science
The Therapeutic Accelerator Award is part of PanCAN's recently announced largest-ever research and research grants investment of $25 million for 2022. With the help of Gail's generous gift of $500,000, Louis Denis, MD, Chief Medical Officer at Verastem Oncology, will lead a phase 1/2 clinical trial to evaluate whether two experimental treatments, when combined with standard-of-care treatments gemcitabine/nab-paclitaxel, increase pancreatic cancer patient survival.
The experimental treatments will target the KRAS pathway, which has stubbornly resisted most efforts.  Because KRAS is mutated in up to 98% of pancreatic cancer tumors, scientists and doctors agree that success is likely critical to conquering this disease. The experimental treatments funded by this grant have shown clinical effectiveness in lung and ovarian cancers that express mutant KRAS.
Pending results of the phase 1/2 clinical trial, the treatment combination will be considered for entry into the PanCAN Precision PromiseSM adaptive clinical trial platform for later-phase testing. Precision Promise is designed to speed drug development and prepare new treatment options for consideration by FDA for approval, potentially years faster than a standard clinical trial.
Gail, like others affected by pancreatic cancer, knows that more effective treatment options for patients are critical and urgent. With an 11% five-year survival rate, patients don't have time to wait. As Gail's own family history shows, this is especially true for metastatic cancer patients, who have less than a 3% five-year survival rate.
She knows that there is more interest and excitement than ever in pancreatic cancer research, and through her most recent gift, she is hopeful for quicker progress for patients who are in later stages of the disease.
She uses the required minimum distribution on Ken's 401K and the donor-advised fund she established as opportunities to invest in pancreatic cancer research.
"I was very intrigued by the Therapeutic Accelerator Award and its potential to make an impact on KRAS research," she said. "As challenging as KRAS is, if we are able to overcome it, the opportunity for impact is huge. I'm especially hopeful because of the two-drug combination and their potential impact on the stroma that makes it so difficult for drugs to reach pancreatic cancer.
"I think this study has real potential."
Gail, who in her retirement is working on her doctorate in American history, loves research. Whether it's research for her dissertation or the pancreatic cancer research she is funding, she has always enjoyed trying to figure things out.
She likes the changes she has seen in PanCAN – especially, she said, as it has become more intentional and innovative in its development of large projects such as Precision Promise and now the Therapeutic Accelerator Award.
"PanCAN is impressive in that the organization sees where the gaps are and they aren't afraid to be unconventional in finding ways to fill them," she said. "They're not afraid to take risks."
Much like Ken.
Together for 35 Years
Gail moved to Washington, D.C., when she graduated from law school to work as a lawyer at the U.S. Department of Labor. She met Ken through one of her housemates. She helped Ken through law school and then when he went to work at a big law firm, they both worked in government contracts law, on different sides of the table.
She liked that he was smart and had a great sense of humor.
"He was a big bear of a guy. He could come across as gruff, but underneath he was very kind and caring."
They were together for 28 years before they got married, and they were married for less than seven years. They were partners who shared many common interests – from their careers to reading science fiction and mysteries to their travels around the world together.
That world, however, was turned upside down in May 2009, the day before the couple was leaving for a vacation to Germany.
Gail was at home packing for the trip when Ken came in the door and said, "You had better sit down."  And then, "I have pancreatic cancer."
He had recently been diagnosed with new-onset diabetes (which can be a sign of pancreatic cancer). And he had been having stomach pain, which had prompted visits to the doctor.
"I had been through this with my parents," Gail said. "I couldn't believe it was happening again."
Ken wanted to keep his diagnosis private – he didn't want people to feel sorry for him or treat him differently. But for his 60th birthday, he agreed to let his friends throw a party for him. A barbecue on Aug. 15.
"He got such a kick out of the emails flying back and forth over the preparation of this party," Gail said. "He never would have allowed having a party for him if he had been healthy. But he just loved the enthusiasm around the planning of this one."
Gail shared this story at Ken's memorial service; he died a little over a month after his birthday party, on Sept. 18, 2009.
In Honor of Ken
Soon after Ken's death, PanCAN invited Gail to attend one of its annual fundraisers, a gala. There she met pancreatic cancer researchers funded by PanCAN donors. Jonathan Brody, PhD, was among them. Gail went on to fund research Dr. Brody was conducting with Dr. Jordan Winter, at Thomas Jefferson University in Philadelphia.
She especially appreciated the relationship she built with them and others whose work she has funded.
"I really enjoy talking to investigators and hearing from them firsthand about the projects they're working on that could make an impact in pancreatic cancer," she said.
Relationships are important to Gail.
As they were to Ken.
"It means so much to me to be able to fund research grants in honor of Ken," Gail said. "He had a good life. I don't think he regretted any of his major life decisions. This is one important way I can carry on his legacy, and hopefully extend the lives of other people facing this disease."
Learn more
about how you can support the PanCAN Therapeutic Accelerator Award and other groundbreaking research.