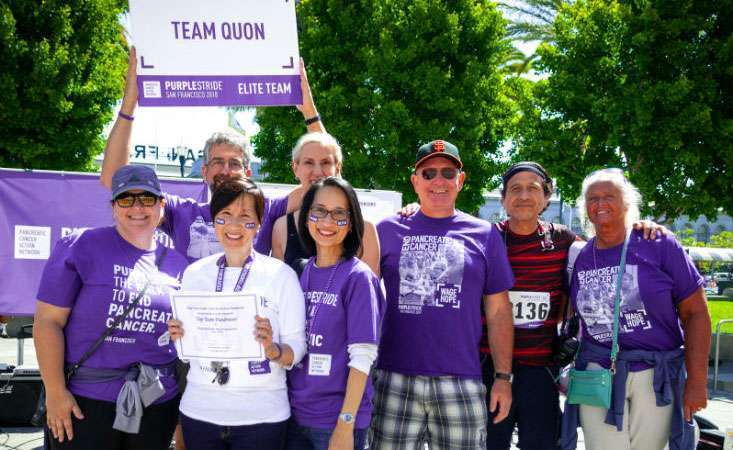 Editor's note: Our weekly "It Starts with Someone" series takes a turn this month as we focus solely on people who have survived pancreatic cancer for more than a decade. Today, Pancreatic Cancer Action Network fundraiser and supporter Cathy Quon from California shares her 16-year journey with pancreatic cancer. Keep an eye out for more stories from long-term survivors every week in August.
It's got to be appendicitis, I thought, after lunch with a friend in the company cafeteria. The pain was so great that I had to have my husband come pick me up at work. After being in and out of the hospital for a couple of days with a CT-scan, MRI and biopsy, we met with the general surgeon. "Pancreatic cancer," he said. "Is that a bad cancer?" I asked. Meanwhile, my husband was blanching.
That was 16 years ago.
After the initial shock (and it was shocking), my first thought was, "I am not going to die." I got second and third opinions at the best hospitals in my area. Had I listened to the first oncologist, I would be dead by now as he diagnosed it as adenocarcinoma and was about to give me drugs for that.
The second oncologist suspected it was a neuroendocrine tumor but couldn't operate and advised me to get my affairs in order. The third oncologist said it was, correctly, a neuroendocrine tumor and let's try to operate.
Turns out the sucker was the size of a small grapefruit and had wrapped around one of the major arteries to my digestive system.
One massive 17-hour surgery, several recurrences and surgical ablations, and rounds of oral chemotherapy later, I am still alive, working fulltime at a demanding consulting job, exercising regularly, and leading a happy life!
I know I am lucky to be alive. I fully believe that fortunate genetics, advances in the medical field (new chemo drugs), and a positive attitude have saved me – along with a wonderful husband, family and friends.
I must take my pancreatic enzymes at every meal and be a little careful with fatty foods, but I'll give up my French fries any day to live the life I have.
Despite my many surgical scars and, thankfully, currently dormant tumors, I don't think of myself as a cancer survivor most days. I live in the present and use my positive attitude to prevent me from going into dark places that often plague cancer victims or survivors.
If you or a loved one has been diagnosed with this challenging cancer, I offer a few practical tips:
Don't give up on the first try. Seek a second or even third opinion. Advocate for yourself – no one else will.
Ask for help from family and friends – don't be a martyr. Take one day at a time. Before you go to sleep, think of one thing per day that made you happy – even a tiny thing.
And be gentle on yourself.
-- Cathy Quon, 16-year pancreatic cancer survivor
For information about specialists in your area, pancreatic enzymes or other resources related to pancreatic cancer, contact PanCAN Patient Services.