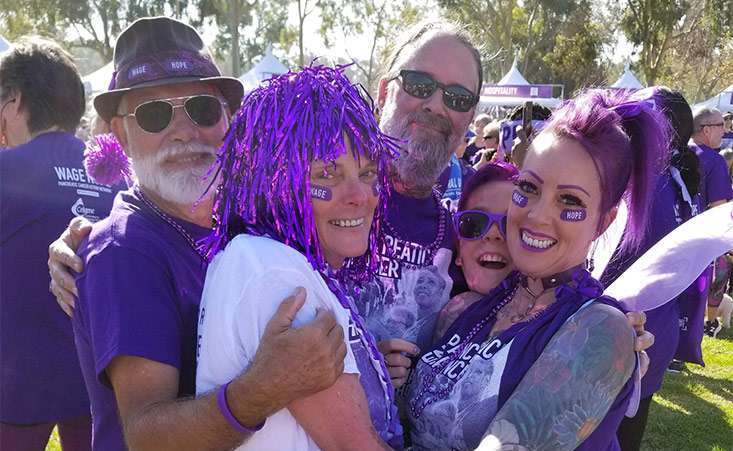 Editor's note: This previously published survivor's story mentions PurpleStride Orange County and the Susie's Striders Team. This year the event takes place on Nov. 16 in Irvine, Calif., and the team has a new name, Susie's Soul Sisters. Also, she will serve as the survivor speaker at PurpleLight Orange County on Oct. 26.
In sickness and in health.
It was a vow Susie Lemieux and her husband, Peter, made on their wedding day. The promise was one they hoped they'd never have to face, but if they did, they intended to keep it.
When doctors diagnosed Peter with pancreatic cancer in November 2014, Susie left her job to become his full-time caregiver. She was with him through sickness, health and then more sickness, until his death 11 months later.
"I believe a caregiver may carry more stress and fear than the person who has the cancer," Susie explained from her Southern California home. "You want to do what is right for the person you care about."
And she would know. In April 2016, just six months after Peter passed away, Susie found herself sitting before her husband's former doctor getting the same news: You have pancreatic cancer.
"I've walked both sides of the fence," Susie said of being both a pancreatic cancer caregiver and a pancreatic cancer patient. "I wish I knew then what I know now. When I was diagnosed, I had nothing to go by, other than what I had witnessed with my husband. I thought that within a year I too would die."
But that wasn't the case for Susie.
When doctors diagnosed Peter, Susie reached out to the Pancreatic Cancer Action Network's (PanCAN) PanCAN Patient Services for guidance. A PanCAN Patient Services Case Manager provided her with information about diet and nutrition, clinical trials and support networks. The Associate also told Susie about pancreatic cancer risk factors as well as signs and symptoms.
That information may be the reason Susie's cancer was found early.
"I had vague symptoms that aligned with what the Associate had told me about when I was Peter's caregiver," Susie said. "And I had just seen my husband go through it, so I knew I had to get checked. My doctor ran tests and, sure enough, it was pancreatic cancer."
Susie contacted PanCAN Patient Services again to get guidance and support, this time for herself. Her Associate provided her with diet and nutrition information and support services. Her team of physicians recommended chemotherapy and a Whipple procedure, both of which she did.
Susie also embraces alternative therapies (exercise and chiropractic) and a plant-based diet, along with standard western treatments. She believes these combined interventions and her faith are the reasons she is thriving today.
Now, as the Orange County Survivor and Caregiver Engagement Chair and as a member of PanCAN's
Survivor and Caregiver Network
, Susie provides both caregivers and patients with the support and perspective her pancreatic cancer journey gave to her.
"I am committed, compelled, and motivated to bring hope to others. After you are diagnosed, you can sink into a dark hole. I know – I was there," she said.
Susie will participate in PurpleStride Orange County, the walk to end pancreatic cancer, again in November and will walk with her team, Susie's Striders.
Their goal is to raise $5,000, which goes back into programs and services like the one that helped Susie – twice. She also skydives with other survivors to raise awareness for pancreatic cancer.
"As long as you have breath, there is hope," Susie said. "Pancreatic cancer doesn't have to be a death sentence. I spend a lot of time imagining and believing in the best possible and most desirable outcomes. That is the essence of hope."