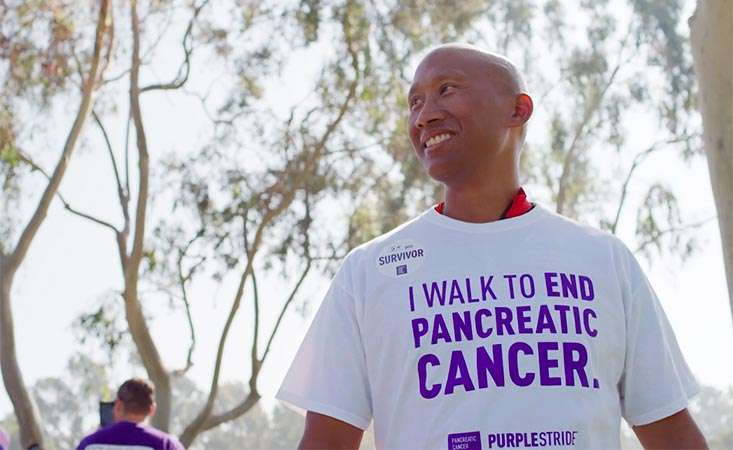 Robert Duran was told he had pancreatic cancer – not just once, or twice. Three times.
The first diagnosis came in 2014. After a course of chemotherapy and radiation therapy, he was able to undergo surgery to remove his tumor.
"After the surgery, I promised myself that I would live each day to the fullest because one never knows what tomorrow will bring – or take away," Robert said.
Robert felt his sense of security taken away when he learned his cancer had returned in 2018 and again in early 2019.
Undergoing two more surgeries and other treatments, Robert now has no evidence of disease.
Throughout it all, his sense of hope never wavered. "Someone once said you never know how strong you are until being strong is your only choice," he said.
For Robert, "passionate and caring" support came from his loving wife, family, community and the Pancreatic Cancer Action Network (PanCAN).
"After reading through the PanCAN website, I was able to not only set my expectations in regard to future treatment and the recovery process, but also learn about clinical trials, treatment options and PanCAN-specific support services," he said.
"When I spoke with a PanCAN Patient Services case manager, she provided a foundation for my recovery that gave me the mindset that I could fight my disease and be a survivor. I can't thank her enough."
Contact PanCAN's Patient Services
for personalized information and resources about pancreatic cancer treatment, including clinical trials, and other topics related to the disease.
Robert is also a proud participant, fundraiser and volunteer for PanCAN's PurpleStride event in his hometown of San Diego.
He recognizes that the funds raised through events like PurpleStride and from generous donors allow PanCAN to provide support resources to patients – free of charge – as well as take on leading-edge scientific and clinical research initiatives.
PanCAN's initiatives – like our Know Your Tumor® precision medicine service and Precision PromiseSM adaptive clinical trial – aim to support patients currently going through the disease and apply learnings to improve the lives of future patients.
"Pancreatic cancer research is very important to find a cure and new effective drugs to treat the symptoms of the disease," Robert said. "More research is desperately needed to prevent the needless deaths of pancreatic cancer patients worldwide."
Participating in PurpleStride and other PanCAN events – even when they're virtual – also allows Robert to meet and interact with fellow patients and families impacted by the disease. He always makes sure they know about Patient Services.
He also tells them, "You are not alone. There are survivors.
"There is hope."
Make a gift
of any size today and speed progress for patients. All of PanCAN's innovative scientific and clinical research initiatives, as well as its Patient Services for patients, caregivers and loved ones, are funded by generous donors.